About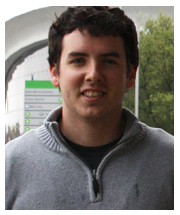 John Gilpatrick has been writing about film since 2009. He holds a Bachelor of Arts in Journalism from Lehigh University and works in digital marketing in the Lehigh Valley, Pennsylvania.
His love of film started at an early age watching films with his parents back in Scranton, PA. In high school, he freaked his friends out with his movie knowledge, and in college, he presided over the small and short-lived (but dedicated!) Lehigh Film Society. He also contributed reviews and filmmaker interviews to the college newspaper, The Brown and White.
John Likes Movies started as a simple Blogger install, but with the help of Katelyn Hanna-Wortley, John's wonderful wife, John Likes Movies 2.0 launched in December 2012.
John resides in Emmaus, PA, and is a member of the Online Film Critics Society. He'll watch and write about almost anything, but he tends to favor thrillers, documentaries, and foreign/independent cinema. His favorite filmmakers include Stanley Kubrick, Paul Thomas Anderson, and Michael Mann.
If you'd like to contribute to, pitch ideas for, or advertise on JohnLikesMovies.com, click here.
Connect with John Gilpatrick on Twitter, Letterboxd, and LinkedIn.