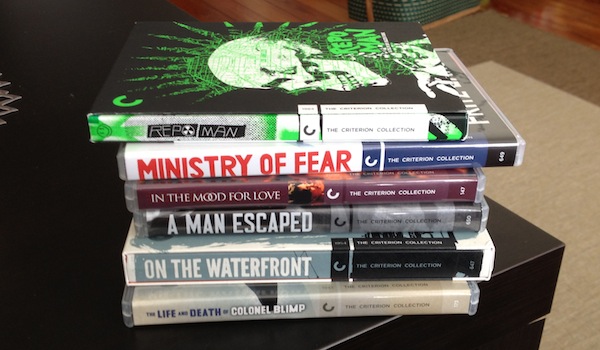 The question on every cinephile's lips around the 15th of every month: "When is the next Barnes and Noble Criterion sale?"
It's true we're spoiled twice a year, but that moment after you make your final, last-minute purchase is one of both satisfaction and disappointment. "Really, I'm not going to own another one of these beauties for six months?"
Of course, there are flash sales, and Amazon occasionally marks Criterion titles down close to 50% off, but Barnes and Noble has mastered the art of the Criterion sale. Something about it feels like a holiday—better, more important than Christmas and your birthday combined.
The next Barnes and Noble Criterion sale begins July 7, 2015. It will likely run until the last week of the month. Below is a bunch of Criterion titles you should consider picking up over those few weeks.
New Stuff That's Out
You won't have a hard time finding some great titles that were released over the last few months:
Silent Ozu—Three Crime Dramas
I've seen one of these films—the sublime That Night's Wife—and I can't wait to dig into the other two films in this set. Ozu is on Japanese cinema's Mount Rushmore, and he's arguably one of the ten or so most important filmmakers of any place or time. Here, he's operating with some unexpected genre conventions, but applying them in a way that's extremely humanistic and oh so Ozu. I can't recommend this one enough. It's a great place to dive into the Eclipse series, too.
Hoop Dreams
The best documentary of all time comes to Criterion Blu-Ray. I've been holding off on picking up the company's Hoop Dreams DVD because I knew this was coming soon. But if you love cinema, you really need to own one (or both, if you're so inclined). It's absolutely packed with extras, including two feature-length commentaries—one with the filmmakers, the other with the film's subjects.
The River
This one's on my wish list for a few reasons: 1.) It's Renoir on Blu-Ray. 2.) Martin Scorsese called it one of the two most beautiful color films ever. 3.) Did you read those first two points?!?!?
Catalog Stuff That's Out
Maybe a director is new to you, or maybe you're new to the Criterion Collection. If this is your first Barnes and Noble Criterion sale, here are a few staples every collector needs to own:
The Essential Jacques Demy
Worth buying the set just to own The Umbrellas of Cherbourg on Blu-Ray. I hadn't ever seen a Demy film until I purchased this beautiful box set during the summer Criterion sale, and a first watch of Umbrellas shot it into my all-time top 20. Most of the rest of the films are great, too, and they look absolutely brilliant.
Red River
Accompanying Criterion's dual-format release of Howard Hawks' fantastic Western is a copy of the book that the film is based on.
The Wages of Fear
For my money, this is the best film in the collection. Beyond that, however, this is an excellent pick-up as the film has a pretty wild history and great special features that touch on it.
Hearts and Minds
Just make it a documentary-filled July. (There's also an Errol Morris two-for to consider with The Thin Blue Line and the Gates of Heaven/Vernon, Florida set.) Hearts and Minds should still be available as a dual-format package. It's a great, important film, and Criterion's edition includes more than two hours of unused footage.
Stuff That's Coming Out
Criterion's July 2015 lineup looks good and will be available to purchase at half-off over the course of the month. Incidentally, its August 2015 lineup is even stronger (and might be worth saving for in case a Criterion.com flash sale pops up). Here are the highlights in a strong next couple months:
Hiroshima mon amour
Arguably the late Alain Renais's best film, this one went through a pretty painstaking restoration last year. I haven't seen it yet, obviously, but I'm very eager to pick this one up.
Dressed to Kill
One of my favorite films from one of my favorite directors. De Palma at his best, and even if you're not a devotee, this one is worth giving a shot.
Two Days, One Night
I named it among my ten favorite films last year. It's the Dardennes doing what they do best. Ditto Marion Cotillard.