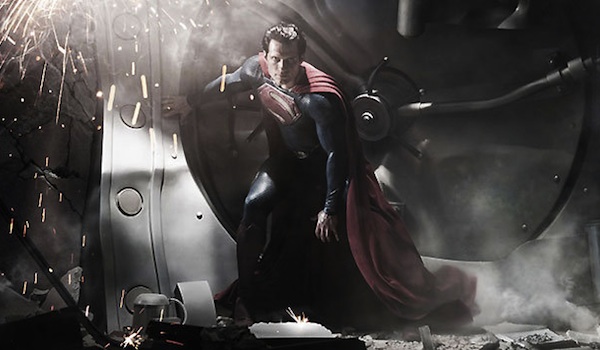 Oh, to be where we were a year ago. Surveying the upcoming movie calendar on January 1, 2012 was like a second Christmas. Tarantino, PT Anderson, Wes Anderson, Spielberg (with Day-Lewis), Affleck, Soderbergh (times two), The Hobbit, Nolan's follow-up to The Dark Knight, The Avengers, and the most loaded Cannes lineup in years.
Sure, not everything panned out (The Avengers has gone from jolly fun to nigh unwatchable over the course of three viewings), but 2012 was a strong year on a lot of fronts.
What about 2013? I hate being a negative Ned just hours into the year, but it doesn't look good. I haven't ever struggled this much to come up with a quality year-in-advance list, but this is the task at hand, and come up with the list I will.
It would have been much easier if some of the year's more promising titles had solid release dates, but I'm not including I'm So Excited, The Wolf of Wall Street, Only God Forgives, or Out of the Furnace on any list until I know for sure it's coming out in the next 12 months.
Films that are for sure coming out this year that just missed the list: Peter Jackson's The Hobbit: The Desolation of Smaug, Sam Raimi's Oz The Great and Powerful, Abbas Kiarostami's Like Someone in Love, Kenneth Branagh's Jack Ryan, Adam McKay's Anchorman: The Legend Continues, and Chan-wook Park's Stoker.
13.) This Is the End
2012 wasn't a banner year for comedies (though 21 Jump Street was quite a feat). Maybe this one will help revive the genre. A bunch of really funny guys make and star in what sounds like a crazy, funny, and very meta movie. It's a Goldberg/Rogen production, and it stars Jonah Hill, among many others. These three are at the heart of my all-time favorite comedy—Superbad. So yeah, you could say I'm excited for this one.
12.) No
Pablo Larrain's latest debuted at Cannes last year in the Director's Fortnight program. Since then, it's won over supporters at Venice, Toronto, and New York. I'll finally catch a glimpse of it in February. It tells the story of the 1988 Chilean opposition to military dictator Augusto Pinochet, and by all accounts, it's the young director's strongest film to date.
11.) Star Trek Into Darkness
This is one I expect will be a lot higher on most others' lists, and look, I liked Star Trek as much as the next guy. I just can't shake Super 8 so quickly. That movie was all kinds of awful. But his Star Trek sequel is another animal, and the addition of Benedict Cumberbatch to the already loaded cast has me feeling rather bullish about this next Trek.
10.) Frances Ha
Noah Baumbach's latest (like others lower on this list) debuted on last year's fall festival circuit (Telluride, to be precise), and audiences were won over completely by Greta Gerwig's winning performance and the film's beautiful black-and-white photography. I'm always down for Baumbach—especially good Baumbach.
9.) The Great Gatsby
Baz Luhrmann makes movies. Leo DiCaprio, Carey Mulligan, and company act in movies. Jay-Z doesn't score movies, but he's giving it a go here. Oh, and the trailers for this one are best watched on mute. The film? No idea. It could be awesome. It could be awful. It could be (probably will be) somewhere boring in between.
8.) Man of Steel
Are cool trailers masking more Superman nonsense? I'm trying not to think that way (hence this film's inclusion on the list), but there's definitely a chance. Zack Snyder just isn't a guy I have faith in. I really hope this film succeeds, but we'll see.
7.) Side Effects
Is there a filmmaker out there as superficially interesting as Steven Soderbergh? The guy double dips in 2012 with a low-key spy thriller starring an MMA fighter and a surprisingly good male stripper movie, and he returns in 2013 with this film about the dangers of pharma. It should be more Contagion (see screenwriter Scott Z. Burns) than Haywire or Magic Mike, and if so, I'll have nothing but great things to say about it.
6.) Elysium
Color me curious. I was very low on Neill Blomkamp's debut feature, District 9, but it contained the sort of vision that typically excites me. I'm more than willing to give him another chance, especially with a project that sounds as promising (and has as strong a cast—Matt Damon, Jodie Foster, Sharlto Copley, Diego Luna) as this one.
5.) Oldboy
Spike Lee's highest-profile joint since Inside Man is a remake of the beloved Chan-wook Park film of the same name that I embarrassingly haven't seen yet. Nonetheless, Lee's participation—coupled with a truly great cast, including Elizabeth Olsen, Josh Brolin, Samuel L. Jackson, and Sharlto Copley—makes this an easy film to include in my top five.
4.) The Place Beyond the Pines
Derek Cianfrance's latest premiered on 2012's fall festival circuit to mostly positive, if not rapturous notices. And though I wasn't Blue Valentine's biggest fan, I did admire it a ton, and the reunion of its director and star (Ryan Gosling) has got me all knotted up with excitement.
3.) Monuments Men
Could this be your year-in-advance Oscar frontrunner? Perhaps. I'll write that post up once the dust settles on the 2013 Oscars, but this one will definitely be in the running. It has a friendly director (George Clooney), cast (Daniel Craig, Matt Damon, Cate Blanchett, Bill Murray, John Goodman, Jean Dujardin, and Cloony himself), and release date (right around Christmas Day). And its subject matter (art historians race to save works of art from Hitler and the Nazis) won't hurt its case, either.
2.) Pacific Rim
I'm doing my very best to avoid posters, trailers, and other promotional materials for Guillermo del Toro's latest film. It just strikes me as the kind of project you want to go into fresh (or at least as fresh as possible). So I can't weigh in on what most saw of the project a few weeks ago. That said, there's nothing that could possibly make me feel lukewarm about a del Toro film. The guy knows what he's doing.
1.) To the Wonder
It's really unfortunate that the reviews are already in for my most-anticipated film of the year. Even worse is that they're decidedly mixed. No matter. Terrence Malick has a film coming out in 2013, and in the absence of a new Tarantino, Anderson, Nolan or Leigh film, that's all I need to know to make it my top choice.