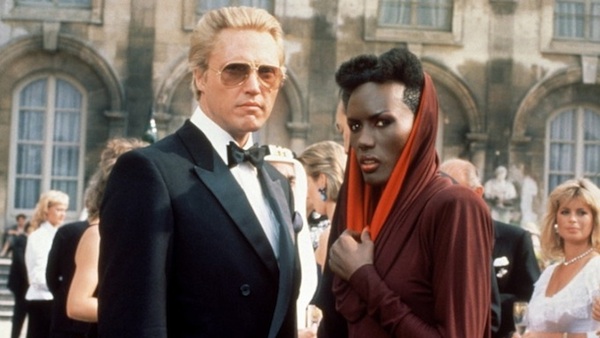 This is the first in a new monthly series of posts called "An Appreciation" in which I'll profile films both good and bad and try to get at my personal connection to them.
This particular post was done in conjunction with the site 007hertzrumble.com. You can read more posts like it by clicking here, and join us Wednesday at 9 p.m. EST for a live A View to a Kill Twitter chat.
*****
IT WAS 2004, and I'd just started my first ever part-time job. At the ripe young age of 14, I wasn't exactly a saver, so each paycheck—as meager as it was for a busboy like myself—was gone before the next one arrived. The target of my retail affection? Movies. And not just any movies, but James Bond VHS tapes (yep) that I could pick up on the cheap.
I didn't know much about each movie before I bought it. All I knew was that 007 and I clicked (I credit the Goldeneye N64 video game as much as any movie). So purchases were informed by packaging more than anything else, and the phenomenal purple pastels of that A View to a Kill box just sang to me.
I went home, I watched it, and…I didn't love it. Far from it, actually. It was hokey. Roger Moore looked laughably uninterested. Tanya Roberts and her throaty scream—let's just not even get into that yet. The whole exercise was borderline excruciating, and I was teenager whose idea of movie criticism was labeling something "awesome" or "not awesome."
"But wait, John, aren't you supposed to be writing about how you love A View to a Kill? How it's your favorite Bond movie?"
Spoiler alert: it's not. But don't worry, I'll get to all the things I love about A View to a Kill—and there are a lot—shortly.
*****
I collected every Bond film I could find on VHS. (Then I bought all the DVDs. And now I own Bond 50 on Blu-Ray…I have a problem.) They sat on my shelf in descending order of preference—From Russia With Love always first, Octopussy always last. Somewhere in the middle sat—side by side—License to Kill and Die Another Day, two perfectly respectable if unremarkable Bond movies, said 14-year-old me.
I bring this up to demonstrate how one's opinion of these movies changes over time and how multiple viewings can make what seems not so awesome feel kind of awesome, and vice versa. Today, License to Kill and Die Another Day could hardly be further apart on my ranked list of Bond films. And as for A View to a Kill, the hokiness that drove me crazy as a teen feels like a rather brilliant tongue-in-cheek nod to the series's history. Roger Moore's work as old-man Bond is so brazenly unapologetic that I can't help but admire what he does here. And Tanya Roberts…yeah, she's awful. That scream—like nails on a chalkboard. But still, the movie's good qualities (and my remote's mute button) make her contributions (or, more appropriately, her lack thereof) easy enough to overlook.
*****
Time to talk about the movie, I suppose.
Following Moore's final gun barrel sequence, we're taken to snowy Siberia. A screechy 80s electric guitar riffs as Moore's 007 skis around looking for something. What exactly? A chip, hidden in a locket that's clasped around the neck of a dead body. But wait—the Russians are coming! The Russians are coming!
The ensuing ski chase is surprisingly inspired (perhaps the perfect descriptor for the film as a whole). It's playful with composer John Barry letting loose a little Beach Boys as Bond switches from skis to a makeshift snowboard and "surfs" across a pool of water.
Before long, he's safe in the confines of a killer gadget—a submarine-type vessel disguised as an iceberg. "Be a dear and put it on autopilot," he tells some chick we'll never see again before we cut to an all-time great opening credits sequence.
*****
It was 1985, and the last time a relevant artist tackled a James Bond theme was eight years earlier when Carly Simon belted out "Nobody Does It Better" over the opening credits of The Spy Who Loved Me. And a male vocalist hadn't led a James Bond theme since Paul McCartney earned an Oscar nomination for the Live and Let Die title track.
I bring this up to demonstrate how against-the-grain Duran Duran's "A View to a Kill" really is within the canon. It's the kind of song that you'd think is ushering in a brand new Bond era, rather than closing one out. Nevertheless, it's bold and doesn't make a ton of sense (I'm not sure why anyone would want to dance into a fire), but with high-haired women wearing nothing but strategically placed ribbons—women who also happen to be skiing indoors and bathed in neon light—rocking out on the screen, I'm happy to rock out, too.
*****
Back at MI6, Moneypenny (Lois Maxwell, in her Bond movie swan song) is dressed to the nines. M and Q give Bond a rundown of what he exactly he found in Siberia. The computer chip is designed to be impervious to an electromagnetic pulse, and it comes from Zorin Industries. Its founder, Max Zorin (Christopher Walken), is big in the horse racing circles, so it's off to the races for our heroes.
Zorin, flanked as always by the beautiful and powerful May Day (Grace Jones), owns Pegasus, who wins the race following an almost impossible to believe final sprint to the finish. It's Bond who suspects Zorin of dirty deeds—from drugging his horse to producing counterfeit microchips—from the outset, but it isn't until he spends a weekend at Zorin's stables that he becomes certain.
*****
I'll argue here that A View to a Kill doesn't have a weak scene. It's slower sequences are always offset by delightfully brash humor; its less successful comedic moments are always overshadowed by a pretty killer action scene.
That said, the film's reputation suffers some, I think, because most watch A View to a Kill without noticing its standout scene. Bond and his parter Tibbett (Patrick Macnee) spying around the stables is not just A View to a Kill's best sequence (and it's a long one, clocking in around 30 minutes), but one of my favorites in the entire Bond film catalog. Why?
1.) Solid action—the horse race—that's unique among the Bond films.
2.) Laugh-out-loud comedy. The only thing more biting than Bond's awful treatment of Tibbett (who's posing as his manservant) is the smarmy way he corrects everyone who mispronounces his cover name—James St. John Smythe (that's "sin-jin-smythe").
3.) The insane cast of characters is confined to one relatively small space. There's Bond, Tibbett, and Zorin (who's a top-five villain as far as I'm concerned). May Day is this totally bizarre anomaly within the series. She's one of the most physically imposing henchpeople Bond has or ever will come across. She's also, I guess, a sexual presence. She and Bond share a truly weird night in bed, and she wrestles in a thong with her boss/lover, Zorin. Don't forget, too, about Stacey Sutton (the aforementioned Tanya Roberts), who plays a much bigger role when the film moves to San Francisco. And I'll always have a place in my heart for Scarpine (Patrick Bauchau) and Dr. Carl Mortner (Willoughby Gray)—two Zorin associates who ultimately go down in a pitch-perfect blaze of incompetence.
*****
Following the horse race, there isn't a ton left to report. Zorin's grand plan, as you probably know, is more-than-vaguely reminiscent of Goldfinger's Operation Grand Slam. Bond and Sutton become close in San Francisco. There's a fire at City Hall, a flood in a mine, and a fight atop the Golden Gate Bridge. It's all pretty good stuff if you can handle Roberts spewing geology at you. (Silver lining: at least she's not Dr. Christmas Jones).
A View to a Kill is Roger Moore's final Bond film, and most fans wish he went out a film or two earlier. He's lost a step, I agree, and watching him bed a woman nearly 30 years his junior is a tad uncomfortable. But it's for all these reasons that I genuinely enjoy A View to a Kill. Everything about it feels a bit off, but it goes for the jugular on every front—Moore, Walken, Jones, Roberts, the Eiffel Tower leap, the firetruck chase, JAMES FREAKING ST. JOHN SMYTHE—and I can't help but eat it up.