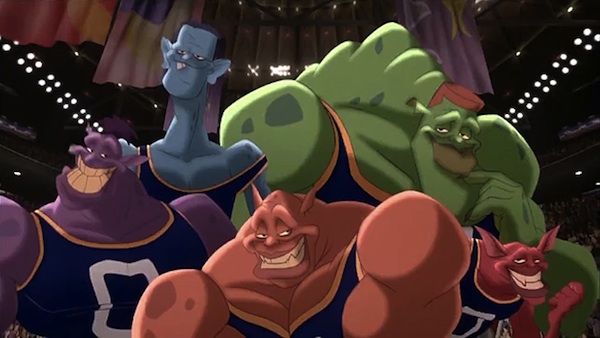 "News" "broke" over the weekend that King LeBron James himself would be suiting up this summer for Team Looney Tunes in a sequel to the brilliant 1996 comedy Space Jam. If your childhood was anything like mine, Space Jam was a staple. Bugs Bunny, Lola, Bill Murray, Wayne Knight, and His Airness Michael Jordan could do no wrong. It really didn't get much better than Space Jam.
Now, I'm not sure I'd be in Space Jam 2's target demo (and not just because LeBron is a little too self-righteous for this basketball fan). Hell, it probably doesn't matter now (LeBron's camp debunked the "news" not long after it "broke"). But those few hours were blissful, and I played out a few scenarios in my mind. For the purposes of this admittedly pathetic exercise, we're assuming LeBron is the new MJ, and here I'm introducing you to your perfect Space Jam 2 supporting cast!
The Monstars
As Muggsy Bogues…Chris Paul!
A major upgrade and a real no-brainer. There are tons of fantastic point guards in the league—John Wall, Kyrie Irving, Damian Lillard, Russell Westbrook, Derrick Rose, Rajon Rondo, Steph Curry, Goran Dragic, Tony Parker, Kyle Lowry. Great players, not the most exciting off-court personalities. Talent-wise, Chris Paul is the best of an excellent bunch. He's also charming and quite funny (see the Chris/Cliff Paul ads).
As Larry Johnson…James Harden!
There is no shortage of superstars for this slot, but Harden seems like the most logical selection. Durant came up short in his big acting debut, Thunderstruck. I suspect Melo would play the LaLa card, but that wouldn't be enough. No one is answering Kobe's calls. And while D-Wade seems to make sense on paper, it's hard to picture him going up against his partner-in-crime. Harden's beard would make for a distinctive Monstar doppleganger, and he's just well-known enough to make this work.
As Charles Barkley…Dirk Nowitzki!
Also fills in the "goofy white guy" slot (previously taken by all seven feet six inches of gangly Shawn Bradley). Dirk is on the unintentionally funny NBA player Mount Rushmore, and anyone with a tangential familiarity with NBA basketball knows him. An A+ choice.
As Patrick Ewing…Blake Griffin!
The new Monstars will have the same affinity the old Monstars did for rim-rocking dunks. So with Paul running point, Blake Griffin needed to hold down the 4. It's a smaller team than the last squad, but Griffin's another guy with a unique look and the skills to make a game against Bron Bron and Bugs truly competitive.
As Shawn Bradley…Anthony Davis!
My favorite bit of casting if only because I know Dwight Howard thinks he's a shoo-in for center on the new Monstars. He'll have to watch a younger, more interesting, more exciting guy (with a unibrow!) join his teammate (Harden) and the others—something guaranteed to start an epic rivalry between the Pelicans and Rockets. See, we're changing the landscape of the NBA!
More Supporting Players
As Bill Murray…Kevin Hart!
It's not as if this bit of casting makes me happy, but there's no way it doesn't happen, right?
As Larry Bird…Charles Barkley!
From Monstar to…um…friend of main guy. Barkley makes a ton of sense. He's funny. He loves to golf. He's more a part of pop culture than almost any other recent NBA retiree. Shaq would be another solid choice here, but I'm going with Sir Charles for sure.
As Wayne Knight…Wayne Knight!
Is he available? He's got to be available.