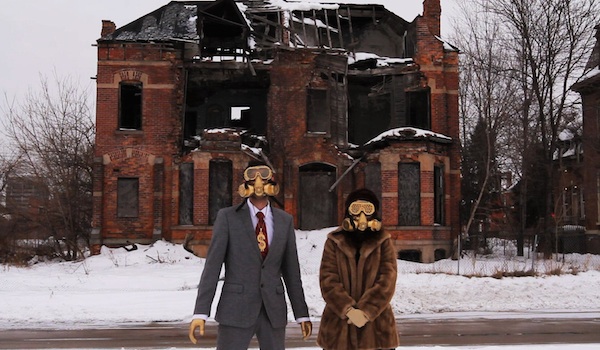 If the 1920s were the best of times for the city of Detroit, Michigan, the late 2000s were absolutely the worst of times. Detropia, a marvelous documentary by Heidi Ewing and Rachel Grady, isn't exactly a tale of two cities. It's interested exclusively in profiling the worst of times in the Motor City, which is why it opens with a home getting demolished.
This home is just one of thousands across Detroit (circa 2010) that's decrepit, abandoned, and both a visual and environmental scourge on the city. The only industry thriving, it seems, is the demolition business. The UAW (United Auto Workers) is being forced to accept steep pay cuts. Restaurants are empty. The arts are suffering. It feels like the setting of a post-apocalyptic film.
Ewing and Grady's approach is in the tradition of a Pennebaker Cinéma vérité documentary insomuch as they stay completely removed from the proceedings. Yes, there are versions of your standard "talking head" interview, but they're all done in the moment. Detropia doesn't feature any sets or narration, which lends a great deal of truthfulness and immediacy to the picture.
The film arguably tries to do too much, but considering it's trying to do something very broad—profile a city in ruin—it feels quite thorough. We meet Mayor Dave Bing, who's big plan is to relocate many of the city's residents into a denser population center. We spend some time with a local bar owner who's concerned, but ultimately optimistic about his city's chances. We head to an auto show to learn a little more about the electric car movement that's helping to revive the city. And we meet the leaders of the auto unions who long for a time when jobs were plentiful.
All of this adds up to a film that packs a punch and feels surprisingly complete. Of course, it isn't. A two-hour profile of a city in peril can't possibly be complete. But if feels that way, and as such, it's a supremely satisfying film—one of 2012's very best documentaries.