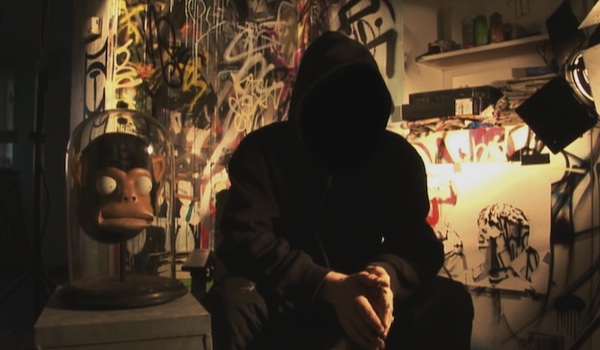 My thoughts going into Banksy's Exit Through the Gift Shop were summed up perfectly by one art patron in the film: "It's one of those thing I'm not quite sure what I'm in for, but I'm excited about it." My thoughts after seeing it are all over the place, but I still remain excited about it days later. It honestly was unlike anything I had ever seen before, and I thought it spoke so clearly about how art means so many different things to different people. It's also laugh-out-loud funny at times and provides a first-person view into the world of street art. It works on so many different levels, and always feels fresh. And in a year of amazing docs (I'm starting to get sick of saying this, but it's so true), this one stands above the rest.
The film's structure is fascinating and one of its biggest assets. Thierry Guetta, a French shop owner living in Los Angeles, has a strange obsession—he videotapes EVERYTHING. These videos are essentially purposeless (Guetta doesn't even label his tapes—he just puts them in boxes to be forgotten), but his friends and relatives urge him to put his passion to use and make a documentary. His cousin turns him onto the emerging street art scene, and Guetta is hooked. He follows his cousin—known as Space Invader—and a few other respected street artists with his camera, but his tapes are still formless, and he's unhappy that he can't shadow, even track down, the most respected and mysterious street artist in the world, Banksy. By chance, he actually strikes up a working relationship with Banksy, and the artist encourages him to turn his documentary into a reality. But it's a disaster, so Banksy, growing a bit tired with Guetta's antics, tells him to create some street art of his own. He creates the persona of Mr. Brainwash and throws the entire street art world on its head.
I just loved how the story originally began as a documentary on Banksy and turned into a documentary on the original documentarian. Banksy said he felt obligated to give the world a coherent and watchable film about street art (he has some hilariously awful things to say about Guetta's film).
The two men differ greatly in their opinions on and styles of street art. Banksy sees it as something personal he can share with the world. Brainwash is purely a hype man. His art is good, no doubt about it, but so many of his contemporaries object to the way he commercializes everything he does. He's changing their world, and no one seems to appreciate that very much, especially Banksy, his idol.
Stylistically, the film is nothing short of brilliant. Its music and camera work (a good amount of the film is Brainwash's actual tapes) gives it the feel of something subversive, almost mischievous. The film, like Catfish earlier this year, also has an element of mystery as to its authenticity, though that didn't prevent me from enjoying it whatsoever.
But this is more than just the year's best documentary; it really is one of the best, most unique, and most entertaining films of the year. Banksy probably won't give us another film, but his debut is something special, whether it's authentic or not.