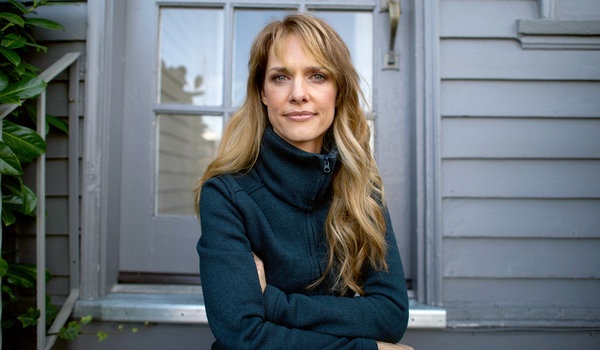 Lynn Shelton movies? Consider me a late convert.
I'm one of the few I know who wasn't swooning over Lynn Shelton's Your Sister's Sister when it hit theaters in the summer of 2012. You can read more of my thoughts regarding that film below (and here), but it had completely shaped my opinion of Lynn Shelton movies.
When I decided to highlight Lynn Shelton movies with this post (in honor of the release of Touchy Feely and because I want to highlight more women and minority filmmakers), I knew I needed to see something else. So I turned to Lynn Shelton's Humpday—regarded by many as her best film, and certainly the one that clued me in to her as a filmmaker, even if I never got around to seeing the thing.
So as soon as a week ago, I was a guy who'd seen just one Lynn Shelton movie and didn't care for it or her sensibilities very much at all. Now? Well, I've still only seen two (to be fair, there are only four Lynn Shelton movies, and two are tricky to find), but I'm a fan. As far as I'm concerned, you can't watch Humpday and not become a fan of Lynn Shelton movies. The thing is simply spectacular.
Lynn Shelton Movies
We Go Way Back
A drifting twentysomething is haunted by her younger self.
(2006, 0 viewings)
Sounds unlike Lynn Shelton's other movies. I hadn't heard much about Shelton until Humpday, and I'm still not sure if it's because that was her first truly noteworthy movie or if it had more to do with my own cinematic ignorance. I'd like to catch up with it at some point, but I'd be lying if I said it was a priority for me.
My Effortless Brilliance
Two friends, who "broke up" years earlier, spend a weekend in a cabin and try to mend their relationship.
(2008, 0 viewings)
This one is much more Shelton's style, at least thematically. Yet, here I am again wondering why I knew so little about this film before I started researching this piece. On the heels of Humpday, I'm much more intrigued by this than We Go Way Back. It sounds like the two share a lot in common, even if it doesn't carry the same reputation as Shelton's next.
Humpday
Two straight friends decide to make a gay porn video as an art project.
RATING:


(2009, 1 viewing)
The concept is almost painfully contrived, but the execution is a thing of beauty. If Shelton doesn't make a good film for the rest of her career, she'll still have Humpday to hang her hat on. It's spectacularly truthful and about so many damn things. Please, I implore you: don't be turned off my the subject matter. Films this smart and funny just don't come along often.
Your Sister's Sister
A woman invites her male best friend to spend a weekend alone at her family's cabin to clear his head following the death of his brother. There, he meets his best friend's sister, and the two share an awkward evening. (Click here for my full Your Sister's Sister review.)
RATING:

(2012, 1 viewing)
I really didn't enjoy this Lynn Shelton movie at all. The contrived nature of the story shone through much more brightly than did the good performances. As such, Your Sister's Sister was far less insightful than Humpday. Not even a comparison.
Touchy Feely
A massage therapist is unable to do her job when stricken with a mysterious and sudden aversion to bodily contact.
(2013, 0 viewings)
Lynn Shelton's latest movie quietly premiered at Sundance this past January. She's attracting bigger names to her movies—Ellen Page, Allison Janney, Scoot McNairy. Rosemary DeWitt also returns after stealing the show in Your Sister's Sister. I tend to think this one isn't going to expand Shelton's profile much, but I do think she's on the verge of a Duplass-esque breakthrough movie. As a recently won-over fan, that makes me rather excited. And considering the pace Shelton typically works at, I don't think we'll need to wait too long for her next (hopefully great) movie.