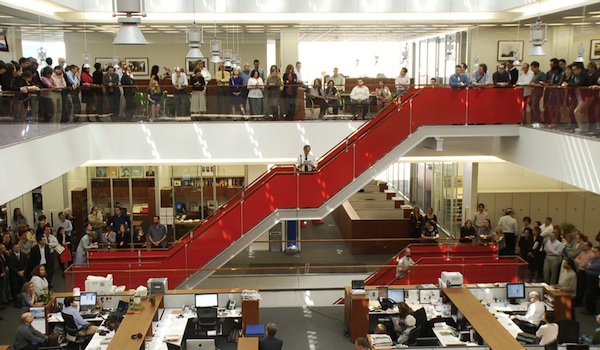 Page One: Inside The New York Times might not be the best doc I see this year, but I can't imagine another one coming along that's this much in my sweet spot. Having studied the film's internal debate for four years (and lived through it for a year and a half now), it's nearly impossible for me not to be totally captivated by such a thoughtful study of journalism's big questions: What's the future of print? What's the value of real reporting and a newsroom? How should organizations balance the needs of a print product and a web one? And where do institutions like Twitter, Gawker, and Wikileaks fit in the industry? They really are important questions—not just for insiders, but for everyone who consumes news. And Page One presents them in a very compelling manner, while at the same time giving us unprecedented access to the most prestigious paper in the industry.
Andrew Rossi directs the film, which follows a group of New York Times reporters and editors (primarily from the media desk) as they navigate the volatile waters of a rapidly changing business. Bill Keller is the paper's executive editor. He leads the Page One meetings every morning, during which he and managing editor Jill Abramson (who will actually replace Keller in September) hear pitches from the various desk editors as to why their stories should be featured front and center. Bruce Headlam is the editor of the newly formed media desk, which covers the goings-on in his world—the newspaper closings, the emergence of new forms of media, etc. Others on hand include Brian Stelter, journalism wunderkind who rose up from blogger to NYT reporter almost overnight; Tim Arango, a rising business reporter who decides to take a position in Iraq; and David Carr, a columnist and former drug addict who will defend the Times to his dying breath but isn't afraid to adopt the new ways of journalism.
It's Carr that keeps things movingly along briskly. He's a craggly-voiced, quick-witted, balls-to-the-wall reporter who's totally unafraid to throw down with anyone. As he says, he's been in jail, on welfare, and has had to raise his children alone, so something as "trivial" as a potential layoff or a possible lawsuit from an unhappy story subject isn't going to do much to shake him. He's funny and super intelligent, and whether accurate or not, he gives the paper—and the film—a needed dose of personality.
Though the issues the film presents aren't new, the film tackles them in a surprisingly insightful way. I expected this to be like an introductory class, The Future of Journalism 101. Instead, it thrusts you into these people's world, showing the perils of the trade with all their complexities. Yes, the internet is an important advancement for journalists, but when the price is the careers of many of its best, most old-school talents (as well as the death of some of the industries most prestigious and lasting institutions) how much good can it really be doing? Well, it's giving us news faster and making journalists more accountable to the public, for example, and though I could go into these types of things in more detail, I'd just as soon tell you to go see the film for yourself. It's a very well-done documentary—maybe not one that will contend for an Oscar next year because it's definitely an insider's film—but it's definitely worth seeking out if you have any interest in the subject.