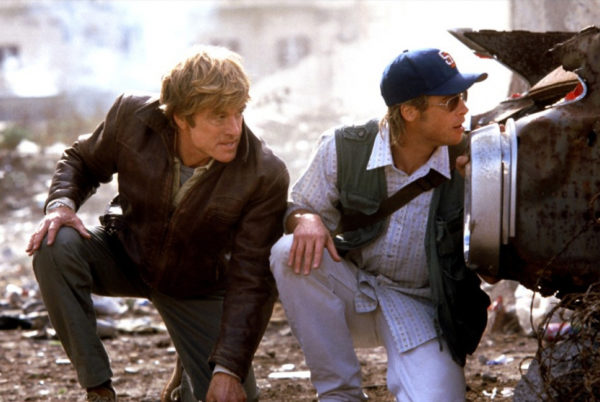 RATING:

(3 STARS)
Spy Game is a film that carries over Tony Scott's interest in the people who watch us from Enemy of the State, but it does so in a much different way. I had assumed going into this film for the first time that it would be a close sibling to Scott's previous effort, but the two really don't share much besides a now well-defined directorial vision. In terms of its story and characters, Spy Game is a noticeable step up from Enemy of the State, and I'd argue it's one of Tony Scott's most underrated efforts.
The film chronicles an incident in a Chinese prison which sees CIA asset Tom Bishop (Brad Pitt) get captured along with his team as they attempted to free someone. Back in Washington, top agency officials tell Nathan Muir (Robert Redford) that Bishop is set to be executed at 8 a.m. the next day. Bishop was Muir's protege. He brought him into the agency and served with him on missions in some of the world's most dangerous hot spots. He'd like to see Bishop rescued or essentially swapped for, but with big trade negotiations with China on the horizon, the official position is to let him hang. So with Muir's help, they sift through his history to concoct a reason to disavow him – all while Muir maneuvers behind the scenes for an angle that will save his friend.
Any of the film's extended set pieces would have made for an exciting film in its own right, but getting snippets of them all as flashbacks is both a strength and a weakness. Like Enemy of the State before it, Spy Game is simply too long (and this will plague most of Tony Scott's films from here on out). There's a long game in doing this. It's Tony Scott's Citizen Kane, which is an inspired idea, and while the Rosebud moment the film builds to is satisfying, it's occasionally a slog to get there.
What's exciting about the way this story is told is that we get one of the best Robert Redford performances of the latter half of his career. It's not particularly showy, but it's layered in ways that serve the story well. The way the film opens, it makes you think this is going to be Brad Pitt's Mission: Impossible or something, but that couldn't be further from the truth. He's good and also reveals things about himself and his growing disillusionment over his work from sequence to sequence. But ultimately, he's there as a major player in Muir's story (and to wear a really cool San Diego Padres cap that I want right now).
Outside of True Romance and Crimson Tide, this is probably the best directed Tony Scott film (at least to this point in his filmography). Like I mentioned earlier, each sequence – from China to Vietnam to Germany to Lebanon – is unique, tense, and well-crafted. Lebanon is probably the meatiest and most exciting, but the Berlin sequence is straight out of a Le Carre novel and really scratched an itch for me. While all the trademarks Scott has now embraced and (to an extent) perfected are here, he'll hew closer stylistically to Enemy of the State with each film going forward, which makes Spy Game stand out in a way I didn't expect. This definitely isn't my favorite Tony Scott film, but I'd happily watch it again and would encourage everyone to give it a look.