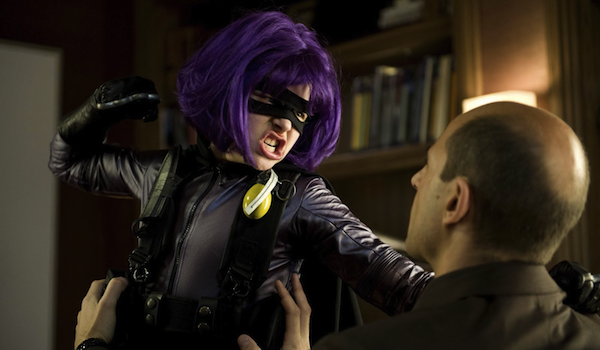 Hello from Austin!
My first ever SXSW festival began last night with the premiere of "Kick-Ass," Matthew Vaughn's adaptation of the popular comic book about a nerdy high school student who dons a wet suit and fights crime in his spare time. The theater was packed as festival attendees circled an entire city block to check out the film. Once seated, festival director Janet Pierson introduced the film and its director, who was just off his flight from London. Vaughn said the film was completed merely days earlier. Very few people had seen a final cut, and he implored the audience to be vocal so he knew whether or not they liked it.
Vocal they were. The film's opening scene, which is the bulk of the original trailer, garnered tons of laughs and a raucous round of applause. This went on throughout the film, especially during scenes with Nic Cage and his character's daughter, the crime-fighting Hit-Girl. They stole nearly every scene they appeared in, provided by far the biggest laughs, as well as a few genuinely heart-felt moments. Kick-Ass himself, relative newcomer Aaron Johnson, was also terrific. In a role that seemed perfect for a Michael Cera circa 2007 (you know, before he started doing shit like "Youth in Revolt" and "Year One"), he shows he has great screen presence and comedic timing.
The film was just a ton of fun. It dares you not to have a good time. It was the perfect way to open the festival, and I think it could do well when it opens on April 16, at least until it runs into the behemoth that will be "Iron Man 2."
That was the extent of my first day. Day 2 will be significantly busier. I have plans to see a number of films, but of course, it is all subject to change. Unfortunately, that will be the extent of my festival (I start classes again Monday, so I'll be flying back to PA tomorrow). Then, I'll have a full recap of my festival, as well as full reviews of the films I've seen.