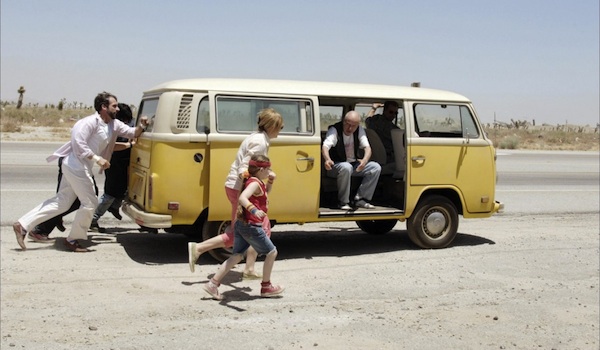 10.) Notes on a Scandal
Outstanding acting and a tight story elevate this film above a few cringe-worthy moments related to its conclusion. Cate Blanchett was robbed of a Best Supporting Actress Oscar.
9.) The Prestige
Christopher Nolan can do anything, including early-20th century magic thrillers, apparently. The Prestige is a film that's all story, but it's surprising and well-constructed enough that we can get past its minor flaws and have a very good time.
8.) Little Children
Todd Field follows up his brilliant In the Bedroom this—a very dark look at suburbia and what broken dreams can make a person do. Kate Winslet and Jackie Earle Haley both deservingly picked up Oscar nominations.
7.) The Good Shepherd
I'll always be surprised at the mixed reception to Robert DeNiro's sprawling CIA epic. It's a very slow-burn thriller, but I think the pace serves this well-acted, well-written film quite well.
6.) Pan's Labyrinth
Guillermo del Toro's nightmarish Spanish fantasy is simply an astounding piece of cinema. The visuals are incredible. The complexity of the story is amazing. And the direction is just brilliant.
5.) Casino Royale
I'm a James Bond fan from way back, so it was just delightful to see a really good 007 film for my generation. Daniel Craig was the perfect pick to bring Bond back to the screen, and the emotional bond he forges with Eva Green's Vesper is a series high point.
4.) Little Miss Sunshine
I've never had so much fun in a theater. I never laughed so hard, and most of the sold-out audience with me seemed to feel the same. Beyond the laughs, however, is a film full of heart and outstanding performances.
3.) Children of Men
My top three of this year all made it into my top five of the decade, so needless to say, the differences between these three are minimal. Alfonso Cuaron's film is as bleak as any, but it's an emotional trip worth taking. Plus, the camerawork is too incredible for words.
2.) The Departed
Finally, Marty earned his Oscar, and I'm so happy it came for this film, which might be his best ever. Adapted from the Hong Kong thriller Infernal Affairs, the film is a clever cat-and-mouse game between four actors at the absolute tops of their games, especially Leonardo DiCaprio.
1.) United 93
Paul Greengrass' story of heroism on 9/11 is one of the most difficult-to-sit-through films that I've ever seen, but it's such a rewarding experience, I almost can't put it into words. Greengrass' you-are-there approach really hits home, as does his use of actual air traffic controllers and military personnel who were there on 9/11. It's a monumental film achievement and something that's always capable of moving me deeply—that's why it's my favorite film of 2006.