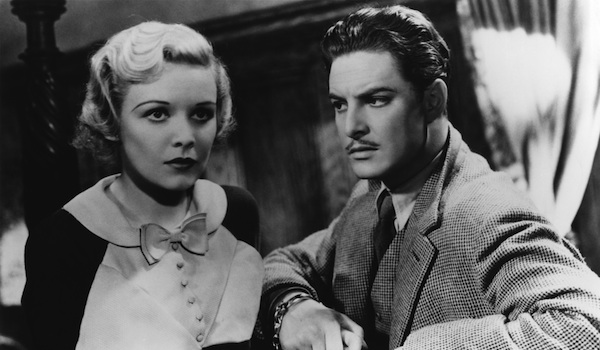 I: Intro
II: My Hitch Criterion Wish List
III: The 39 Steps
IV: What's New?
V: Links
Welcome to Sunday Afternoon with Criterion, a series of fortnightly posts on JohnLikesMovies.com covering everything Criterion—the company's newest releases, just-announced projects, reviews, lists, links, and more.
This past week, we celebrated what would have been Alfred Hitchcock's 114th birthday, and the film community celebrated en masse. I held my tribute for today, and so I bring you a Sunday Afternoon with Criterion post dedicated almost exclusively to The Master of Suspese (sorry, Hitch, but I couldn't help but also comment on the huge announcement of November Criterion titles).
We start with a top-five list, as always. This one is a Criterion wish list for Alfred Hitchcock's films. Following that is a quasi review of a Hitchcock already in the collection: The 39 Steps. And after tackling new releases and new announcements for Criterion, I leave you with a special Hitchcock-only link share. Enjoy!
I'll start by stating the obvious: I hope all of the director's films are adopted by Criterion one day. But there are a lot, and I'm sure there are some rights issues involved that I know nothing about. Anyway, this is a list from the heart, so take likelihood out of the equation if possible. I recognize fully that these titles (or at least Criterion versions of these titles) might not ever sit on my shelf, but that doesn't mean a movie fan can't wish, does it?
5.) Psycho — Does it need another super-duper special edition home video release? Probably not. Do I want my favorite Hitchcock film and one of my top three movies ever in the Criterion Collection? Yeah, I do.
4.) Dial M for Murder — Not only is Dial M for Murder a great film, but it was also shot in 3D, which would make it only the second Criterion film ever to get the 3D Blu-Ray treatment (the first was Pina). Alas, this one already received a 3D Blu-Ray upgrade not long ago, so the chances for a Criterion set are slim.
3.) Rope — I'm salivating over the possibilities for supplements on a Rope release that would discuss (in nauseatingly awesome detail) the director's shot choices and editing style on what's arguably his most experimental film.
2.) Foreign Correspondent — The My Criterion page asks all users with a profile to name the film they'd most like to see join the collection. Mine is Foreign Correspondent for a few reasons. 1.) It's one of my three favorite Hitchcock movies. 2.) I want more people to see it. 3.) I know it's to become a reality (the film has been a part of Criterion's Hulu Plus section forever).
1.) The Hitchcock 9 Box Set — Hey, I can dream, right? It's called the largest restoration project ever undertaken by the British Film Institute. The nine films are all silent and were made sometime between 1925 and 1929. They include Easy Virtue, Blackmail, Champagne, The Farmer's Wife, and Hitchcock's first film—The Pleasure Garden. I haven't seen any of these movies, which might make this an odd choice for number one on this list. But I can only imagine the kind of painstaking work and the rockin' special features Criterion would put into a set like this. It makes my bank account cry just thinking about it.
The MacGuffin is a classic Hitchcock trope—an item or person that's deliberately undefined to the audience but carries great weight within the context of a story. And the title of Hitchcock's outstanding 1935 thriller is one of the director's greatest MacGuffins of all.
After shots are fired during a performance of the sharp-witted Mr. Memory (Wylie Watson), Richard Hannay (Robert Donat) takes him with him a frightened and alone young lady, Annabella Smith (Lucie Mannheim). Once within the safe confines of Hannay's flat, Smith reveals that she was the one who fired the shots. She's a spy, see, and a pair of enemy agents were after her for attempting to thwart their plan to extract secrets of state from the country. The whole thing has something to do with "the 39 steps," but Hannay isn't exactly quick on the uptake, which is unfortunate because later that night, Smith stumbles into his bedroom with a knife in her back and a map in hand. A town in Scotland is circled, and as the prime suspect in the murder, Hannay hops a train to avoid capture and clear his name.
For 80 minutes, The 39 Steps hinges on a simple case of a man being in the wrong place at the wrong time. The 39 steps, state secrets—they're referred to so obliquely that we aren't quite sure whether we're supposed to take any or all of it seriously. Knowing Hitchcock's droll sense of humor, it isn't unreasonable to assume the whole thing is simply poppycock. It's in the film's final ten minutes that everything locks into place, and the whole picture shifts on a dime. Lest you label me with a scarlet "S" for spoiling anything, I'll remind you that the film is nearly 80 years old, and I'll assure you that knowing the following bit of information won't ruin your enjoyment of the film in the slightest. But you do find out what the 39 steps are. It's hardly a jaw-dropping revelation, but it's such a fantastic storytelling decision that it elevated the entire film to a new level for me. What was a breezy, enjoyable ride became an undeniable masterclass in moviemaking and building suspense.
Yeesh, a lot to talk about here. This past week saw the release of John Frankenheimer's Seconds. I wrote in my last Sunday Afternoon with Criterion, which previewed the next Barnes and Noble Criterion sale, that Seconds was at or close to the top of films I want to come November. Obviously, not much has changed on that front in two weeks, but it's nice to see people already discovering this film. I look forward to joining your ranks.
This Tuesday, we get a Satyajit Ray double dip with the release of both The Big City and Charulata. Just discussing Ray in any way is bound to reveal my ignorance as far as his films go, so I'll leave it alone, but they're both available via Hulu Plus, so perhaps I'll get around to one or both some time.
The big news on every Criterion fan's mind, however, is the announcement of the company's November titles. I tweeted immediately following the announcement that this is probably the most exciting Criterion announcement ever, and in the days since, I haven't relented on that opinion. We start with Frances Ha, one of my favorite films of 2013 so far. We move onto City Lights, a Chaplin film I'm rather fond of. Next is a Blu-Ray upgrade of Ozu's Tokyo Story, a film I haven't seen for one reason: I've been waiting for this Blu-Ray upgrade and a Criterion sale to purchase it. So that's cool. Finally, Criterion announced the release of a massive and gorgeous-looking 25-film box set called Zatoichi: The Blind Swordsman. Before last Thursday, I knew nothing about Zatoichi, and I'd be lying if I said they're films that interest me greatly. I'm probably not going to pick up this box set, if only because it's crazy expensive. But I'm so happy fans of Zatoichi will get to enjoy these films in all their glory. This is a box set for the ages. So cool.
I leave you this week (as I will every week) with the always thoughtful words of some admired friends and contemporaries. This week, I dug a little deeper than usual to make the link share exclusively Hitchcock:
Lasso the Movies calls The 39 Steps, "the first great Hitchcock movie."
DVD Talk has perhaps the best rundown of the aforementioned Hitchcock 9 from its showing at the San Francisco Silent Film Festival in June 2013.
Finally, for The Film Stage, Danny King compiled some essential watching/reading about Hitchcock in honor of his birthday, including a documentary about Saul Bass title sequences and an infographic called "The 39 Stats" (about the commonalities among the director's many films).