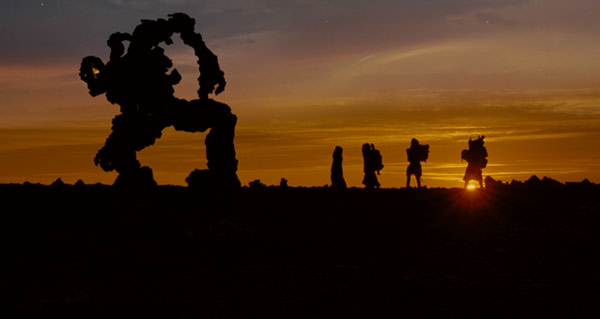 We're here, finally, on the cusp of an exciting fall movie season, and I'm looking back and a weird-ass year so far.
Not bad, per se, just…weird. I rated a lot of movies 3.5 stars or better. I thought my annual trip to the Tribeca Film Festival was as fruitful as its ever been. Yet I feel oddly bearish about the year's movies as a whole.
Maybe its because I skipped a lot of things that came in with disappointing reviews. Maybe my wedding in May sort of disrupted the year's flow in an odd way. (It has certainly left me further behind than usual and more dependent on VOD than ever.) Whatever the case, these 10 films are terrific, even if the film year they're a part of isn't.
Note: This list only includes films that have been released theatrically in 2014. Two films I saw at Tribeca—Virunga and Five Star—would certainly place at or near the top, but I'll hold off mentioning them in posts like these until the end of the year when others can see them.
10.) The Unknown Known
Errol Morris is arguably the most acclaimed, respected documentarian working today, yet saying his latest was received tepidly by critics would be generous. Maybe those critics wanted the film's subject, former Secretary of Defense Donald Rumsfeld, to fess up to something or admit he made a mistake. Or maybe they felt the film uninspiringly followed the path blazed by Morris a decade earlier with The Fog of War, another portrait of a controversial American SecDef. I found enough differences between the two—including Rumsfeld bemused ignorance that understandably infuriated so many—to be able to appreciate The Unknown Known for what it is: an important chronicle of recent history and a nearly flawless guide on how to take secrets to one's grave.
9.) Nymphomaniac: Volume II
You can keep the bloviating of Volume I. I think Lars von Trier's Nymphomaniac saga works best at its most depraved. (Full review)
8.) The LEGO Movie
Everything isn't awesome, but this movie most certainly is. (Full review)
7.) Hide Your Smiling Faces
I caught this for the first time at Tribeca last year and adored it, so I hoped to all hell it would find its way to a theatrical release, no matter how limited. It did, almost a year after I saw it, and while I wasn't wrapped as tightly in its quiet, mysterious spell the second time around, I still suggest cinephiles seek it out. (Full review)
6.) Elaine Stritch: Shoot Me
While it's disguised as an amusing show biz doc, this film is a poignant reminder that everything has an expiration date, and there's no doubt that message hits home harder for those viewing the film in the wake of Stritch's passing than those who took it in while Elaine was still with us. (Full review)
5.) Snowpiercer
Arguably the first ever true VOD phenomenon, Bong Joon-ho's train-set, post-apocalyptic action flick isn't as weird as some would have you believe. It's true, some of the surface details are a little out there, but dig deeper and you'll find something that's super familiar, but nevertheless extremely well-executed. (Full review)
4.) Dawn of the Planet of the Apes
Director Matt Reeves does a rather incredible job connecting the dots between peaceful coexistence and inevitable conflict between the human and ape communities of this series, and he does so by relying on themes that resonate and characters that live and breathe. This is the summer's best and most atypical blockbuster by a mile. (Full review)
3.) Noah
Only Darren Aronofsky could get away with an Old Testament movie this liberal. Environmentalism and paranoid faith are the film's major themes, and he relays them to the audience with giant rock monsters, promises of infanticide, and some really bad CGI. But there's something utterly compelling about this particular incarnation of his madness. I ended Noah with more questions than any film of his, even The Fountain, and I think it's probably better than anything he's done outside of Requiem for a Dream.
2.) The Square
If it wasn't for one other documentary, the first 2014 movie I saw would still be my favorite. The Square was among the five nominated docs at March's Academy Awards, which was awesome and well-deserved. That said, I'm concerned critics have forgotten Netflix technically released this film in January because why else wouldn't it be one of the most talked-about movies of the year? It's an extremely personal, absolutely essential piece of you-are-there filmmaking—not to mention the definitive portrait so far of the most important democratic movement of this millennium.
1.) Life Itself
What else is there to say about Steve James' documentary about the late Roger Ebert that hasn't been said by so many fellow and similarly fawning critics? Yes, I was predisposed to fall in love with this movie, and Ebert, I think, would be proud that I'm wearing my bias on my sleeve. That said, it's an objectively marvelous motion picture—a moving portrait of a guy who lived and loved hard. Two thumbs way, way up. (Full review)