Ten years ago at this time, I was just getting started with this blog. I was graduating from college. And I was writing about There Will Be Blood, No Country for Old Men, Children of Men, United 93, and others as the best movies of the 2000s, or the years from 2000 to 2009. (Incidentally, I wrote the list I linked to TEN YEARS AGO, and it's a little rough. I'm sharing it for the sake of transparency, but I do hope to work on it soon and ultimately compile something as comprehensive as this.)
Since then, ten years have passed, I got married, started my career, changed jobs three times, and traveled the world. One of the few constants in my life has been this space, and while it's collected some cobwebs over the last few years, I'm grateful to still have it in order to share the best movies of the decade from 2010 to 2019.
There are still a lot I haven't seen that I'd like to. I'm sure I'll get to some of those films in my life, and many others will forever go unwatched. So it is with this elusive and overwhelming medium, but whatever changes, I'm sure I'll always treasure these 100 titles.
A few fun facts before I get started:
One director has four titles on this list. One has three. And a whopping 18 appear twice.
The best year by far in terms of depth of quality cinema is 2015. It somehow managed to get 21 films on the list. The next closest year is a tie between 2012 and 2016 with 11 titles each. 2019, as you might expect, has the fewest titles with just five. That's primarily because I haven't seen everything I want to and because I haven't had a chance to let some very good films marinate in a way that others this decade might. That said, I thought 2019 was a very weak year in general, so I'm not sure how much that will change.
I published a "best movies of the decade so far" list at the beginning of 2015, and I thought it might be fun to revisit those placements (only 50) in the context of this list. Of my top 50 mid-decade, 16 films didn't crack my top 100 of the full decade. (The highest of those films was Martha Marcy May Marlene, which was my #20 of the mid-decade and is a film I haven't thought a lick about since.) Nine movies saw their placements improve from the previous top 50 to this top 100, which is a little odd. Consider those movies the ones that aged best. Most of those movies moved up just a spot or two, but Gone Girl rose the most (24 positions), and Before Midnight and Margaret both saw their positions improve by double digits. Finally, my top ten mid-decade resembles my current top ten remarkably closely. My top six then all sit within my top seven currently with everything else that fills out my full-decade list premiering after the mid-decade list was published.
Do with that what you'd like. I thought the context was fun, but now, please enjoy my list of the best movies of the decade (2010-2019).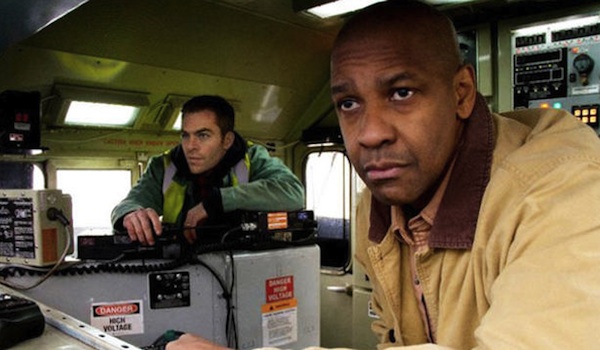 100.) Unstoppable
While the decade from 2010-2019 certainly had some memorable action flicks, the tragic death of director Tony Scott sadly robbed us of a master whose unique works are as skillfully composed as they are seemingly simple. His final film is unquestionably one of his best. In 2010's Unstoppable, an unmanned train loaded with toxic chemicals is out of control, and only Denzel Washington and Chris Pine are in a position to stop it. It takes about five minutes to go from zero to 60, and it stays there for a sensational-sounding, spectacular-looking, and pulse-exploding 90 minutes.
99.) Sully
Clint Eastwood had a weird decade. He turned his doddering old conservative-ness up to an 11, and he made a couple real stinkers. (Hey, The 15:17 to Paris! How you doing? Shitty? Good.) But I still generally stan the idiot's films, and his best of the 2010s is without a doubt his masterful retelling of the "Miracle on the Hudson" and Chesley "Sully" Sullenberger's struggle with both the U.S. government and his nightmares of the flight gone wrong. Tom Hanks is wonderful as the pilot hero, and it the film ends with a perfect dad joke. (Click here for my full Sully review.)
98.) Queen of Earth
Elisabeth Moss is one of my actresses of the decade, and while she performed wonderfully in films that are higher on this list, her best work was in Alex Ross Perry's 2015 film about a woman on the verge of a nervous breakdown and the fault lines that have developed between her and her "best friend" (Katherine Waterston).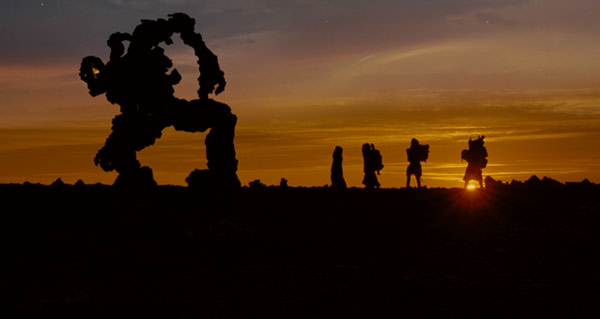 97.) Noah
This is the more explicit and approachable of Darren Aronofsky's two brilliant biblical horror films turned environmental activism pleas (a sub-sub-sub-subgenre I didn't know I needed at the start of this decade). Noah, a 2014 box office flop, has some rough battle scenes, but everything else about it is weird and wild, including rock monsters and a "hero" trying to commit infanticide.
96.) Ballet 422
Jody Lee Lipes is probably best known as a cinematographer (see: Trainwreck, Martha Marcy May Marlene, and A Beautiful Day in the Neighborhood), but in 2015, he directed (and shot) this sensational documentary about the creative process as shown at the New York City Ballet. It's as beautifully shot a documentary as I've ever seen with at least a half dozen individual compositions that actually took my breath away, and it ends on a banger of a note that completely changes (in a good way) everything that preceded it. (Click here for my full Ballet 422 review.)
95.) Mustang
Turkish filmmaker Deniz Gamze Ergüven injects some of her culture into a story that resembles the debut (The Virgin Suicides) of another talented female director (Sofia Coppola) about 15 years earlier. Both Mustang and Ergüven's direction have more of a free-wheeling spirit than The Virgin Suicides, which makes the film's conclusion even more heartbreaking (though not necessarily in the way you might expect).
94.) The Loneliest Planet
Only one thing really happens in Julia Loktev's 2011 film about a couple (Gael Garcia Bernal and Hani Furstenberg) hiking in the Caucasus Mountains, but it's monumental – as is the film's sound design, which swings wildly from lulling to sleep and jolting you out of it. This isn't a film for everyone, but it's stuck with me for almost a decade, and I'd kill for another Loktev film sometime soon. (Click here for my full The Loneliest Planet review.)
93.) Melancholia
The world ends in Lars von Trier's 2011 film starring Kirsten Dunst and Charlotte Gainsbourg. That's not a spoiler; It happens in the film's first ten minutes. But watching the two sisters at the heart of the film navigate their own personal demons all while a rogue planet hurdles toward them is fascinating and powerful stuff. (Click here for my full Melancholia review.)
92.) Black Panther
The best Marvel film of the decade is unquestionably Ryan Coogler's origin story of the King of Wakanda, and it was rightfully awarded with the brand's first ever Best Picture nomination. Chadwick Boseman is a wonderfully moody hero, but Michael B. Jordan steals the scene as Killmonger, Marvel Films' best and most grounded villain.
91.) Shutter Island
Martin Scorsese kicked off the decade (and followed-up his Oscar-winning The Departed) in 2010 with this hauntingly beautiful adaptation of Dennis Lehane's novel about a missing persons investigation at a remote, fortress-like institution. Leonardo DiCaprio turns in one of his best performances as a man still grappling with his devastating past, and Robert Richardson's cinematography is right up there with anyone else's this decade.
90.) Mistress America
On the surface, this is Frances Ha-lite – another Noah Baumbach-Greta Gerwig collaboration about a flighty woman struggling socially in New York City. But Mistress America has both a darker heart and more of an old-school screwball sensibility. Those two things might not sound like they click on the surface, but these two – two of my MVPs of the decade – make it sing, as does the film's star, an underrated Lola Kirke.
89.) Her
Speaking of MVPs of the decade, Joaquin Phoenix did pretty well, eh? Spike Jonze seemed poised for a big decade himself, winning his first Oscar for writing this stunner about a man (Phoenix) who falls deeply in love with his operating system (Scarlett Johansson). But it was one and done for him as a director after Her with only one other screenwriting credit to his name to date (Bad Grandpa of all things!) Come back, please?
88.) Paterson
Easily the best movie about a bus driver who's named after the town he lives in this decade. But in all seriousness, Jim Jarmusch exhibits extraordinary grace and restraint in this 2016 film starring a perhaps never-better Adam Driver and Golshifteh Farahani.
87.) Life of Pi
Ang Lee won his second Best Director Oscar for this ambitious, effects-laden extravaganza about a young man stuck in a lifeboat with a live tiger. The film might not make you believe in God the way one character suggests the story might to another, but rewatching it reaffirmed my belief in Ang Lee after a rough few years post-Pi. (Click here for my full Life of Pi review.)
86.) Two Days, One Night
The Dardennes had an up and down decade. Same with Marion Cotillard. But for 95 overwhelmingly humane and graceful minutes, they join forces to ask a straightforward but morally messy question: How much is my well being worth to you? The answer plays out like a beautiful spiritual successor to 12 Angry Men. (Click here for my full Two Days, One Night review.)
85.) Hugo
We were extremely lucky to get five Martin Scorsese films this decade. Four of them, including Shutter Island at #91, appear on this list. That's more than any other director. Hugo is perhaps the biggest departure from what we've come to expect from the living legend – a family movie that's both an ode to the silent comedies of old and a playful demonstration of the future of film tech, or at least what we thought that would be back in 2011. (Click here for my full Hugo review.)
84.) Widows
Steve McQueen's 2018 heist film was unfairly ignored by its studio, awards voters, and the public more generally, but that doesn't take away from how politically and socially vibrant it is. While it tows the genre line for the most part, there's subtext bubbling beneath the surface (and sometimes bubbling over) that I've never really seen on film before.
83.) Listen Up Philip
Elisabeth Moss isn't exactly front and center in this collaboration with Alex Ross Perry (the way she was in Queen of Earth), but she absolutely steals the show as the spurned girlfriend of Jason Schwartzman's caustic and hilariously off-putting Philip. He's outdone in the caustic and hilariously off-putting department by his mentor, played by Jonathan Pryce, and the whole film doesn't amount to much, but it's one of the funniest films I saw this decade.
82.) High Flying Bird
Steven Soderbergh's quiet drama about a basketball agent trying to shake up the system during a league-wide lockout works so well because it's such a meta commentary on its creator. Here's a guy who was consistently creating high-quality cinema at the start of the decade (more on that later) before he decided to retire because he could no longer navigate within the system as it was. After a few years, he came back and just played around. While his work post-comeback hasn't always soared (sorry, Logan Lucky fans, I'm not among you), this high-flying bird definitely does.
81.) Blackhat
The fact that this was Michael Mann's only film of the decade is enough to bring me to tears, but at least it's a banger. It was also a major, MAJOR box office flop, and I really didn't care for it when I first saw it. Thankfully, certain critics kept beating the drum, and I've more than come around. I love Blackhat. It's weirdly structured, and as detached as anything the guy has ever made, but it's also so loud, and sweaty, and specific, and just hits a lot of beats that I find deeply satisfying.

80.) Arrival
Amy Adams tries to communicate with aliens that dropped in on Montana in director Denis Villeneuve's 2016 film. It's the best thing he made this decade (though I still adore Prisoners and Sicario), and it's probably Adams' best work, too. There's a deep sadness in her character that the film plays with smartly and that the actress rarely shares with us. Of all the high-minded science-fiction we got this decade, and we got a lot, Arrival might not be the very best, but it's the most emotionally effective.
79.) Django Unchained
This was the biggest financial hit of Quentin Tarantino's career, and it features a trio of wild performances from Christoph Waltz (who won his second Oscar for consecutive Tarantino films), Samuel L. Jackson (who's even better), and Leonardo DiCaprio (whose performance was my favorite of his to date … it would get surpassed later). Jamie Foxx, of course, plays the titular character, and while he's fine, this is a film that derives most of its sick pleasure on the margins. (Click here for my full Django Unchained review.)

78.) Magic Mike XXL
I really enjoyed Soderbergh's Magic Mike film, but it doesn't hold a candle to XXL, which is probably the most surprising film-related opinion I hold this decade. The film, directed by Gregory Jacobs, is a riff on the "one last job" genre, but it's mostly plotless with every major character getting a few moments to shine while they get from point A to point B. Highlights include the "I Want It That Way" dance and anything having to do with Jada Pinkett Smith.
77.) Looper
I forgot how clever Rian Johnson's dirty little time travel thriller was until I rewatched it recently. In the film, Joseph Gordon-Levitt has to kill his future self (in the form of Bruce Willis) in order to basically collect his pension and live out his last 20+ years in glory, but his future self has different ideas, and it all becomes very messy when Emily Blunt and her very strange son get involved. Screenplays this high-concept are rarely so tight.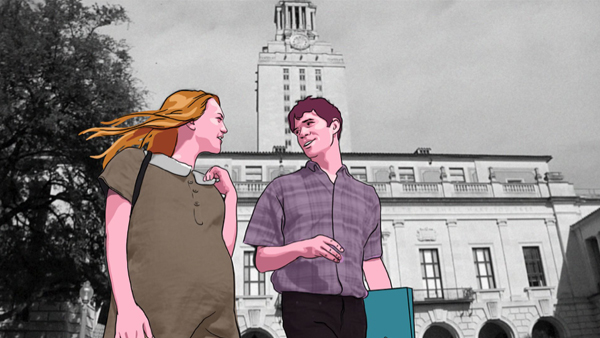 76.) Tower
Director Keith Maitland's 2016 film happens to be one of the decade's best animated films AND documentaries. It uses rotoscoping to tell the story of the 1966 mass shooting at the University of Texas at Austin, and while that might sound a little distasteful, it doesn't play out that way and instead lends some powerful "you-are-there-ness" to the proceedings without going full Peter Berg or Paul Greengrass. (Click here for my full Tower review.)
75.) Margin Call
There's nothing funny about financial crimes, especially ones that allow Wall Street guys to cause middle class pain without paying any price, but director J.C. Chandor's 2011 debut his one of the low-key funniest films of the decade for how stupid the white collar food chain gets as we move from guppy to shark. It all leads to a monumental one-scene performance for the ages from Jeremy Irons.
74.) BlackKklansman
Spike Lee won his first (very overdue) Oscar for Best Screenplay in 2019 for this somewhat genre-less film based on the true story of a black detective (John David Washington) in Colorado Springs who infiltrates and becomes an official member of the KKK with the help of his white, Jewish partner (Adam Driver). It's a messy, unsubtle film, but nobody does unsubtle like Spike.

73.) Good Time
This might not be the best Safdie Brothers film of the decade (more on that much further below), but it's unquestionably the best Robert Pattinson movie of the decade AND the best movie of the decade featuring a MacGuffin in the form of a Sprite bottle filled with LSD. It's … wait for it … a real good time.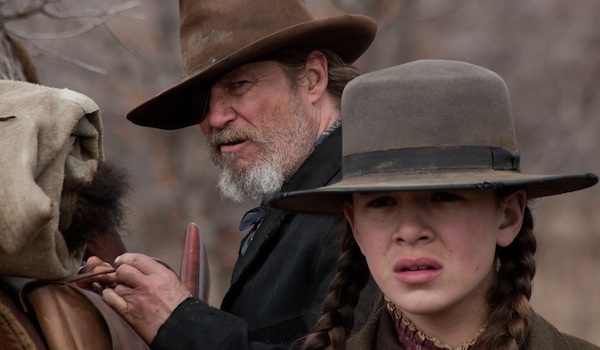 72.) True Grit
The Coen Brothers bookended their decade with two Westerns. The Ballad of Buster Scruggs was one of my favorite films of 2018, but it was too up and down overall to crack this list. True Grit, on the other hand, doesn't have the same sense of twisted humor as Scruggs, but it's sensationally directed – an unnecessary remake in the hands of absolutely anyone else – and Hailee Steinfeld gives a star-making performance as the wise- and tough-beyond-her-years Maddie Ross.
71.) Brooklyn
I'd argue Saoirse Ronan was already a star before her turn in John Crowley's beautiful drama about an Irish immigrant torn between two homes and two families, but even if you felt differently, your case was dismissed in Brooklyn's wake. It's an exceedingly simple film with an emotional struggle at its center that's made all the more difficult to navigate thanks to excellent supporting work from Emory Cohen and Domhnall Gleeson.
70.) Dark Waters
Anything from director Todd Haynes should be treated as a serious contender for lists like this, but it was hard to do so in advance of Dark Waters with its double-deep-fried accepts, up-dos, and Mark Ruffalo in peak "WE KNEW!" mode. But shame on me because this is a brilliant me-against-the-man movie that Haynes directs the absolute hell out of. The unseeable chemicals at the heart of the film's conflict come alive by his camera, and it's amazing to behold.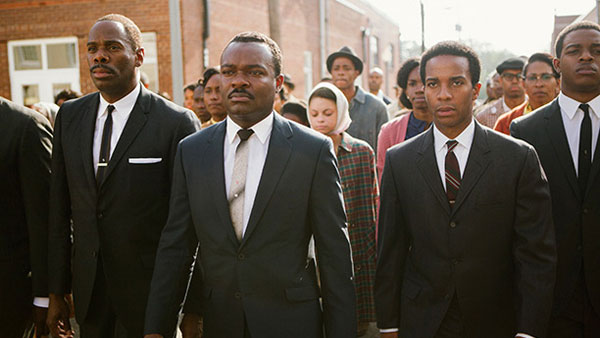 69.) Selma
Ava Duvernay's 2014 MLK biopic smartly focuses on a sliver of this hero's life – his organizing and executing of the 1965 marches from Selma, Alabama, to Montgomery. In doing so, we can really dig into what motivates King, rather than glide from milestone to milestone without much introspection. It helps to have a performance as lived-in and dynamic as David Oyelowo's at its center, and cinematographer Bradford Young brings 1960s Selma to the screen that imbues it with both life and a sense of powerful solemnity.
68.) Inside Out
Pixar's 2015 hit explores the inner workings of a young girl's mind as she moves from Minnesota to San Francisco with her parents. When Joy and Sadness (voices of Amy Poehler and Phyliss Smith respectively) find themselves lost in the recesses of the girl's mind, we're taken on a journey that's as consistently surprising and visually inventive as anything the studio has ever concocted, this decade or otherwise. (Click here for my full Inside Out review.)
67.) Bridge of Spies
Steven Spielberg shows a remarkable amount of restraint in this 2015 retelling of a real-life prisoner exchange between the United States, Soviet Union, and East Germany led and organized by an American insurance salesman. Tom Hanks plays the salesman, and he's both perfectly cast and objectively excellent in the part, but the show is stolen by Mark Rylance (who won an Oscar for his work) playing the accused Soviet spy captured by the Americans and defended in court by Hanks. (Click here for my full Bridge of Spies review.)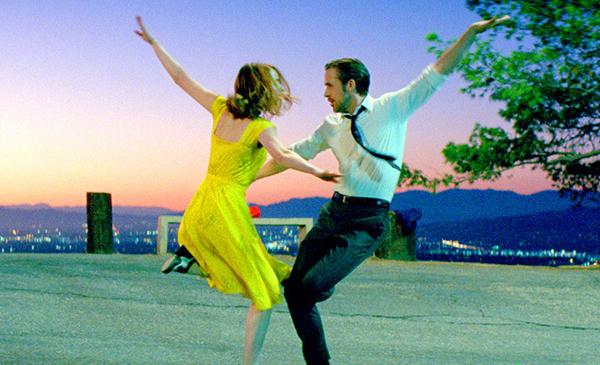 66.) La La Land
Maybe he didn't save jazz with this 2016 film, but Damien Chazelle definitely injected some much-needed life into the movie musical. Of course, its legacy today is that of the most famous Best Picture loser, but don't let that fiasco make you forget how magnetic Emma Stone and Ryan Gosling are, how well shot the film is, or how affecting the film's ending is.
65.) Beasts of the Southern Wild
Director Benh Zeitlin burst onto the scene with this fairy-tale-like film about a girl surviving a hurricane only to be confronted by giant hogs, and as quickly as he rose, he disappeared. A new Zeitlin film is coming in 2020 (called Wendy) but his absence following such a dynamic debut is a little puzzling. Beasts' physical immediacy makes it quite an overwhelming experience, especially considering its budget, and Quvenzhane Wallis' leading performance is another highlight debut this decade.
64.) Exit Through the Gift Shop
One of the strangest films – documentary or otherwise – of the decade is Banksy's tale of street art and failing upward. Is it real or not? Who knows, but the way the film's subject and creator flip midway through is genuinely mind-blowing, and its sense of humor is totally delightful.
63.) Star Wars: The Last Jedi
Rian Johnson's "Episode VIII" was reviled in certain dark corners of the internet for reasons that were as flimsy as they were misogynist. But for those with an open mind and a willingness to leave the past in the past, Johnson's shaking-up-the-snowglobe approach to myth-making was wildly refreshing and the best example of franchise filmmaking in ages.
62.) Tangerine
Director Sean Baker famously used iPhones to shoot this delightful and incisive screwball comedy about trans sex workers in Los Angeles. It's a great story and a welcome craft advancement, but the reason Tangerine really works is the performances from and chemistry between its two leads – Kiki Rodriguez and Mya Taylor.
61.) Whiplash
Never rushes, never drags. Damien Chazelle's breakout 2014 film about an ambitious music student and his abusive instructor is tight and overwhelmingly tense and features two outstanding lead performances from Miles Teller and JK Simmons.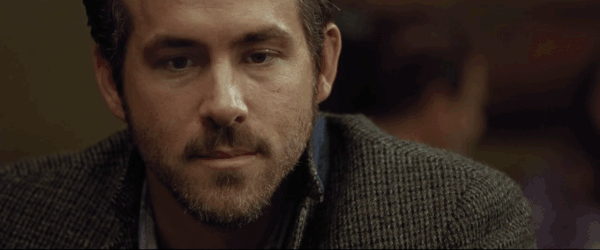 60.) Mississippi Grind
This story of a gambling addict and his benefactor traveling down the Mississippi became one of the most surprising and deeply felt films of the decade in the hands of Anna Boden and Ryan Fleck. Again, it's a pair of leading performances – this time from a never better Ben Mendelsohn and Ryan Reynolds – that really make it sing. (Click here for my full Mississippi Grind review.)
59.) mother!
One of the most enjoyable aspects of watching Darren Aronofsky's bad-houseguest-thriller-turned-apocalyptic-environmental-horror film was counting the stream of walkouts. Hell, even I audibly screamed "What the fuck?!?!" once or twice when things got particularly loud and weird. But truly gonzo theatrical experiences like this one are less frequent than once-in-a-decade, so it's hard not to cherish mother! for that alone. (Click here for my full mother! review.)
58.) The Witch
Both of Robert Eggers' period horror films this decade are among the most atmospheric films I've ever seen. Everything from the language and the costumes to the manual labor and the existential dread adds something valuable to the overall picture. For all its style, one film of these films was frustratingly hollow. The other found space beyond style and ultimately told an unsettling and deeply satisfying story, and that's 2016's The Witch.
57.) The Queen of Versailles
One of the decade's most complicated characters appears in one of its most compelling documentaries. Jackie Siegel is both pitiable and pitiful in Lauren Greenfield's film about a wealthy family that had to learn how to pinch pennies as it abandons its quest to build the largest private home in America. You certainly don't envy the emotional abuse she receives from her oafish husband, David, but that sympathy is somewhat short-lived when she asks the Hertz rental agent why she won't be receiving a driver today. (Click here for my full The Queen of Versailles review.)
56.) The Big Short
Here's another film that wouldn't exist without the financial crash of 2008. This one is a fictionalized retelling of Michael Lewis seminal book on the subject, and while Adam McKay's direction is a little overzealous (and becomes unbearable by the time 2018's Vice lands), it's nonetheless pretty effective with amusing interludes featuring Margot Robbie and Anthony Bourdain explaining the totally fucked financial concepts and "assets" that got us into the mess at the film's center. And when that ultimately hits, it hits you hard. In other words, it's a hyperactive ride, but the destination is super satisfying. (Click here for my full The Big Short review.)
55.) Cloud Atlas
It's hard to predict how the Wachowskis and Tom Tykwer's 2012 sci-fi epic will age, mostly thanks to its controversial but arguably relevant way it changes its actors' races. This is to tell the entire story – which spans continents and centuries – and convey that the characters we meet across time and space are connected on a deeper level. Wherever you fall on that issue, the film remains a lovely and crazy ambitious piece of filmmaking that's sensationally shot and edited and scored.
54.) Spotlight
As complicated as Cloud Atlas is, Spotlight is simple. This is just a great story told extremely well by director Tom McCarthy and his exemplary cast (Michael Keaton, Mark Ruffalo, Rachel McAdams, Brian d'Arcy James, Liev Schreiber, and others). Watching journalists do great work became both life-affirming and painfully infrequent in the latter half of the decade, which is certainly a major reason why this film resonated with folks so deeply and why it earned a Best Picture Oscar. (Click here for my full Spotlight review.)
53.) Queen of Katwe
My choice for the under-looked studio film of the decade. Even Disney didn't have time for Mira Nair's 2015 film about a young, impoverished Ugandan girl who becomes a chess prodigy. In some ways, it's just another based-on-a-true-story underdog flick with lessons learned and motivational speeches and the like. But this particular film with strong women of color at its core and in its director's chair is so atypical, it really comes to life.
52.) Tinker Tailor Soldier Spy
This is one of my favorite novels of all time, and I was skeptical anyone could pull of a half-decent film adaptation, so color me surprised when Swedish director Tomas Alfredson did about 1000 times better than "half-decent." This Tinker Tailor is breathtaking in every aspect from its cool cinematography to its smart screenplay choices to Gary Oldman's quietly powerful lead performance. (Click here for my full Tinker Tailor Soldier Spy review.)
51.) Little Women
Greta Gerwig injects real vitality into this adaptation of Louisa May Alcott's seminal novel about the March Sisters and their various struggles with their roles in society. Her choices with the screenplay are brilliant and allow every actor – Saoirse Ronan, Florence Pugh, Timothee Chalamet, Laura Dern, and so many more – to find something beautifully humane in their respective characters.
50.) Skyfall
Bond never felt as relevant as he did in 2012. (He may never reach that point again.) That's primarily thanks to Sam Mendes for deciding to make an actual great film and not just a passable Bond film. He brought in Roger Deakins to shoot the living shit out of the thing, and he and his screenwriting team gave Daniel Craig, Javier Bardem, and Judi Dench a lot of meat to chew on. (Click here for my full Skyfall review.)
49.) Support the Girls
Peter Berg and Mark Wahlberg decided at some point mid-decade that Hollywood didn't have enough movies for and about blue-collar Americans. They might not have been wrong, but writer-director Andrew Bujalski ran circles around them with this endearing and occasionally uproarious comedy about the women in charge of a Hooters-like establishment. Regina Hall, in particular, is locked in and finds something transcendent in her character, the restaurant's tough and protective, but exhausted, manager.
48.) Taxi
No major filmmaker had a tougher or more inspiring decade than Jafar Panahi, who, in 2010, was banned from making films or traveling outside his native Iran. What followed was a series of "films" that questioned what was real and imagined through a camera and on a screen. The best of these "films" is Taxi – 2015's Golden Bear-winning semi-documentary set in an Iranian taxi driven by Panahi. He converses with his fellow countrymen – some of whom recognize him – and it builds toward a startling moment that changes everything that preceded it.
47.) Nightcrawler
My favorite moment in Dan Gilroy's dirty little thriller about a demented local news stringer named Lou Bloom (Jake Gyllenhaal) occurs when Bloom negotiates a particularly hard and last-minute deal for primo tape with his favorite news director, Nina Romina (Renne Russo). Nina helped create the monster that Lou becomes, and when she sees this creature in its most evolved form, we see a split second of exhilaration flash across her face before she falls back to exasperation and revulsion. Two of the most exciting performances of the decade.
46.) Creed
A billion times better than any Rocky reboot/spinoff ever should have been thanks Ryan Coogler's vision, Michael B. Jordan's dedication, Tessa Thompson's heart, and cinematographer Maryse Alberti's eye. And then there's Sylvester Stallone, who shows more authentic vulnerability than anyone could have expected. Mark Rylance was great in Bridge of Spies, but how cool would it have been for Rocky to win an acting Oscar?
45.) A Separation
A total storytelling tour de force. This Iranian film from writer-director Asghar Farhadi could have come across as overly melodramatic (like Noah Baumbach's similarly themed Marriage Story), but thanks in large part to his exceptional actors, it's more about people make complicated choices between what's good and what's easy. (Click here for my full A Separation review.)
44.) Gravity
This is the ultimate case of deciding how to weigh a first theatrical experience against subsequent viewings at home. I tend to put a little more stock in the latter, but in the case of Alfonso Cuaron's Gravity, I couldn't ignore how impactful and jaw-dropping that first watch (in spectacular 3D) was in 2013. Everything from the inciting incident to Sandra Bullock's second first steps were deeply powerful and marvelously realized. (Click here for my full Gravity review.)
43.) Paddington 2
Twenty minutes into our first watch of Paul King's lovely 2018 Paddington sequel, my wife turned to me and asked how this was going to be an actual movie if they weren't going to inject some stakes into the thing. An hour after that, we were clutching hands through tear-filled eyes genuinely wondering if Paddington was going to survive. I still can't explain how those involved pulled this film off, but I'm forever grateful they did, and I would give a vital organ for another adventure with the little bear.
42.) Mission: Impossible – Fallout
Sub in Ghost Protocol or Rogue Nation as you see fit, but a best of the decade list (at least one as long as this one) without a Mission: Impossible film is not a list I have much interest in reading. That's because I can't quite fathom why someone wouldn't find the decade's best composed and most relentless action movies totally irresistible. My preference is for the sixth and most recent installment for the way it uses series continuity to add to the film's tension and emotional impact. It also has the halo jump through lightning, which … just … *chef's kiss*.
41.) Timbuktu
The extremists at the heart of Abderrahmane Sissako's 2015 film aren't the extremists we so often see in Western movies. They play soccer and smoke – just like the non-extremist citizens of the film's titular African city who are persecuted and punished for doing these things themselves. That's the beauty of this film; It shows us how regular people – your neighbors, family, and friends – can oppose you when they choose to adopt even a relatively benevolent form of extreme orthodoxy. Eventually and without fail, it creates rot where beauty once thrived.
40.) Uncut Gems
My dad called this film "really icky," and I totally agree. While his use of the description was, I think, decidedly more negative than mine, there's no denying that the Safdie Brothers thrive in the seediest of worlds with the seediest of characters (see also: Good Time). Adam Sandler has never been better (sorry, Punch-Drunk Love) than he is playing Howard Ratner, a sick and selfish jewelry slinger and compulsive gambler who's answer to being in way over his head is to grab the biggest shovel he can find.
39.) Call Me By Your Name
So many amazing talents in this film either debuted or really broke out this decade despite feeling, for whatever reason, like they've been in our lives forever. There's Timothee Chalamet, who so brilliantly plays (here and elsewhere) someone who thinks he's wise beyond his years but isn't. There's Armie Hammer, who broke out playing twins in a Fincher movie, struggled for years playing leading man, and returned here as a genuine and unexpected star. There's Michael Stuhlbarg, who popped in and out of almost everything decent but left an indelible mark with, among other things, a sensational monologue that will stay with me forever. And there's Luca Guadagnino, the Italian filmmaker I never really noticed, whose future work, if half as humane as this film, will be a staple of best-of lists to come.
38.) Manchester by the Sea
Casey Affleck behaved badly this decade. It's a fact, and while he's apologized, it must be acknowledged before heaping praise upon his Oscar-winning work in Kenneth Lonergan's masterful tragedy about a man thrust, against his wishes, into fatherhood. It's a place he's been and doesn't care to revisit, but he doesn't have a choice, and Affleck's uncertainty – coupled with Lucas Hedges' endearing and amusing indifference and Michelle Williams' utter devastation – is simply amazing to behold.
37.) Inception
Christopher Nolan's dream heist is one of the most frequently mimicked films of the decade, but it can only be so because it's so effective in the first place. From its stellar cast to Lee Smith's brilliant structuring of it all and Hans Zimmer's iconic "BWWWWOMMMMMM," it's among the most exciting things Nolan has ever done. (Click here for my full Inception review.)
36.) Spring Breakers
Passionate re-imagining of the elusive American dream or 90 minutes of scantily-clad nonsense? Harmony Korine's 2013 film is probably somewhere in the middle, but its moments of clarity are as hypnotic as anything Terrence Malick put onscreen this decade. And speaking of good work by not-so-good guys, James Franco was brilliant as Alien – one of the decade's most complex individuals. (Click here for my full Spring Breakers review.)
35.) Toy Story 3
Yes, its sequel was both totally unnecessary and nonetheless fairly enjoyable, but that doesn't take anything away from the pitch-perfect conclusion of what still is a pitch-perfect trilogy of animated adventures – especially for 20-somethings like me (at the time) who grew up with Andy. And while the film's ending gets all the attention (for good reason), the rest of it is really fun, too. (Click here for my full Toy Story 3 review.)
34.) A Star Is Born
Turns out Bradley Cooper is a hell of a director and Lady Gaga a hell of an actress. Who knew? While the world wasn't exactly clamoring for another version of A Star Is Born, this one is just so expertly put together that it's hard to begrudge it and hard not to fall for it. Lady Gaga's first performance on stage is one of the most magnificent movie moments I've ever seen. (Click here for my full A Star Is Born review.)
33.) The Lobster
Probably the great film of the decade with the most plot. I enjoy the setup of The Lobster, but its the little moments of overwhelming weirdness that stick with me – like the the loners dancing in the woods or Colin Farrell and Rachel Weisz kissing like lunatics while having tea with others. Farrell, in particular, is extraordinary and playing very against type, while Yorgos Lanthimos builds off his popular Greek films, Dogtooth and Alps, and establishes himself as a truly singular filmmaker. (Click here for my full The Lobster review.)
32.) The Irishman
It feels like Martin Scorsese's entire career has been building toward The Irishman, and it's not just because he's working with actors he knows well or in a genre that he's intimately familiar with. It's more because it's a film about how we finish things, and it understands that the answer is usually "not perfectly." De-aging effects (and dumb curb-stomping) aside, Robert De Niro hasn't been this electric in ages, while Al Pacino does his best Al Pacino impression playing Jimmy Hoffa. But for me, the film lives and dies (and ends up on a best of the decade list) on the back of Joe Pesci, who's quiet grace and unspoken sadness is why we have watched and fallen in love with the gangster movie over the years.
31.) Like Someone in Love
One of my favorite directors of the last decade, both for his new output and the older films of his I discovered for the first time, has been Abbas Kiarostami. We lost him in 2016, so the last narrative film to his name is this underrated stunner that he made in Japan. Like some of his other films, Like Someone in Love walks a fine line between two possible realities. In this case, they both involve a young woman, her boyfriend, and an older man. It doesn't wear its emotions on its sleeve, but they're deep down within the film, waiting to be discovered, and even for those who don't find them, Kiarostami's compositions are often enough to earn intense admiration.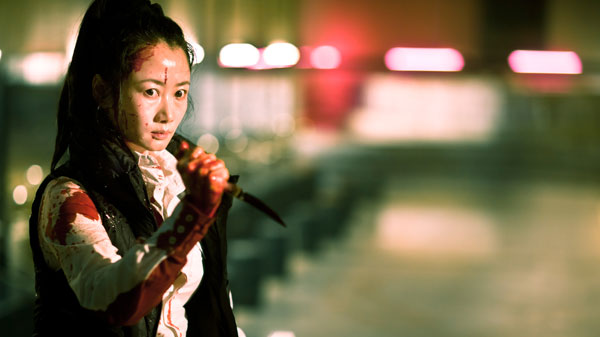 30.) A Touch of Sin
Chinese director Jia Zhangke's 2013 film tells four thematically connected stories, based on true events in his home country, about the class divide and the lengths people will go to protect their position in this society. Some of the episodes are more compelling than others, but they all share two things in common: a beyond elegant set-up and an extremely violent conclusion. Jia has made other films this decade that share similarities with this film. They're all really good, and one or two nearly made this list, but none quite touches Sin.
29.) Before Midnight
I hope Richard Linklater keeps making movies about Celeste (Julie Delpy) and Jesse (Ethan Hawke) forever, but if he decides this sublime film and its breathtaking ending is the correct note to send these characters out on, it's hard to blame him. The Celeste and Jesse of Before Midnight are exhausted with each other – a far cry from the romantic curiosity and overwhelming regret that accompany them in Before Sunrise and Before Sunset respectively – but the film continues the series' streak of being both intensely honest and a beautiful travelogue.
28.) Phoenix
Christian Petzold's 2015 film is one of the best titled of the decade for how much red there is, how much physical and metaphorical ash there is, and the intensity of the rebirth at the film's heart. We meet Nelly (a spectacular Nina Petzold) as she's being transported back to Berlin from Auschwitz. She is disfigured, but asks her surgeon to make her new face as close to her old one as possible. It works, but imperfectly, and she spends the rest of the film trying to relocate and reconnect with her husband, who may have betrayed her to the Nazis and ultimately recognizes her only as his wife's look-alike. What ensues is indescribably powerful. The film's closing scene is one of the five best of the decade.

27.) Take This Waltz
Director Sarah Polley's 2012 film about a timid woman in a comfortable marriage who chases a passionate affair with her neighbor makes for a fascinating companion piece with her documentary the following year, Stories We Tell, which details Polley's familial history and includes the revelation that she was the product of an extramarital affair her mother had with another man. That film is very good, but Waltz, to me, is truly special. The performances are totally aces. Michelle Williams delivers the best work of any actress this decade, and Luke Kirby, Seth Rogan, and Sarah Silverman are also excellent. Polley turns Toronto in summertime into a living, breathing character, which is fascinating, and most notably, her script treats infidelity as a matter to be dealt with extremely seriously. The film offers no easy answers for its characters, nor us. (Click here for my full Take This Waltz review.)
26.) The Hateful Eight
Not many Tarantino admirers will place his 2015 bloody riff on Agatha Christie above Django Unchained or Once Upon a Time in Hollywood, and I'm sure that at least partially explains why I cherish the thing so much. But I remember when got a chance to see it around Christmas 2015, and I found it totally exhilarating – not just the film, but the conversation around it. It's hard to say that about any film today – they're talked and bad-taked to death, and it's a drag – but this one felt vital back then and remains so today for the simple fact that bad things happen when we're bad people. When we shroud ourselves in intolerance and surround ourselves with guns, bad shit goes down. (Click here for my full The Hateful Eight review.)
25.) Lady Bird
Every character is so fully realized in Greta Gerwig's directorial debut – her 2017 depiction of a strong-willed, lower-middle-class young woman's last year or so in a Sacramento Catholic high school – and it's not too hard to see why. The film is at least semi-autobiographical and set during the time period when she would have been her title character's age. But it's still remarkable that something so specific to her could feel so relatable and familiar. It's what I thought two other highly regarded 2010s films – Boyhood and Roma – tried and ultimately failed to pull off.
24.) Moonlight
While La La Land's legacy seems attached to 2017's Best Picture snafu, Moonlight transcended it and is mostly remember on its own terms – a testament to its power, honesty, and technical excellence. I flipped on the two films in the years since they came out. I was more a La La Land guy in 2016. I'm definitely in camp Moonlight at the end of the decade. (Though I'm still higher on another Barry Jenkins film, which you'll read about soon.) What's particularly great and noteworthy about Moonlight is the way its two primary character both change and stay the same across time. For that reason, its my favorite bit of ensemble acting this decade.
23.) Phantom Thread
Paul Thomas Anderson wins my best director of the decade award for hitting three absolute home runs that I'll get to before this countdown ends. That Phantom Thread – a film I adore with every fiber of my being – is its creator's worst film of the decade is just completely bananas.
This one constantly zigs until you finally think you know where it's going, and it zags. I love the music. I love PTA's cinematography. (The New Year's Eve scene is one of the most beautiful I can remember.) And I love the delicious dialogue, how deep it cuts, and how quotable it's grown over the last couple years.
22.) Zero Dark Thirty
Elements of Kathryn Bigelow's 2012 follow-up to The Hurt Locker are fictionalized and/or condensed in a way that ignited controversy by awful people in Congress who are responsible for turning the Middle East into what it is today, but I digress. The film doesn't promote or endorse torture. The breaks that the film says led us to bin Laden clearly occur because certain figures begin acting outside the realm of torture. But all of this simply makes the film more culturally relevant. What makes it great and noteworthy this decade is the craft and Bigelow's vision – particularly during the extended raid sequence, which is as tense as anything I've ever seen, despite knowing how it will conclude.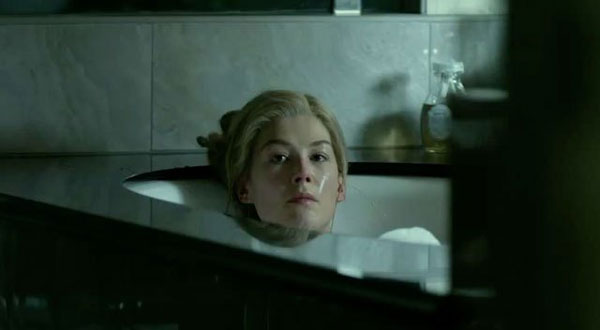 21.) Gone Girl
It's a shame David Fincher hasn't been able to get anything off the ground (film-wise at least) since his gorgeous and brilliant adaptation of Gillian Flynn's breakout novel in 2014, but he does have something coming soon, so not all hope is lost. But the number one reason why Gone Girl ranks so highly is its cast. Rosamund Pike gives one of the most chilling and fascinating performances of the entire century as Amazing Amy, and Ben Affleck is perfect as her aloof foil. Carrie Coon is underrated as Margo, while Tyler Perry and Missi Pyle steal every scene they're in as Tanner Bolt and Ellen Abbott, respectively. And that's not even getting into Kim Dickens, Emily Ratajkowski, Casey Wilson, Lola Kirke, and others, who are brilliantly cast and hit every note with perfect. (Yes, I left Neil Patrick Harris off by design. He's the film's weak link, but he doesn't take away from the final product.)
I think it helped tremendously to have Flynn adapt her own material. It's true to the source, which is a delightful page-turner, but open-ended enough that someone like Fincher could easily come in and make it at least partially his own. There are few movies I've watched more than Gone Girl this decade, and every time I revisit it, I find something new. (Click here for my full Gone Girl review.)
20.) Contagion
Nothing Steven Soderbergh has done since maybe the first Ocean's movie or Out of Sight is as playful as Contagion. That might seem like a weird thing to say considering it's a fairly bleak movie about a global outbreak that kills millions, but he's clearly having a blast cutting open Gwenyth Paltrow's head and letting Jude Law do … whatever Jude Law is doing in Contagion. The film was shot in IMAX, which I thought was a strange choice back when it came out in 2011, but seeing some of the film's images on such a big screen was truly impactful in shaping my opinion that this is one of the most haunting films of the decade, and subsequent rewatches (like Gone Girl, there have been many) made me realize how tricky the film's editing is and how subtly masterful performances like those from Kate Winslet, Matt Damon, Laurence Fishburne, John Hawkes, and Jennifer Ehle are. (Click here for my full Contagion review.)
19.) The Grand Budapest Hotel
Wes Anderson had a good decade, but not necessarily a great one. I'm not as high on Moonrise Kingdom and Isle of Dogs than many others are, but it's hard for me to be any higher on his other film this decade, 2014's The Grand Budapest Hotel. It's a film that I struggled with the first time I saw it, but again, a second watch clued me in on how clever the film's structure, which is ultimately the key to understanding its themes. Two constants across every viewing of the film, including my first, were a deep admiration for Ralph Fiennes' gonzo performance and a love for the film's visual language.

18.) Jackie
Natalie Portman gives the performance of her career as former first lady Jacqueline Kennedy Onassis in this biopic that covers just the week following the assassination of her husband. Director Pablo Larrain uses extreme close-up shots and a deeply unsettling score to make the film feel as uncomfortable as possible. This will alienate some viewers, but as a portrait of grief on both a personal and national scale, as well as a depiction of the nuts and bolts of legacy building and myth making, it's unforgettable. (Click here for my full Jackie review.)
17.) Margaret
One of the stranger stories of the last two decades, I guess, was the plight of Kenneth Lonergan's Margaret. It was shot in 2005 and not released until 2011, though Fox Searchlight chopped it up and buried it in a handful of New York theaters for just a week or two. Then, Twitter jumped all over them and demanded justice for the film (apparently it was good?), and the studio relented in the form of a DVD/Blu-Ray release that included both the theatrical version and Lonergan's three-hour director's cut.
The latter is the version that lands as my #17 of the decade, and I wrote at the time that it's a film I want to kiss and a film I want to kill. Anna Paquin plays a selfish young woman who absorbs a great deal of responsibility for the death of a woman (Allison Janney), and the film dives headfirst into what led her to that point and how it defines her actions going forward. They're often really messy and harsh and sometimes inappropriate, but they come from a place that Lonergan, Paquin, and the rest of the film's cast lets us understand. (Click here for my full Margaret review.)
16.) If Beale Street Could Talk
While it didn't get half the attention of Jenkins' Best Picture-winning breakout, his 2018 follow-up was not only my favorite film of that year by a mile, but also one of the most aching dramas I've ever seen. It's about a young couple who are tragically separated after a mistaken criminal accusation, and while their plight is so sad, the film works because we see them so happy and understand the stakes of every messy choice they and their loved ones have to make – like Regina King's devastating trip to Puerto Rico that rightfully won her an overdue Oscar.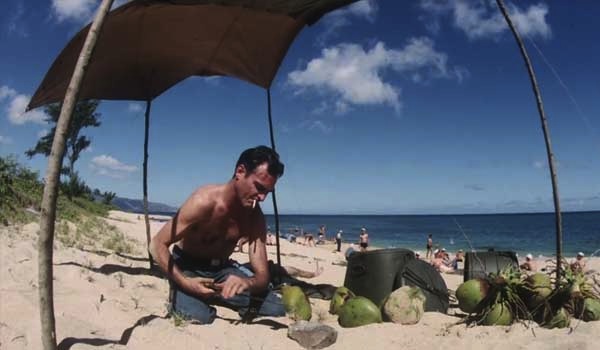 15.) The Master
I left my first viewing of The Master really conflicted about what I just saw. Clearly, this is a film with a lot of great qualities, but it felt a little up its own ass – obnoxiously obtuse, like Paul Thomas Anderson had been sitting with it too long (five years had passed since his prior film, There Will Be Blood). It was on the strength of two all-time-great performances – from Joaquin Phoenix and Philip Seymour Hoffman – that I continued to revisit it and hope it might click with me the way it seemed to with so many other critics.
The truth is it never really did, but I have a special relationship with the film wherein it means something specific to me that it might not mean to others, and I kind of treasure it for that. There are and will always be things I don't love about The Master – the aforementioned performances, as well as Mihai Malaimare Jr.'s cinematography and Jonny Greenwood's score, are not among them – but if you told me I could only watch 15 films from the 2010s for the rest of my life, The Master would be among them. (Click here for my full The Master review.)
14.) The Wolf of Wall Street
Like The Master, I didn't love Martin Scorsese's 2013 adaptation of Jordan Belfort's memoir the first time I saw it. Unlike The Master, I didn't even like The Wolf of Wall Street on first glance. It's my worst take of the decade, but I thought the film was having a little too much fun with its lead character (and his cousin-fucking sidekick), who's a scoundrel and scumbag of the highest order.
It only took one more watch to understand the fun is at Belfort's expense, and the film is extremely judgmental toward the system that allowed his rise. There's more energy in this film than almost any other on this list, and Leonardo DiCaprio, as Belfort, lives off it. It's the best performance of his career.
13.) Frances Ha
The most optimistic pessimistic movie ever made (or maybe it's the other way around?) Finally, here's a film I loved from the moment the lights came up in the theater, and so much of that is because of Greta Gerwig's totally captivating title performance. I think she's being forgotten because she's played other characters like Frances, and because we've seen more women like Frances on screen in the years since the film came out, but there's a lot going on with this woman, and it's not all as rosy as she might make it seem. Beyond Gerwig's acting, however, the film has a lot going for it. She and Noah Baumbach's screenplay is clever and, in a way, important. He helped define a generation of people with his early work in the 90s, and I think Frances Ha did something similar for people who were born in the 90s. (Click here for my full Frances Ha review.)
12.) Interstellar
I remember watching this in 2014 with my wife. She grabbed my hand about 30 minutes in – a particularly nerve-wracking scene when Cooper (Matthew McConaughey) and young Murph (Mackenzie Foy) stumble across a very secretive and highly protected compound in the middle of nowhere. She whispered, "THIS IS SO GOOD!"
She was right. Interstellar rules. I know the film has some holes (WORM holes, hehehe) but none of them matters all that much when the film they're in is as imaginative, exciting, and emotionally involving as this one. The events of the water planet and their aftermath – when Cooper and Brand (Anne Hathaway) meet a 20-years-older Romilly (David Gyasi) and then Cooper tearfully watches all the videos he missed of his son – deeply affect me every time I watch the film, and Hans Zimmer's score is one of my all-time favorites. (Click here for my full Interstellar review.)
11.) The Tree of Life
Terrence Malick's Palme d'Or-winning, Best Picture-nominated drama about a Texas family and the creation of the universe was definitely one of the most unique movies and theatrical experiences I had this decade. It probably came in second behind mother! in terms of walkouts I could count, and I left the film (when I was supposed to) a little pissed about all the Sean Penn ocean twirling at the end, but like The Master, I just sort of ignore those 15 minutes or so of nonsense and bask in the two hours of genuinely transcendent filmmaking that precedes it, as well as the very best cinematography of the decade (Emmanuel Lubezki).
10.) O.J.: Made in America
People hemmed and hawed about whether this is film or television when it landed in 2016, but while most consumed it in five parts on ESPN (myself included), it's debut was in the form of one bladder-bursting seven-plus-hour block. It doesn't ultimately matter that much because no matter how you watched it, Ezra Edelman's O.J.: Made in America is one of the best examples of visual media of the last ten years and easily the best non-fiction one. There's just so much context provided for one of the seminal events of our lifetimes – we only get to the Nicole Brown Simpson and Ron Goldman murders after hour three! – that it makes you rethink everything you thought you knew about it.
9.) Mad Max: Fury Road
I had never seen a "Mad Max" film before settling in for Fury Road in 2015, but it blew me away like no other action movie this decade. I was so hyped after seeing it that I signed up for another theatrical viewing less than 48 hours later – not something I did more than a handful of times in the 2010s. George Miller's vision is just so singular and relentless and simple. The film is just a drive to a point and back with two extended chase sequences bookending it, but the details are so maniacal. He doesn't have any sympathy for his characters, and the film is so much better for it. (Click here for my full Mad Max: Fury Road review.)
8.) Carol
This film is noteworthy to a lot of people because the relationship at its center is between two women, but I think the film is so humane that it transcends that. It even transcends love itself to the point that Carol derives its power from what it's like to want something. The film and its characters feel that so deeply that I sat in stunned silence by the time the film reached its thrilling conclusion. Of course, it only works so much without such breathtaking performances from Cate Blanchett and Rooney Mara (plus Kyle Chandler, Sarah Paulson, Jake Lacy, and others in very good support). Carter Burwell's masterful score helps, too. (Click here for my full Carol review.)
7.) Moneyball
The inner workings of the 2002 Oakland Athletics might not seem like material ripe for one of the best movies of a given year (nevermind a decade), but Moneyball pulls off something really special. Bennett Miller's Moneyball definitely picks and chooses certain aspects of this real-life story and leaves out players that were critical to that team's success, but in doing so, he makes his thematic points sharper. Moneyball isn't as much about wins, losses, home runs, and strikeouts as it is about the fickle nature of legacy. Thankfully, that bug hasn't hit the film, which seems to be more beloved now than at any point in its history, and with so many brilliant elements (like Brad Pitt and Jonah Hill's career best acting to Wall Pfister's crisp and soulful cinematography), it's not hard to see why. I hope that legacy and people's love for the film keeps growing as we get further and further from the film's release. I imagine it will for me. (Click here for my full Moneyball review.)
6.) 12 Years a Slave
Most of the films in my top ten are ones I've seen a lot – 5, 10, 15 times. Steve McQueen's 2013 Best Picture-winning drama – my favorite Best Picture winner of the decade – is one I've only been able to see twice. It's a brutal film about a free man in the 1800s North (a never better Chiwetel Ejifor) who is abducted and sold into slavery in the South for a period of 12 years before he returns home – free again but deeply changed. The film is as uncompromising and brutally matter-of-fact as the two Steve McQueen films that preceded it – Hunger and Shame – but its characters are better developed, which allows us to become more immersed in this world than the others.
One of my favorite scenes of the decade takes place late when a group of slaves (including a better-than-words Lupita Nyong'o) are singing a hymn, and Ejiofor's Solomon refuses to join them. But over the course of the song, he very reluctantly relents and finally gives in to where he is. It's all one take, and it's overwhelmingly powerful.
5.) Get Out
If there was a film this decade that I could erase from my memory in order to go back and watch again with a fresh perspective, it would be Get Out. I was beyond giddy watching this chilling horror film that doubles as a searing commentary on race in America. I used to dislike horror films, and while my 180 on them began well before Get Out, there was no going back in its wake.
Get Out is so sharp, so funny, so winking, and so judgmental, all at the same time, and its cast is working on such a high level, especially Daniel Kaluuya. It's completely insane that this was Jordan Peele's debut feature. World-class filmmakers will spend a career trying to be as in control of a film as Peele is of this one.
4.) Certified Copy
It's not hyperbole to say that this film changed the way I consumed movies. I had never seen a Kiarostami movie before Certified Copy. I'd seen foreign films, but none quite like this. After catching it on a whim, I said to myself, "Huh, I didn't know movies could do THAT," and promptly dove into the respective filmographies of Fellini, Renoir, Bergman, and (naturally) Kiarostami, among many others. Certified Copy is the reason I own more Criterion Collection DVDs and Blu-Rays than I should probably admit (including one of Certified Copy).
The film is a spectacular riff on Linklater's Before films (at the time, there were only two). An author (William Shimell) and a fan (Juliette Binoche) wonder the streets of a small Italian village and discuss art, life, nature, etc., but after a seemingly innocuous event around the film's midway point, the entire thing flips in a way that has been and (I'm sure) will continue to be rewarding for its compositions, thematic content, performances, and more. (Click here for my full Certified Copy review.)
3.) The Social Network
At the time of its release in 2010, this film, directed by David Fincher and written by Aaron Sorkin, seemed to judge Facebook founder Mark Zuckerberg pretty harshly. It seems awfully tame today. That's not a fault of the film. On the contrary, it sort of accurately states that something so fraught with shittiness at its inception will ultimately be plagued by it over its lifetime.
All that said, the film (particularly thanks to Sorkin's screenplay and a dynamite performance form Jesse Eisenberg) does a good job at humanizing Zuckerberg without letting him off the hook for anything. And Fincher just directs the shit out of the thing. The crew scene, with two Armie Hammers and an all-time-great score from Trent Reznor and Atticus Ross, is so unnecessary but also as fun as anything I watched this decade.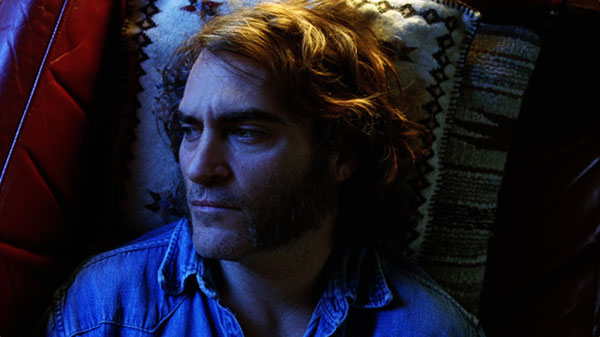 2.) Inherent Vice
The second PTA movie of the decade, but the first in my heart. I loved Inherent Vice from the moment I saw it, and I've been protective of it ever since through all the "it's good, but it's minor PTA" commentary that's been put out there. The film, like my #1 and like so many others I adore, does one specific thing really well. It mournfully laments the loss of an era and way of life. In this case, it's the California hippie culture of the 1960s, and what's particularly cool about what PTA pulls off is that he conveys these profoundly sad feelings via a comedy that's not really a comedy and a mystery that's not really a mystery. (The only real mystery is whether what we're seeing is reliable or not.)
The cast is really wonderful – led by Joaquin Phoenix, but filled with so many joyful supporting turns from Benicio del Toro, Martin Short, Josh Brolin, Katherine Waterston, Owen Wilson, and more. Jonny Greenwood's score slithers between the film's dueling emotional pulls brilliantly, and cinematographer Robert Elswit uses color and sunlight to kiss everything on screen.
We've entered elite, all-time favorite film territory. Inherent Vice is one of the four films this decade that I'd place among my top 25 or so in cinema history (along with another PTA masterpiece, There Will Be Blood). But as profound and entertaining as I find this movie, there's one this decade that topped it on both fronts.
1.) Inside Llewyn Davis
If you've read this space for long or know me in real life, this selection probably won't come as much of a surprise. Inside Llewyn Davis, the Coen Brothers' 2013 film about a down-on-his-luck folk singer, was destined for this spot since the first time I saw it.
If every great film needs two or three great scenes, Inside Llewyn Davis is great about ten times over. There's "Please, Mr. Kennedy," which garnered one of my biggest belly laughs of the decade, and there's Llewyn's performance for F. Abraham Murray, which is a gut punch that all but the most cynical viewers will painfully absorb. There's everything with the Gorfeins ("Where's it's SCROTUM?!?!), John Goodman, and the film's very clever framing structure.
What makes this film so special for me, though, is the same thing I spoke about for Inherent Vice. It's the last desperate grasp for a way of life. In this case, it's for a way of life (the New York folk scene) that isn't going away in the context of the film but is long gone for those viewing it. But for its protagonist, those around him have given it up – and in one case, decided that life without it is not worth living – and he's facing the facts that it might not happen. That's intimately relatable, even for those who might not be folk music fans, and in the hands of filmmakers as skilled as Joel and Ethan Coen (and an actor as fearless as Oscar Isaac), it's material capable of driving the best film of the decade.