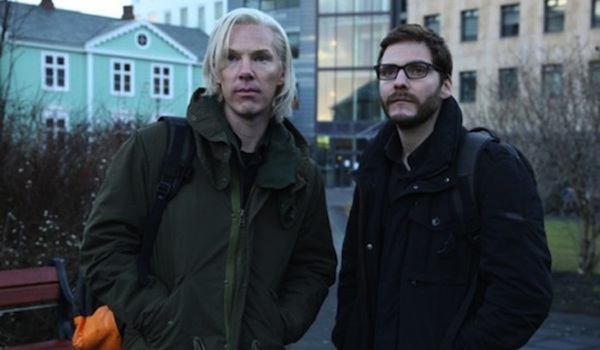 Click on over to my 2014 Oscar Predictions page to see everything I'm forecasting in the major categories.
We got our first look at Bill Condon's The Fifth Estate via a slick-looking trailer that's among my favorites of the year. The film, too, is one I'm anticipating greatly, and since my first round of 2014 Oscar predictions back in March, I've forecasted a number of Oscar nominations for The Fifth Estate.
I've been and continue to be surprised that neither the film nor its actors seem to pop up on many 2014 Oscar predictions lists. Benedict Cumberbatch, with his hideous blond mop, has serious Best Actor potential. Few public figures are as outwardly charming and seemingly devious as Julian Assange (as we saw in Alex Gibney's recent documentary We Steal Secrets: The Story of WikiLeaks). In a wide-open field, Daniel Bruhl very well could be your Best Supporting Actor winner. He's set to have a right McConaughey-like year with this film and Ron Howard's Rush. Laura Linney was someone I'd predicted for a Best Supporting Actress nomination on a whim. The trailer gave her plenty to do, and someone of her stature could easily make that happen.
Then there's the film itself and its director, Bill Condon. Freed from the shackles of The Twilight Saga, I've sensed this talented guy is probably quite eager to remind the film world what he's capable of. And a story this good, this timely and tense, in the hands of someone feeling creatively inspired is a recipe for Best Picture and Best Director nominations, which is exactly what I'm forecasting for The Fifth Estate.
Perhaps this dynamite trailer will mean more Oscar prognosticators will take The Fifth Estate's Oscar chances seriously. I know I'm riding this horse until at least Venice/Telluride/Toronto where the film will likely debut. And who knows, maybe it won't be any good (that's when I hop off the horse), but if it delivers, if it's as good as this trailer indicates, The Fifth Estate definitely is an Oscar contender. For now, it'll have to be happy with the label of Oscar sleeper.
Check out the very Oscar-friendly trailer for The Fifth Estate below. And let me know: Am I crazy or is there actually a chance that a blond-haired Sherlock takes home the title of Best Actor for 2013?