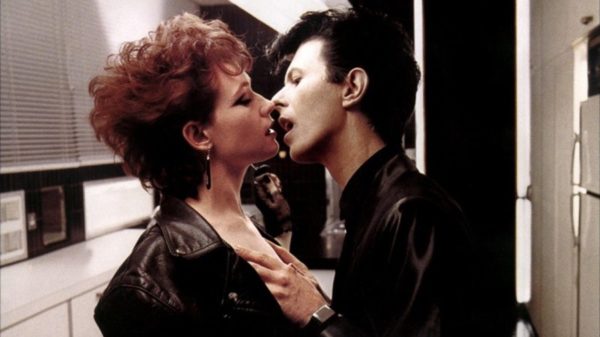 RATING:


(2.5 STARS)
Get a load of the description for Tony Scott's debut film, 1983's The Hunger.
From IMDb: "A love triangle develops between a beautiful yet dangerous vampire, her cellist companion, and a gerontologist."
Excuse me? A vampire, cellist, AND a gerontologist? They're all here AND in the same eternal love triangle? Yes, and it's truly as bonkers as anything I've ever seen.
The film opens with its best sequence – basically a music video for the English rock band Bauhaus' song "Bela Lugosi's Dead" intercut (in classic Tony Scott fashion) with Catherine Deneuve (the vampire) and David Bowie (the cellist) seducing and then killing and consuming the blood of their very goth, VERY 80s victims.
Susan Sarandon is the gerontologist, and she gets involved when the eternal life component of Deneuve's promise starts to … let's say age out of truthfulness. Looking beautiful and Bowie-like for God knows how long, he's starting to become old very rapidly. Over the course of hours within the film, Scott turns Bowie into Emperor Palpatine (which is a choice), and he's left wondering if it was always a lie while searching for someone who can help reverse his curse. Unfortunately for him, Deneuve has her eye on Sarandon, as well.
Critics at the time skewered The Hunger for an excess of style and the absence of much substance, and as much as I enjoyed elements of the film, it's hard to disagree with that assessment. You could walk through what actually happens in this film in just a few sentences, and the only reason it even remotely lands is thanks to the way it makes you feel. It's a frighteningly chilly film with all of these characters spending most of their time in a Manhattan mansion filled with marble antiques and flowing curtains. They don't say much, and they really don't emote, but that's all sort of the point. Doing this shit for decades (or centuries) is going to make it a little hard to get worked up about the news or whatever.
The whole thing very much feels like the first film of someone who clearly knows what he's doing in the chair but maybe doesn't have a real connection to the material to totally deliver. It won't take long for Scott to make that connection, but the absence of it here makes The Hunger more a curiosity than a truly satisfying horror flick.