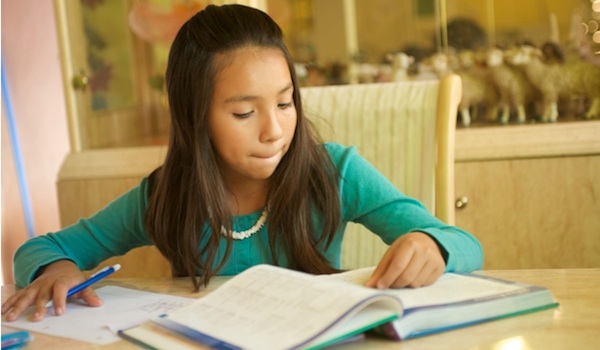 Waiting for "Superman" is a heartbreaking and infuriating look at our nation's educational system. Any idiot could tell you that American students aren't getting the best, but I for one had no idea how dysfunctional things in our schools are. Director Davis Guggenheim takes no prisoners when it comes to assigning blame, but what elevates this film above most other docs (including Guggenheim's dull environmental thesis An Inconvenient Truth) is the emotional connection Guggenheim forms between us and the students in the film. We desperately want them to escape their seemingly hopeless situation, and when their futures are placed in the hands of lady luck, your nerves and emotions will be pushed to the brink.
The film follows a handful of kids from all across America who are struggling. Most of them attend schools that are known as "dropout factories," where a majority of students never graduate. Teachers, administrators, and even parents often know this, but because the system is so flawed, there's not much they can do about it. Luckily, there are a few officials out there fighting for the best interests of our children. Many of these individuals have set up charter schools—public institutions that are run independent of any district or union obligations. This allows administrators to hire the best teachers, adapt a curriculum to suit each student, and most importantly, make sure everyone graduates. Of course, schools like these are in high demand, and students, like the ones Guggenheim introduced us to, are placed in a lottery. And with so few slots for all those interested, there are bound to be some broken hearts on selection day.
Guggenheim's direction here is almost deceptive. At first, we meet the children and hear their stories. We see their schools and learn why they need to get out of them. But Guggenheim abandons them not too far into the film in favor of focusing on education officials and the heads of the charter schools. This portion of the film is more like your traditional documentary, with talking head interviews and factual sermonizing. I was a little frustrated by this tactic, thinking the personal accounts from children and their parents were more effective than lecturing. But it becomes clear that these children—and the lottery they are forced to sit through—are never far from Guggenheim's mind. During these scenes, our anger, frustration, and pity boil over. Like some of the best docs I've seen recently, such as The Cove and Joan Rivers: A Piece of Work, Waiting for "Superman", is a surprisingly emotional experience, and it elevates the material from simply informative and interesting to moving, poignant, and very cinematic.
I'd be shocked if Waiting for "Superman" wasn't nominated for Best Documentary Feature at next year's Oscars. It's a film that I hope will force some action. It has definitely sparked some public debate, and I think the touching story told by Guggenheim and his crew will be something people remember if they get the chance to see it.