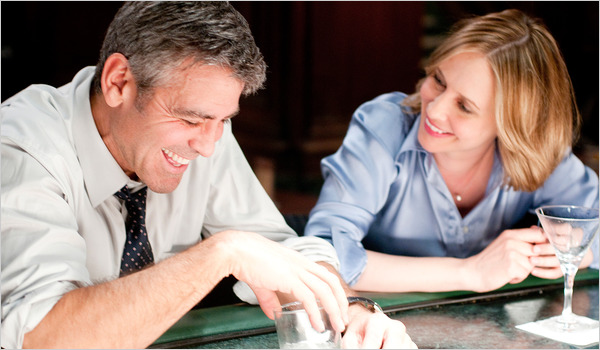 Tonight is the 67th annual Golden Globe Awards. The Hollywood Foreign Press Associate (HFPA) is an interesting group. Over the last five years, only one eventual Best Picture winner at the Oscars (Slumdog Millionaire) took home the Best Picture Globe in its respective category. So will this be a litmus test of who's in the lead for the win with the Academy? Or is it just another set of awards given out by a group of people whose tastes are quite different from most others? It makes it hard to predict the Globes. Will they go for the blockbuster front-runner, the indy pick, or one of the star-studded choices? And what's most interesting about these awards is that the same question applies for two Best Picture categories. They really are both up in the air.
I'm going with Jason Reitman's Up in the Air for Best Picture, Drama. It's hard to call it the Oscar front-runner at this point in the race, but Kathyrn Bigelow's The Hurt Locker, I'd argue, is too small, and James Cameron's Avatar is a little mainstream. Reitman's film fills that tweener niche quite well.
In the Best Picture, Musical or Comedy category, I think it comes down to a battle between (500) Days of Summer and Julie and Julia. The latter film has star power, which the HFPA loves to recognize, but most would agree that (500) Days of Summer is the better film. I'll idealistically side with quality (and the incomparable Joseph Gordon-Levitt).
Up in the Air should continue what I think will be a big night when George Clooney wins Best Actor, Drama. While the Best Actor, Musical or Comedy category should be one of the few categories in which the disastrous (by most accounts) Nine will seriously contend for an award. Daniel Day-Lewis is, I think, too highly regarded an actor to lose. Watch out for Matt Damon in The Informant! as a spoiler.
Both Best Actress awards seem pretty straightforward. After the bizarre tie at the Critics Choice Awards, I expect Sandra Bullock to take home Best Actress, Drama for The Blind Side and Meryl Streep to win Best Actress, Musical or Comedy for Julie and Julia. I wouldn't entirely rule out Carey Mulligan for An Education in the Drama category, but if she loses, I think she will become a real long shot at the Oscars.
Best Supporting Actor will most likely go to Christoph Waltz. It's pretty clear the HFPA loves Inglourious Basterds. They were the first group to really come out and give it a great deal of recognition. Before the Globe nominations came out, Tarantino's film was a fringe Best Picture candidate at best. Now, it's a mortal lock. So I think the group's love for the film, as well as the brilliance of Waltz's performance, should make him a pretty strong bet to win.
Best Supporting Actress will go to Mo'Nique. End of story.
Despite the fact that I think Up in the Air will have a huge night, I do think Kathryn Bigelow will take home Best Director. Like it or not, it's the woman factor. If she doesn't win, look for her ex-husband James Cameron to take home the award for Avatar.
So those are all the major categories. Like I said, this can be a difficult group to read. Plus, it's a difficult year to predict. But that's alright, it just makes watching these shows much more exciting. I'll close with a rundown of all my Globe predictions in the film categories. Hope you enjoy the show!
Best Picture, Drama: Up in the Air
Best Picture, Musical or Comedy: (500) Days of Summer
Best Actor, Drama: George Clooney, Up in the Air
Best Actor, Musical or Comedy: Daniel Day-Lewis, Nine
Best Actress, Drama: Sandra Bullock, The Blind Side
Best Actress, Musical or Comedy: Meryl Streep, Julie and Julia
Best Supporting Actor: Christoph Waltz, Inglourious Basterds
Best Supporting Actress: Mo'Nique, Precious
Best Director: Kathryn Bigelow, The Hurt Locker
Best Animated Feature Film: Up
Best Foreign Language Film: Broken Embraces
Best Screenplay: Quentin Tarantino, Inglourious Basterds
Best Original Score: James Horner, Avatar
Best Original Song: The Weary Kind, Crazy Heart