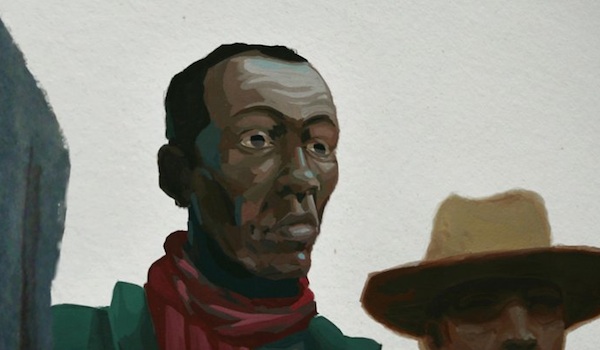 iTunes, in its infinite wisdom, has made just 4 out of the 5 films up for Best Animated Short available for purchase. Despite this seemingly silly oversight, it was a treat to watch these films and have the chance to make an informed opinion in this category for the first time in my Oscar-watching career.
So although I wasn't able to watch The Gruffalo, which of course is one of the films people are saying could win, here is my rundown of this year's crop of nominated films.
Madagascar, Carnet de Voyage (or Madagascar, A Journey Diary) was my favorite of the nominees for its eclectic mix of animation techniques. It's essentially a plotless piece of work, but it's so beautifully rendered, with watercolor, pencil, and many other very unique styles blended seamlessly. You get caught up in it, and the director's obvious love for Madagascar and its culture. I don't think it's that strong a contender to win, but I'm glad it got a nomination so I could catch it.
Lots and lots of people have seen my second-favorite of the bunch (and my choice to win the category), Pixar's Day and Night. Not to be confused with the pretty shitty Tom Cruise/Cameron Diaz action flick from earlier this year, this short film tells the story of two very different creatures. Day has a bright, sunny disposition. Night is his opposite, and when the two meet, they clash. They eventually learn to appreciate each other, and though it sounds trite and silly here, it's actually quite charming—no surprise, I guess, since it's the Pixar entry. They've been making quality shorts for years, and this one is no different.
The Lost Thing is one of the longer entries in the field, and I found myself a bit underwhelmed by it. It tells the story of a man who stumbles across this, for lack of a better word, thing. It's enormous and looks a bit like the kraken in a red suit of armor. He's harmless, though—a bit like a lost puppy, really—and the man decides to care for him. It's sweet, but the conclusion is a little weak, so I doubt it will do much, but who knows.
The final film, which I think has absolutely no shot, is Let's Pollute. It's modeled after those cheesy educational videos of the 1950s, and though it's quite funny, it leaves no impact at all. The animation is clever, as is the writing, but it's far too slight to do anything on Oscar night.
So there you have it. I think Day and Night will take home the prize, despite Pixar not performing all that well in the category over the years. I think The Gruffalo, just from what I've read, could be the spoiler. And I'll personally be rooting for Madagascar, A Journey Diary.