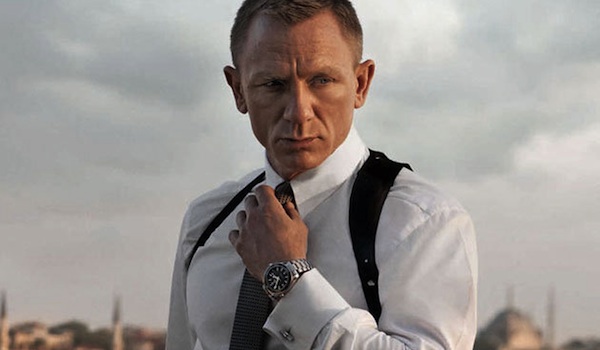 When I finally got around to updating the old Oscar predictions, I sort of bemoaned the coming of the fall movie season and all the chaos associated with it. That was perhaps a little facetious because I love this time of year so much. Not just for movie reasons, I should say. With the changing of the leaves comes perfect temperatures, ideal running conditions, the return of football, and more.
On the cinema front, it doesn't look on the surface to be as loaded a year as 2011 did, but there are some big projects I'm really looking forward to. Narrowing it down to ten is too hard, so I've given you 15.
Note: Only films with a certain 2012 release date are included on this list, which means things like Terrence Malick's To the Wonder are ineligible.
15.) Seven Psychopaths
Martin McDonagh is going places, my friends. The guy's only on his second feature film, and he's already working with a cast like this (Colin Farrell, Christopher Walken, Sam Rockwell, Woody Harrelson)? Hey, I'm on the record for not loving In Bruges, but this looks like something else, and I'm totally on board.
14.) Wreck-It Ralph
The lone animated film on this list. I was grabbed by both the clever premise and the beautiful-looking trailer. And watch out for it as a surprise box office titan. I think it's going to clean up.
13.) Lincoln
Spielberg's latest sounds a little too good to be true, but with Daniel Day-Lewis in the leading role, I can't help but be very excited.
12.) Argo
Might this be the year Ben Affleck turns critical acclaim into awards success? I'm banking on it, but even if this is another awards-less film like The Town or Gone Baby Gone, it'll be in fantastic company.
11.) Les Miserables
Tom Hooper's follow-up to The King's Speech looks big and beautiful. It's a major contender for awards, though there's a chance critics will have their knives out, as I don't think The King's Speech's dominance a few years ago left a good taste in some people's mouths. Regardless, I'm always down for a quality musical, and I'm fairly certain Hooper will deliver the goods.
10.) Rust and Bone
Jacques Audiard's last film, A Prophet, was just phenomenal, and Marion Cotillard is among my favorite working actresses. This one played Cannes, and though it didn't take home any awards, it was among the best received at the festival.
9.) Cloud Atlas
High risk, high reward here. It could be a massive failure, but I'm willing to wager on the combined talents of the Wachowskis and Tom Tykwer. Looks bizarre, but it could also be just brilliant.
8.) Looper
Can't say I'm the world's biggest Rian Johnson fan (The Brothers Bloom did nothing for me, while I find Brick just mildly interesting). That said, the guy just oozes talent and has more passion for the craft than most filmmakers combined. This one really roped me in with its premise. Dude time travels and has to kill a future version of himself? Count me in.
7.) Killing Them Softly
Director Andrew Dominik almost singlehandedly lands this film (which played at Cannes to muted but widespread praise) so high on the list. His The Assassination of Jesse James by the Coward Robert Ford is a stunner. The trailer for this one looks offbeat, but I love that Richard Jenkins is getting such a prominent role. And Brad Pitt is coming off one of the best years of his career. Should be a good one.
6.) Amour
This year's Palme D'or winner was perhaps the only unanimously adored film at Cannes. I'm not the world's biggest Haneke fan, but the buzz is impossible to ignore.
5.) The Hobbit: An Unexpected Journey
As an enormous fan of The Lord of The Rings trilogy, I should be a lot more excited about this one. That director Peter Jackson is splitting the novel up at all strikes a wrong chord with me—nevermind the fact that he's now crafting it into three films. Nevertheless, it's Middle Earth, and its king is finally returning. This is a place where magic happens, so my fingers are crossed.
4.) Zero Dark Thirty
Hard to say if Kathryn Bigelow is in the Oscar game with this one (about the team that hunted and killed Bin Laden). Whether she is or not, I can't wait to see it. The Hurt Locker is nothing short of a masterpiece.
3.) Skyfall
As you might have noticed from the entire month of articles I dedicated toward the series, I love James Bond movies. Skyfall, directed by Sam Mendes and featuring the cinematography of the great Roger Deakins, looks and sounds like an all-time great one.
2.) Django Unchained
Quentin Tarantino, ladies and gents. He's always a threat to top my end-of-year best list (as he did in 2009 with Inglourious Basterds). This, frankly, doesn't sound or look quite as appealing, but fuck it, it's Tarantino. He could direct a documentary about paint drying and I'd be jazzed for it.
1.) The Master
I gushed on this one while previewing TIFF a few weeks back, but needless to say, it's PTA, which was probably already enough to catapult The Master to the top of this list. Mix in some of film's most interesting performers, an amazing trailer or two, and the promise of a killer Jonny Greenwood soundtrack, and The Master had virtually no competition. September 14 can't come soon enough!