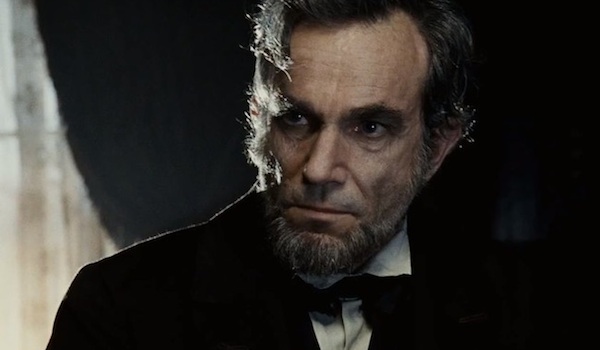 Still don't know where some of these films and performances are really at, but it's past time to dust the cobwebs off March's predictions. I discussed the seemingly wide-open Best Picture category not too long ago. Today, I turn my attention toward the four acting categories. Again, I'm going with the five question format. If you have any questions you'd like me to address in my next update (which will cover Best Director and the screenplay categories), just leave a comment!
1.) Category Confusion with The Master?
Things seem to be coming into clearer focus than they were before the film's pop-up screenings began. Phoenix is the clear lead, which bumps Phillip Seymour Hoffman down to Supporting. What of Amy Adams, though? She sounds like she belongs in Supporting Actress, but as the film's dominant female character, could she get a Best Actress campaign? Whatever the case, I have a suspicion all three of these individuals will need to work it to make sure they don't end up splitting votes between Lead and Supporting.
2.) Is Beasts of the Southern Wild a Legit Contender?
It's definitely a contender, a film we'll be talking about throughout nomination season. But I'm starting to have second thoughts about its viability in any major categories. Why? It still hasn't played near me. That might seem like a bit of a silly reason, but there are two indie theaters in my neck of the woods, and neither has Benh Zeitlin's film even on its "Coming Soon" list.
This begs the question: Does the public at-large know anything about this movie? What's Fox Searchlight doing to spread awareness? And if no one really sees it (It's earned about $8 million so far…not bad, not great), will the studio bother spending money on campaigns for Quvenzhané Wallis and Dwight Henry? Probably, but they might not be the hardcore campaigns we've come to expect from Fox Searchlight (remember Little Miss Sunshine's yellow VW bus?)
3.) Will We Have a Presidential Showdown?
This November, Americans have a choice between Barack Obama and Mitt Romney. What seems like a much more appealing presidential choice is the one moviegoers have between Abraham Lincoln and Franklin Delano Roosevelt. Daniel Day-Lewis and Bill Murray play these larger-than-life figures, respectively. In the case of the former, he's been the sight-unseen frontrunner since it was announced he'd be donning the top hat for Spielberg's film. It's for that very reason that I think Murray is in a slightly better position at the moment. One can't help but think Lincoln, like War Horse last year, might fail to live up to the pre-release hype. Hyde Park on Hudson, meanwhile, is flying pretty low under the radar. I think it could be a crowdpleaser and a sleeper hit. And Murray, unlike Day-Lewis (times two!), has yet to win a gold statue. Maybe it's just his time.
4.) Any Foreign Players?
Two of the most admired films out of Cannes this year were Jacques Audiard's Rust and Bone and Michael Haneke's Amour, and though neither won any acting prizes, the latter won the Palme d'Or and the former stars a former Oscar winner in Marion Cotillard. I single these two films out in particular because Best Actress looks like an incredibly odd and disappointingly weak category this year. Nothing seems like a sure thing, and I'm not sure there's anything on the schedule through the end of the year that will rise up and claim the prize a la Meryl Streep last year or Sandra Bullock in The Blind Side.
So do either Cotillard or Amour star Emmanuelle Riva have a shot? Absolutely. In fact, I think if the two films weren't distributed by the same studio, there could have conceivably been two foreign-language performances in the race this year. Probably won't happen now, and I'm betting Sony Pictures Classics throws its money behind Cotillard.
5.) Can Any Early-Year Performances Hang On?
Besides the Beasts of the Southern Wild crew, Liam Neeson (The Grey), Rachel Weisz (The Deep Blue Sea), Michelle Williams (Take This Waltz), and most of the cast of The Best Exotic Marigold Hotel all seem like potential Oscar contenders. The first three all received great notices when their respective films hit theaters, while Judi Dench, Maggie Smith, and company helped turn their film into one of the summer's biggest surprise hits. With the supporting categories as wide open as ever, it seems there could be room for one or both of those women. Best Actor and Best Actress, however, could be tough for Neeson, Weisz, and Williams to crack.
One other to watch for sure is Matthew McConaughey, who seems to be 2012's version of Jessica Chastain. His work in Magic Mike has hung on quite strong throughout the second half of the summer. He won't get noticed for Killer Joe or The Paperboy, so if voters are feeling the need to recognize him, look for it in Supporting Actor for Steven Soderbergh's film.
Best Actor Predictions
Daniel Day-Lewis, Lincoln
John Hawkes, The Sessions
Hugh Jackman, Les Miserables
Bill Murray, Hyde Park on Hudson
Joaquin Phoenix, The Master
Best Actress Predictions
Marion Cotillard, Rust and Bone
Keira Knightley, Anna Karenina
Laura Linney, Hyde Park on Hudson
Quvenzhané Wallis, Beasts of the Southern Wild
Mary Elizabeth Winstead, Smashed
Best Supporting Actor Predictions
Leonardo DiCaprio, Django Unchained
Dwight Henry, Beasts of the Southern Wild
Phillip Seymour Hoffman, The Master
William H. Macy, The Sessions
Matthew McConaughey, Magic Mike
Best Supporting Actress Predictions
Amy Adams, The Master
Sally Field, Lincoln
Anne Hathaway, Les Miserables
Helen Hunt, The Sessions
Maggie Smith, The Best Exotic Marigold Hotel