Previewing TIFF continues today with the directorial debut of a young superstar actor and the live-action debut of a modern animation legend, among many other promising films.



40.) Don Jon
Program: Special Presentation
Distributor: Relativity Media
Directed by: Joseph Gordon-Levitt
Written by: Joseph Gordon-Levitt
Starring: Scarlett Johansson, Julianne Moore, Joseph Gordon-Levitt
Synopsis: Joseph Gordon-Levitt writes, directs and stars in this comedy about a womanizing Jersey boy who finds there's more to life than constantly scoring when he becomes involved with two very different women (Scarlett Johannson and Julianne Moore).
Why it's noteworthy: JGL's directorial debut isn't a film I'd normally go for, but he's so talented that I have to check this one out. The positive Sundance buzz helps its case, too.






39.) Can a Song Save Your Life?
Program: Special Presentation
Distributor: N/A
Directed by: John Carney
Written by: John Carney
Starring: Keira Knightley, Mark Ruffalo, Hailee Steinfeld, Adam Levine, yasiin bey, Cee Lo Green, Catherine Keener
Synopsis: Keira Knightley, Mark Ruffalo and Catherine Keener star in this soul-stirring music industry drama about an undiscovered young singer and a washed-up producer. These lost souls meet, see something special in the other and ultimately make beautiful music together in this latest film from Once writer-director John Carney.
Why it's noteworthy: Simple—John Carney. Despite its somewhat awful title, Carney's follow-up to Once is a must-see by any definition of the word.






38.) Burt's Buzz
Program: TIFF Docs
Distributor: N/A
Directed by: Jody Shapiro
Written by: N/A
Starring: Burt Shavitz
Synopsis: Director Jody Shapiro (How to Start Your Own Country) ventures into the backwoods of Maine to find the reclusive Burt Shavitz, founder and (bearded) face of the all-natural personal care brand Burt's Bees, in this wry, thoughtful and intimate portrait of a highly idiosyncratic pioneer.
Why it's noteworthy: Who knew the Burt's Bees guy was a kooky, bearded recluse?






37.) Kill Your Darlings
Program: Gala Presentation
Distributor: Sony Pictures Classics
Directed by: John Krokidas
Written by: John Krokidas, Austin Bunn
Starring: Daniel Radcliffe, Dane DeHaan, Michael C. Hall, Jack Huston, Ben Foster, David Cross, Jennifer Jason Leigh, Elizabeth Olsen, Kyra Sedgwick, John Cullum
Synopsis: In this dynamic portrait of the early days of the Beat Generation, a young Allen Ginsberg (Daniel Radcliffe) and William S. Burroughs (Ben Foster) become embroiled in the notorious 1944 murder of Burroughs' childhood friend David Kammerer by the object of his affection, the Rimbaudian Beat muse Lucien Carr.
Why it's noteworthy: Another Sundance film with some very strong buzz. The two leads are promising young actors at opposite ends of the Hollywood spectrum. Daniel Radcliffe looks to further his indie cred. Dane DeHaan hopefully takes another step toward unabashed stardom.






36.) Philomena
Program: Special Presentation
Distributor: The Weinstein Company
Directed by: Stephen Frears
Written by: Steve Coogan
Starring: Judi Dench, Steve Coogan
Synopsis: Director Stephen Frears (The Queen) teams with Judi Dench and Steve Coogan for this powerful true story of an unmarried Irish-Catholic woman who, decades after being forced by her community to give up her newborn son, embarks on a search to find him with the aid of a BBC reporter.
Why it's noteworthy: Stephen Frears has been rather hit-and-miss over the past few years, but he's capable of greatness, and Judi Dench seems like a serious 2014 Best Actress contender. Oddly enough, what I'm most interested in is Steve Coogan's presence as both an actor and the credited screenwriter. Could be great, could be a mess.


35.) Parkland
Program: Gala Presentation
Distributor: Exclusive Media
Directed by: Peter Landesman
Written by: Peter Landesman
Starring: James Badge Dale, Zac Efron, Colin Hanks, David Harbour, Marcia Gay Harden, Ron Livingston, Jeremy Strong, Billy Bob Thornton, Jacki Weaver, Tom Welling, Paul Giamatti
Synopsis: "Where were you when JFK was shot?" Director Peter Landesman assembles a star-studded cast (Zac Efron, Paul Giamatti, Billy Bob Thornton, and Jacki Weaver) for this riveting ensemble procedural about the doctors, investigators, and ordinary citizens who witnessed history first-hand.
Why it's noteworthy: It sounds a little Bobby-esque, but I like that movie a lot, so this one (while I suspect it might have a critics problem) is definitely a film for me.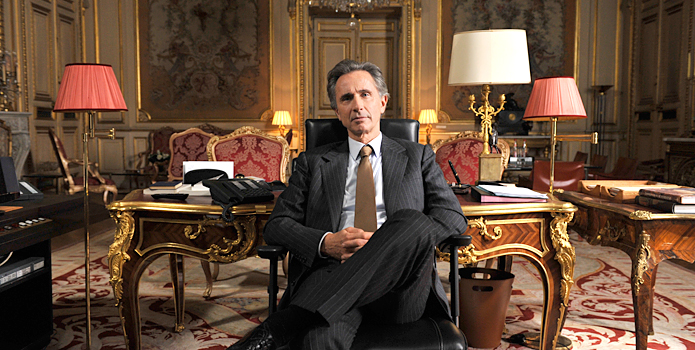 34.) Quai d'Orsay
Program: Special Presentation
Distributor: N/A
Directed by: Bertrand Tavernier
Written by: Bertrand Tavernier, Christophe Blain, Abel Lanzac
Starring: Thierry Lhermitte, Raphaël Personnaz, Niels Arestrupt
Synopsis: Master filmmaker Bertrand Tavernier (The Princess of Montpensier, Life and Nothing But) directs this gleeful political satire about a dashing, globetrotting French foreign minister whose charm and insouciance mask his utter and complete incompetence.
Why it's noteworthy: I'd had this one pegged for Cannes 2014, but no matter. Tavernier doesn't always knock it out of the park, but the potential is there.






33.) The Last of the Unjust
Program: TIFF Docs
Distributor: N/A
Directed by: Claude Lanzmann
Written by: N/A
Starring: N/A
Synopsis: In this riveting exploration of contested history, the inexhaustible Holocaust documentarian Claude Lanzmann (Shoah) revisits a 1975 interview with Benjamin Murmelstein, the Viennese rabbi who worked with Adolf Eichmann to arrange for the emigration of 120,000 Jews, an ethically thorny collaboration which saved many lives — and landed Murmelstein in prison.
Why it's noteworthy: The latest Holocaust documentary from the director of Shoah premiered to very positive buzz at Cannes 2013.






32.) Attila Marcel
Program: Special Presentations
Distributor: N/A
Directed by: Sylvain Chomet
Written by: Sylvain Chomet
Starring: Guillaume Gouix, Anne Le Ny, Bernadette Lafont, Hélène Vincent
Synopsis: Director Sylvain Chomet (The Triplets of Belleville, The Illusionist) invokes memories of Buster Keaton and Jacques Tati in his first live-action film, about a mute, sweet-natured man-child whose reawakened childhood memories unleash marvellous musical fantasies.
Why it's noteworthy: It's Sylvain Chomet's live-action debut. Do you need another reason to see this?






31.) Gloria
Program: Special Presentation
Distributor: Roadside Attractions
Directed by: Sebastián Lelio
Written by: Sebastián Lelio, Gonzalo Maza
Starring: Paulina García, Sergio Hernandez
Synopsis: Paulina García won the Silver Bear at the Berlin Film Festival for her performance as a vivacious, middle-aged divorcée who finds what may be her last chance for love while grooving on the dance floor of the local singles club.
Why it's noteworthy: Lots of love for this film at Berlin earlier this year. Could it be Chile's entry into the Best Foreign Language Feature race at the 2014 Oscars?