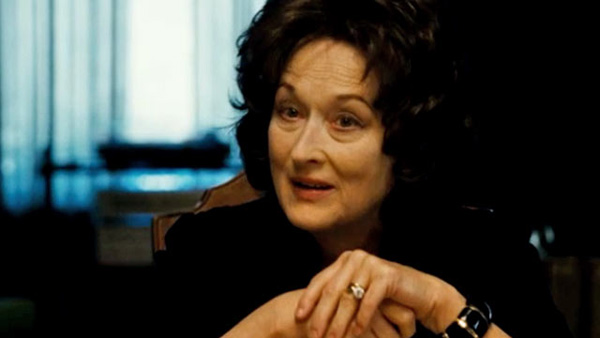 I don't know why I bother every year to dip my ignorant toe into the muddy pool that is the Hollywood Foreign Press Association every year. A clueless (when it comes to these awards) prognosticator plus a traditionally asinine voting body has the potential to make this post look awfully foolish in the not-too-distant future.
But I'm doing it anyway. Hell, last year I correctly projected Django Unchained's big nomination morning, so maybe I'll strike gold again in 2013. But what's the magic film? Where will the HFPA attempt to distance itself from the uneasy consensus established thus far?
I'm thinking we might see big things from August: Osage County for the first time this season. While the Best Comedy/Musical categories are more loaded this year than in any other I can remember (The Tourist, anyone), John Wells's film is sufficiently star-loaded for this celeb-friendly voting body. I like its chances.
In the Drama categories, don't be surprised to see Idris Elba pop up in Best Actor for Mandela: Long Walk to Freedom. And from what I understand, the group loves it some Philomena, so Judi Dench and company might get a nice boost.
Best Motion Picture, Drama
12 Years a Slave
Captain Phillips
Gravity
Philomena
Saving Mr. Banks
Alt: Rush
Best Motion Picture, Musical or Comedy
American Hustle
August: Osage County
Her
Nebraska
The Wolf of Wall Street
Alt: Inside Llewyn Davis, Blue Jasmine
Best Director
Alfonso Cuaron, Gravity
Steve McQueen, 12 Years a Slave
David O. Russell, American Hustle
Alexander Payne, Nebraska
Martin Scorsese, The Wolf of Wall Street
Alt: Spike Jonze, Her
Best Actor, Drama
Idris Elba, Mandela: Long Walk to Freedom
Chiwetel Ejiofor, 12 Years a Slave
Tom Hanks, Captain Phillips
Matthew McConaughey, Dallas Buyers Club
Robert Redford, All Is Lost
Alt: Hugh Jackman, Prisoners
Best Actor, Musical or Comedy
Christian Bale, American Hustle
Bruce Dern, Nebraska
Leonardo DiCaprio, The Wolf of Wall Street
Oscar Isaac, Inside Llewyn Davis
Joaquin Phoenix, Her
Alt: Ben Stiller, The Secret Life of Walter Mitty
Best Actress, Drama
Cate Blanchett, Blue Jasmine
Sandra Bullock, Gravity
Judi Dench, Philomena
Emma Thompson, Saving Mr. Banks
Kate Winslet, Labor Day
Alt: Adele Exarchopoulos, Blue Is the Warmest Color
Best Actress, Musical or Comedy
Amy Adams, American Hustle
Greta Gerwig, Frances Ha
Julia Louis-Dreyfus, Enough Said
Melissa McCarthy, The Heat
Meryl Streep, August: Osage County
Alt: Literally no clue.
Best Supporting Actor
Barkhad Abdi, Captain Phillips
Michael Fassbender, 12 Years a Slave
Jonah Hill, The Wolf of Wall Street
Jared Leto, Dallas Buyers Club
Tom Hanks, Saving Mr. Banks
Alt: Bradley Cooper, American Hustle
Best Supporting Actress
Jennifer Lawrence, American Hustle
Lupita Nyong'o, 12 Years a Slave
Julia Roberts, August: Osage County
June Squibb, Nebraska
Oprah Winfrey, Lee Daniels' The Butler
Alt: Margo Martindale, August: Osage County
Best Screenplay
American Hustle
Her
12 Years a Slave
Philomena
The Wolf of Wall Street
Alt: Saving Mr. Banks
Best Original Score
Captain Phillips
Frozen
Gravity
Philomena
12 Years a Slave
Alt: Rush
Best Original Song
"Atlas" from The Hunger Games: Catching Fire
"Let It Go" from Frozen
"Ordinary Love" from Mandela: Long Walk to Freedom
"Please Mr. Kennedy" from Inside Llewyn Davis
"Young and Beautiful" from The Great Gatsby
Alt: "The Moon Song" from Her
Best Foreign Language Film
Blue Is the Warmest Color
Gloria
The Grandmaster
The Hunt
The Past
Alt: The Broken Circle Breakdown
Best Animated Feature
Cloudy with a Chance of Meatballs 2
The Croods
Despicable Me 2
Frozen
Monsters University
Alt: Epic