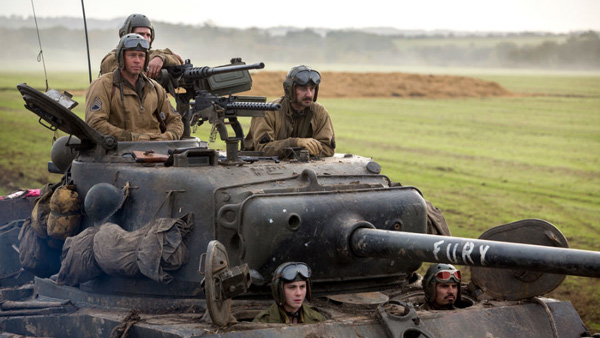 It's 2015 Oscar predictions time, so let's dig the prognosticator's hat out of the attic, dust it off, and take a look at the landscape of the 2015 Oscar race.
If I'm being honest, though, I almost didn't want to get involved with 2015 Oscar predictions at all. Last year's Oscar season and the nonsense surrounding it wore me out so much I considered abandoning this game altogether. (I actually didn't even watch the ceremony last year.) But there's no need to let a few horribly misguided and/or frustratingly ill-informed individuals ruin what ought to be a bit of good clean fun. I'm going offer 2015 Oscar predictions and update those Oscar predictions at my own leisure and let the loons do their thing.
Surveying the field, I'm not super bullish on the likely crop of 2015 Oscar movies. It strikes me as a very classic year and one in which an outlier like a Gravity or 12 Years a Slave fails to catch fire. But I'd love to be proven wrong. So without further ado, my 2015 Oscar predictions.
2015 Oscar Predictions: Best Picture
Big Eyes
Birdman
Boyhood
Foxcatcher
Fury (predicted winner)
Gone Girl
The Imitation Game
Interstellar
Unbroken
If you subscribe to the studio-based model of predicting, this is a pretty all-encompassing batch of Best Picture nominees. Big Eyes and The Imitation Game are Weinstein movies. Birdman is Fox Searchlight. Foxcatcher is Sony Pictures Classics. Fury belongs to Sony proper. Gone Girl is 20th Century Fox. Interstellar is Paramount. And Unbroken is Universal. Boyhood sneaks in on outstanding reviews rather than the strength of its distributor (IFC). That leaves Warner Brothers out in the cold, which would be a major regression after two years out in front of the pack (Gravity in 2013, Argo in 2012). But I don't have much faith in The Good Lie or The Judge, while Paul Thomas Anderson's Inherent Vice might be a little too out there for Academy members. We'll see.
2015 Oscar Predictions: Best Director
David Ayer, Fury (predicted winner)
David Fincher, Gone Girl
Alejandro Gonzalez Inarritu, Birdman
Bennett Miller, Foxcatcher
Christopher Nolan, Interstellar
I just really like the look of Fury. Ayer did such a brilliant job realizing End of Watch in 2012, and now he's got an all-star cast, Oscar friendly material, and he's ditching the found-footage conceit for something more traditional (but hopefully no less involving). Beyond him, I'm going with the more established directors (Oscar-wise) behind my predicted Best Picture nominees—Fincher, Inarritu, Miller, Nolan. All are past nominees. Incidentally, none has ever won.
2015 Oscar Predictions: Best Actor
Steve Carell, Foxcatcher (predicted winner)
Benedict Cumberbatch, The Imitation Game
Michael Keaton, Birdman
Jack O'Connell, Unbroken
Timothy Spall, Mr. Turner
A loaded category, as it always seems to be. I had to leave off possible contenders Brad Pitt (Fury), Chadwick Boseman (Get on Up), Joaquin Phoenix (Inherent Vice), and Eddie Redmayne (The Theory of Everything). But of the five I'm predicting, two have already received raves (Carell and Spall), while the other three are the promise to dominate films that could conceivably dominate the entire 2015 Oscar race.
2015 Oscar Predictions: Best Actress
Amy Adams, Big Eyes (predicted winner)
Jessica Chastain, A Most Wanted Man
Rosamund Pike, Gone Girl
Meryl Streep, Into the Woods
Reese Witherspoon, Wild
All I know is that Meryl Streep playing a witch in a film adaptation of a Steven Sondheim musical that comes out Christmas Day equals a 100% chance nomination and 0% chance win. Beyond that, it's strictly guesswork. Rosamund Pike seems likely considering the source material. The rest are guesses, but eventually Amy Adams needs to win one of these, right?
2015 Oscar Predictions: Best Supporting Actor
Albert Brooks, A Most Wanted Man
Logan Lerman, Fury
Edward Norton, Birdman
Mark Ruffalo, Foxcatcher
J.K. Simmons, Whiplash (predicted winner)
Simmons is pretty close to a lock (at least for a nomination). His Whiplash performance was the toast of Sundance this year.
2015 Oscar Predictions: Best Supporting Actress
Patricia Arquette, Boyhood
Emily Blunt, Into the Woods
Laura Dern, Wild (predicted winner)
Jennifer Garner, Men, Women, and Children
Anne Hathaway, Interstellar
More than any other category, this one is full of question marks. One of the things I'm most curious to find out: can Christopher Nolan solve his women problem?
*****
Just some quick hits on the remaining categories, which are especially difficult to project since we don't know what the production design, costumes, etc. really look like until the films premiere.
2015 Best Adapted Screenplay Predictions
Gone Girl (predicted winner)
Inherent Vice
Men, Women, and Children
Unbroken
Wild
2015 Best Original Screenplay Predictions
Birdman
Boyhood (predicted winner)
Fury
The Grand Budapest Hotel
Interstellar
2015 Best Animated Feature Predictions
Big Hero 6
The Boxtrolls
How to Train Your Dragon 2
The LEGO Movie (predicted winner)
Song of the Sea
2015 Best Documentary Feature Predictions
Alive Inside
Life Itself
The Look of Silence
The Overnighters
Virunga (predicted winner)
2015 Best Foreign Language Film Predictions
Ida
Two Days, One Night (predicted winner)
Wild Tales
Winter Sleep
The Wonders
2015 Best Cinematography Predictions
Birdman
Gone Girl
Interstellar (predicted winner)
Mr. Turner
Unbroken
2015 Best Costume Design Predictions
Big Eyes (predicted winner)
Inherent Vice
Into the Woods
Mr. Turner
Unbroken
2015 Best Film Editing Predictions
Birdman
Boyhood
Fury (predicted winner)
Gone Girl
Interstellar
2015 Best Makeup and Hairstyling Predictions
Foxcatcher (predicted winner)
Into the Woods
Maleficent
2015 Best Original Score Predictions
Big Eyes
Fury
Gone Girl (predicted winner)
Interstellar
Unbroken
2015 Best Original Song Predictions
Coming soon.
2015 Best Production Design Predictions
Big Eyes
The Grand Budapest Hotel
Into the Woods (predicted winner)
Maleficent
Mr. Turner
2015 Best Sound Editing Predictions
Edge of Tomorrow
Fury
Godzilla
Interstellar (predicted winner)
Transformers: Age of Extinction
2015 Best Sound Mixing Predictions
Edge of Tomorrow
Fury
Godzilla
Interstellar (predicted winner)
Transformers: Age of Extinction
2015 Best Visual Effects Predictions
Dawn of the Planet of the Apes
Godzilla
Guardians of the Galaxy
Interstellar (predicted winner)
Maleficent