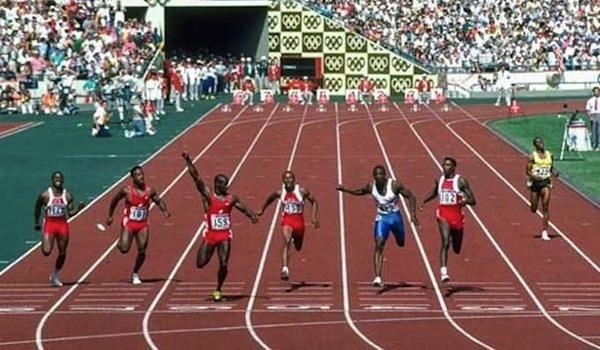 9.79* represents precisely why the 30 for 30 series is essential viewing for sports fans. Is it the most penetrating documentary one could make about steroids in sports? Of course not, but it comes at the massive issue from an underreported angle.
Ben Johnson is a name a 24-year-old sports fan like myself would only be tangentially familiar with. Carl Lewis, of course, is one of track's five biggest names ever. The two had quite a rivalry in the years leading up to the 1988 Olympic Games in Seoul. Lewis was track's golden boy, having set a number of records at the previous Games in Los Angeles. The gentle giant Johnson, meanwhile, was arguably the stronger runner at the moment, though it was something no one would have predicted a few short years ago…
All these years later, there's still obvious animosity between these two individuals. Johnson won gold at Seoul and set a world record in the process, though a positive test for banned substances became public immediately afterward. Prominent individuals involved with that scene at that time present a half-hearted case for Johnson (they claim a Lewis lackey drugged Johnson's drink), but Johnson did steroids, and the film doesn't pretend otherwise. Instead, it's interested in trying to dig through the bullshit to find out whether the sport in the 1980s was kind of fucked or completely fucked. Director Daniel Gordon inarguably falls on the side of the latter.
You see Gordon scores interviews with all eight men who competed against Johnson in his record-breaking 100-meter dash. Of the eight, seven tested positive for banned substances at one point in their careers. The only "clean" athlete is Lewis, and the evidence against him is more than a little damning. At one point, Gordon details a drug test Lewis failed during Olympic qualifying in 1988. He and his people cried foul, and the USOC dropped it immediately, claiming it was an "inadvertent positive."
Yes, what's most interesting about 9.79*—which played at TIFF and is the best documentary in the still very young 30 for 30 season—is how no one comes through looking good. Johnson, one could argue, actually gains the most, though that's probably only because he has nothing to lose. His honesty about his mistakes is refreshing, if only because athletes caught up in steroids scandals today are so intransigent.
9.79*, I must say, is a bit of a downer if you're a sports fan, but that shouldn't take away from admiring it as a strong piece of documentary filmmaking. Most of his subjects are happy to spill their guts, and as such, Gordon covers every conceivable base in this complicated, occasionally kooky (see Johnson's pre-Olympics sojourn to the Caribbean) story.