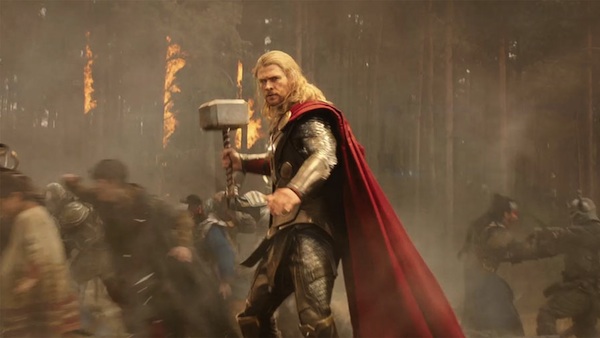 Because you can't review them all.
Sadly, life gets in the way of writing about everything I see, so this space is as much for keeping track of what I'm watching as it is for you to share your thoughts on what are, with any luck, a group of high-quality films.
I haven't written this column up in a while. Seems my movie-watching hasn't slowed in the same way that my reviewing has recently, so January's and February's versions were much longer than usual. My attempts at tackling them, therefore, failed, but I was determined to get back on track in March.
This month was filled with a lot of ESPN Films watching. In my opinion, there's no better time of year for sports than March during which you've got NCAA basketball tournament, meaningful NBA games, no baseball yet (a good thing), and NFL draft talk galore—not to mention good, playing-sports-outside weather for the first time in four months. That's a long version of saying a lot of titles here are 30 for 30 films among my most recently watched. (Check out my piece on the series for Sound on Sight here.) I also subscribed to Hulu Plus for the first time (finally), which meant giving a few Criterion titles a look for the first time ever. It's been a great month of movie watching.
The Square
RATING:


(2014, 1 viewing)
This beautiful, very personal portrait of a rapidly changing country was one of the five documentaries nominated for an Oscar this year. It was also Netflix's first dip into "original" filmmaking. (It was distributed by Netflix, independently produced). Three men live at the center of the film, and thankfully, none is named Mubarak or Morsi. Yes, the two Egyptian leaders who were deposed in the last three years play an important role in The Square—as they do in Egyptian history and the history of Middle Eastern democracy—but director Jehane Noujaim instead turns her camera on the people. The familiar face belongs to Khalid Abdalla, a British-Egyptian actor who starred in United 93 and The Kite Runner, among other films. He's an activist fighting alongside Ahmed, a young Egyptian revolutionary. Meanwhile, their good friend Magdy is a member of the Muslim Brotherhood, and during the first wave of revolution, they're brothers in arms—something that changes when citizens take to Tahrir Square to try to oust Morsi. The dynamics are just fascinating, and the level-headed passion all these men wear on their sleeves is truly moving.
Overlord
RATING:

(1975, 1 viewing)
It's almost impossible to fathom that this D-Day-invasion film was made in 1975 because it feels so much as if its from the 1940s both in temperament and craft. Part of that certainly has to do with its masterfully seamless blending of authentic WWII documentary footage and staged scenes with actors and sets, but there's more to it than that. Director Stuart Cooper absolutely nails the anonymous soldier's pre-battle mindset through haunting dream sequences and a tragically heartfelt semi-romance. The film is swinging for the fences with colossal questions about the meaning of one face, one life in a sea of destruction, and Cooper manages to hit a home run. A Blu-Ray upgrade was recently announced by Criterion (coming out in May). It's available on Hulu Plus for the impatient.
Thor: The Dark World
RATING:

(2013, 1 viewing)
I'm done giving these movies a pass. I appreciate the importance of all the world-building, but it's sloppy storytelling, and it has brought down every single Marvel film since Iron Man to one extent or another. The first Thor was particularly egregious on that front. This one doesn't fail on that level quite as much, but it does much more so in other ways, including nonsense and forgettable action. Green Lantern told a better version of this story. I say that proudly and unironically.
Fantastic Mr. Fox
RATING:

(2009, 5+ viewings)
My second-favorite Wes Anderson movie has been included on this column in the past (here). I revisit it—one of the straight-up happiest movies of the last ten years—all the time. This month was the first of what I'm sure will be many watches on my new Criterion Blu-Ray edition. Needless to say, it looks absolutely sensational. The movie: still as joyful as ever.
The Naked Kiss
RATING:

(1964, 1 viewing)
My first Samuel Fuller movie was this, an uber-deceptive neo-noir that left me melted on the floor. It starts simply enough—a hooker, Kelly (Constance Towers), "connects" with a cop (Anthony Eisley). He tells her she can't work in his town, that she's got to set up shop somewhere else. Instead, she takes this as a chance to go legit—give up the illicit lifestyle for something more wholesome and pleasantly ordinary. That's where the film turns. It's about a woman on a lucky streak. She finds a place to live, a rewarding job that she's terrific at, and a man—the richest, most beloved man in town. She's got it all, but are such things meant to last for people like Kelly? The way Fuller answer that question is like nothing you could expect, and the results are absolutely shattering in the most satisfyingly cinematic way possible. This is an instant all-time top 50 film for me with potential to slide up the list over time.
Funny People
RATING:

(2009, 3+ viewings)
What a frustratingly uneven film. The stuff I love—Sandler, Rogen, the mortality stuff (especially as it relates to comedians)—I really LOVE. Then there's the actual stand-up, which is uneven at best, and the absolutely brutal final act. It's hard to completely defend a film that stops itself in its own tracks so epically, but perhaps even harder to discount something with so many good moments and such outstanding chemistry between its leads.
Jimmy P.
RATING:

(2014, 1 viewing)
Boy, psychoanalysis seems like it'd be the basis for some great movies, especially with directors like Cronenberg and Arnaud Desplechin behind them, but the medium has completely failed the subject recently. A Dangerous Method had some things going for it—namely Viggo Mortensen's fantastic performance as Freud—but Jimmy P. is a real wet blanket of a movie. It's not just that we have a truly bizarre casting decision front and center—that'd be Benicio del Toro playing a Native American—but it's also his hardly showing up. It's the self-seriousness. It's the limp dialogue. It's the uninspired direction. It's the complete and utter lack of an impression this film will leave you on that makes it damn hard to feel anything put mild contempt for the two wasted hours.
Without Bias
RATING:


(2009, 1 viewing)
30 for 30 #1: Few sports figures are as tragic as Len Bias. The college basketball phenom was drafted second overall by the Boston Celtics in 1986, but he passed away of a drug overdose just days later. Without Bias is little more than a tribute to a sports figure gone too soon. Interviewed are prominent sportswriters, as well as Bias' family. As far as documentaries go, this one is extremely simple, but it touches your heart with ease and grace.
Gate of Hell
RATING:


(1953, 1 viewing)
This period drama from Japanese director Teinosuke Kinugasa won two Oscars back in 1955 (for Best Foreign Language Film and Best Costume Design). It tells the story of a feudal warrior whose courage and loyalty to the ruling clan earns him the right to ask for one thing from those leaders in return. He doesn't think twice about requesting an arranged marriage to a lady-in-waiting at court. What he doesn't realize is that she's married to an important diplomat. It's quite interesting to watch this triangle develop, but things happen in Gate of Hell that are melodramatically necessary but a tad silly otherwise. The gears of the plot turn loudly and creakily, and all the beautiful costumes in the world can't save it when it goes in such directions.
Hoop Dreams
RATING:

(1994, 2 viewings)
Arguably Roger Ebert's most famous championing of a film came for this, Steve James's heart-achingly real portrait of two Chicago youths with visions of becoming the next Air Jordan dancing in their heads. But as Ebert said, this film is more than one about dunks and defense; it's one about "life itself." We meet William Gates's and Arthur Agee's families—their parents, siblings, coaches, teammates. William has all the physical tools to be a superstar, but bad luck and wavering desire threaten to derail his basketball career before it really begins. Arthur, on the other hand, has all the desire in the world. But he's undersized and loses his scholarship at the prep school he attends with William. The parallel paths these two travel on are too engaging to be fiction. Ebert was right—this is a truly essential film, one of the greatest documentaries ever made.
June 17, 1994
RATING:


(2010, 1 viewing)
30 for 30 #2: The form doesn't get challenged often by ESPN Films, but this footage-driven doc is a major exception. A la Senna or last year's Let the Fire Burn, June 17, 1994 includes no talking heads or other asides from all-knowing men and women from today. We're treated instead to archival clips of the major sports news from this one day in history—a jam-packed day that saw the World Cup kick off in Chicago, the New York Rangers celebrate its first Stanley Cup victory in decades, the New York Knicks take on the Houston Rockets in a hugely important NBA Finals game, Arnold Palmer compete in his final U.S. Open, and most notably, O.J. Simpson engage in his infamous low-speed Ford Bronco chase down the freeways of Los Angeles. Surreal, quick-moving, and extremely entertaining, it's probably the best film of the entire 30 for 30 series.
Straight Outta LA
RATING:

(2010, 1 viewing)
30 for 30 #3: Definitely not the best film of the entire 30 for 30 series. Ice Cube made this one about the Oakland Raiders's move into and out of Los Angeles and the impact the team and its attitude had on the up-and-coming rap scene in LA. The problem is the man took a thesis applicable to his life—the Raiders colors and toughness helped define him and a rapper—and extended it into a feature-length documentary without much regard for how to both connect that information to the team's double relocation or make the information feel essential to those watching. That's what other 30 for 30s do well.
American Hustle
RATING:


(2013, 2 viewings)
Maybe the best thing that could have happened for this film's legacy was its 0 for 10 performance at the 2014 Oscar ceremony. So many dismissed American Hustle as jazzy 1970s nonsense, I think, solely because it was a serious Best Picture contender for months. Removed from those expectations, it should be remembered for what it actually is—an exceptionally well-acted, hilarious lark and a film I intend to joyfully revisit again and again in the future.
Unguarded
RATING:

(2011, 1 viewing)
30 for 30 #4: I'm an enormous basketball fan, yet the name Chris Herren wasn't a familiar one until I checked out the 30 for 30 that chronicled his basketball career and incredibly destructive drug addiction. A Boston native, Herren was one of the nation's most promising high school, but beginning in his first year at Boston College—and continuing into his years at Fresno State on the Boston Celtics and travelling throughout the world playing in international leagues—Herren developed a drug habit that would almost kill him. His story is presented in an interesting way—footage of his playing days is edited together with talking heads and lots of footage of Herren giving motivational talks to high schoolers, inmates, and others. The story is one of redemption through addiction, which you've seen before in fiction and non-fiction films alike, but that doesn't diminish from its horror or its power.
The Fab 5
RATING:


(2011, 2 viewings)
30 for 30 #5: It's a shame that a simple mistake—a timeout called when Chris Webber's team had none left—has defined one of the greatest college basketball teams of its generation, but that flub in the waning seconds of the 1993 National Championship game looms so largely over the Michigan Wolverines basketball program that it was hard to remember the Fab 5 for much else before this eponymous documentary came along. Make no mistake, the film talks a lot about that game and that moment. It also spends plenty of time on the program's downfall, which was spurred by Webber's relationship to a booster. But what this film does in its first half—when it introduces us to the five young men who'd become the greatest team of freshmen college basketball had ever seen (until maybe this month)—is pretty incredible. Sports figures just don't get more compelling than Jalen Rose, Jimmy King, coach Steve Fisher, and company.