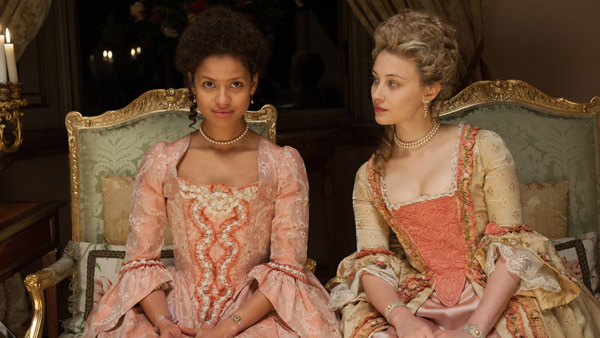 With Venice and Telluride in the books—not to mention TIFF on the horizon—2015 Oscar talk has ratcheted up in a big way. (Incidentally, so has the annual anti-Oscar talk, to which I say "Chill out and be nice.".) Birdman, The Imitation Game, and Foxcatcher are the contenders du jour, but it's way too early to say anything definitive.
In a lot of ways, this really is the best time of year for fans of Oscar prognosticating like me. Anything is possible. Lots of films and performances are unknowns, and it's not too crazy to think about favorites from the last eight months as potential players in the race. Yes, it's unlikely something like The Grand Budapest Hotel will swoop in and knock off a Birdman or The Imitation Game in the Best Picture race, but a few other categories are either weak or wide open, and so I say this: do not sleep on these four early 2015 Oscar contenders.
Best Actress: Gugu Mbatha-Raw, Belle
This is a good movie, and Mbatha-Raw is really exceptional as the film's title character. In the hands of a lesser studio, an early summer period piece wouldn't stand much of a chance of being remembered at the end of the year. But Fox Searchlight? I think it's capable of Oscar miracles. Mbatha-Raw earning a Best Actress nomination in a field as thin as this year's isn't exactly a miracle, so of all the long shots on this list, I feel the best about this one.
Best Original Screenplay: Calvary
Hmmm, another Fox Searchlight film. Calvary wasn't exactly the quiet box office hit Belle was, but people love this movie. I'd consider Brendan Gleeson a stealth Best Actor if that category wasn't so stacked. Best Original Screenplay has a lot of possible contenders, but outside of Birdman, everything is a question mark. Lots of movies haven't been seen—Fury, Selma, Interstellar, Big Eyes. Lots of movies could conceivably struggle with the Academy—Mr. Turner, Foxcatcher, Boyhood, The Grand Budapest Hotel. So why not something like Calvary?
Best Cinematography: Ida
It seems like a sure thing for Best Foreign Language Film, but can the most gorgeous black-and-white film in a while sneak into Best Cinematography? The White Ribbon achieved it a few years ago. That film was distributed by Sony Pictures Classics—a traditionally bigger player than Ida's Music Box Films. But a few years ago, Music Box really went for it with Rachel Weisz and The Deep Blue Sea, so a healthy campaign wouldn't be unprecedented. What's potentially problematic for Ida is its competition. Birdman is a virtual lock. Unbroken and Interstellar seem like strong (if still unseen) contenders. Gone Girl, Big Eyes, Mr. Turner, Inherent Vice—all possibilities.
Best Documentary Feature: Elaine Stritch: Shoot Me
A lot of great documentaries so far this year, but only Life Itself stands out as a really strong candidate for the Oscar. I have nothing but good things to say about Elaine Stritch: Shoot Me, and I suspect all the Academy members who have discovered it on Netflix over the past month or so (and all that continue to discover it in the fall) will remember it come voting time.