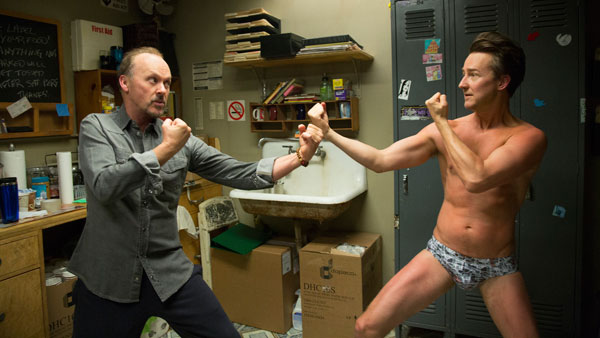 When it comes to making 2015 Golden Globes predictions, everyone knows quality shouldn't come into the picture too much. The Globes are notorious for some decisions—most notably Zsa Zsa Gabor and The Tourist. I'm not sure why we take them seriously other than the fact that it's a show on primetime, but to be fair, it's typically a good time, especially since Tina Fey and Amy Poehler have taken over hosting duties.
It was a strong enough year for "comedies" (i.e. what the Hollywood Foreign Press Association classifies as comedies) that we don't have many truly egregious (or offensive) nominees, but that doesn't make predicting winners any easier. Alas, I'm giving it a shot again. Here goes nothing…
2015 Golden Globes Predictions
Best Original Song
Annie
Big Eyes
The Hunger Games: Mockingjay, Part 1
Noah
Selma
Winner: Selma
You know why I'm picking Selma here? The Globes website doesn't even list the nominated artists or their songs—just the name of the movie for which each song was written. Let's take that as code for "We're voting for the best movie among these five." Selma has a Best Picture nomination. It takes this one.
*****
Best Original Score
Birdman
Gone Girl
The Imitation Game
Interstellar
The Theory of Everything
Winner: The Imitation Game
Last year, All Is Lost's Alex Ebert took this award, and what a nice surprise that was, but it was the kind of wildcard that makes me think any of these five can win this year. So why The Imitation Game's Alexandre Desplat? Ultimately, most of its Best Original Score choices over the past decade are conventional, Desplat has a proven track record with the HFPA, and I'm not sure where else this film shows up on Sunday.
*****
Best Screenplay
Birdman
Boyhood
Gone Girl
The Grand Budapest Hotel
The Imitation Game
Winner: Birdman
Ultimately, I narrowed it down to the frontrunners for each respective Best Picture category, but Birdman's screenplay is showier and, frankly, better than Boyhood's, so that's my pick.
*****
Best Director
Wes Anderson, The Grand Budapest Hotel
Ava DuVernay, Selma
David Fincher, Gone Girl
Alejandro Gonzalez Inarritu, Birdman
Richard Linklater, Boyhood
Winner: Alejandro Gonzalez Inarritu
This group really likes Inarritu, what with all of Birdman's nominations and Babel's Best Picture win over The Departed in 2007. Linklater is definitely in the mix, too.
*****
Best Supporting Actor
Robert Duvall, The Judge
Ethan Hawke, Boyhood
Edward Norton, Birdman
Mark Ruffalo, Foxcatcher
J.K. Simmons, Whiplash
Winner: Edward Norton, Birdman
If any group goes with someone other than Simmons, it'll be this one—a small group that showed no love for Whiplash and a ton for Birdman. It's also a star-driven group far less interested in rewarding a character actor than someone like Norton. I'm not certain, but I'd guess I'm in a minority by predicting this way, but I'm expecting a big Birdman night if you haven't already noticed.
*****
Best Supporting Actress
Patricia Arquette, Boyhood
Jessica Chastain, A Most Violent Year
Keira Knightley, The Imitation Game
Emma Stone, Birdman
Meryl Streep, Into the Woods
Winner: Meryl Streep, Into the Woods
One of the few women capable of stopping the Birdman train is Queen Meryl. This one feels like a no-brainer, but stranger things have happened.
*****
Best Foreign Language Film
Gett: The Trial of Viviane Amsalem
Force Majeure
Ida
Leviathan
Tangerines
Winner: Ida
It's the Oscar favorite. I don't see any reason not to predict it for a Globe win, too.
*****
Best Animated Feature Film
Big Hero 6
The Book of Life
The Boxtrolls
How to Train Your Dragon 2
The LEGO Movie
Winner: The LEGO Movie
If anything upsets, it's not Dreamworks or Disney, but the more European feeling The Boxtrolls. But the awesome LEGO Movie should cruise here.
*****
Best Actor, Musical or Comedy
Ralph Fiennes, The Grand Budapest Hotel
Michael Keaton, Birdman
Bill Murray, St. Vincent
Joaquin Phoenix, Inherent Vice
Christoph Waltz, Big Eyes
Winner: Michael Keaton, Birdman
The easiest of easy calls. No one can touch Riggan Thomson.
*****
Best Actress, Musical or Comedy
Amy Adams, Big Eyes
Emily Blunt, Into the Woods
Helen Mirren, The Hundred Foot Journey
Julianne Moore, Maps to the Stars
Quvenzhané Wallis, Annie
Winner: Amy Adams, Big Eyes
If this category's male counterpart is the easiest to predict, this one is probably the toughest. I'd say it's probably between Adams and Blunt, and having not yet seen either film is a problem for me here. But Adams has more of a Globe track record and is arguably a bigger star, so I say she eeks it out. Blunt had a great year, though, between this and Edge of Tomorrow, so don't be at all surprised if she takes it home.
*****
Best Motion Picture, Musical or Comedy
Birdman
The Grand Budapest Hotel
Into the Woods
Pride
St. Vincent
Winner: Birdman
A Grand Budapest Hotel would be wonderful, but if anything upsets Birdman here, I'll be shocked.
*****
Best Actor, Drama
Steve Carell, Foxcatcher
Benedict Cumberbatch, The Imitation Game
Jake Gyllenhaal, Nightcrawler
David Oyelowo, Selma
Eddie Redmayne, The Theory of Everything
Winner: Eddie Redmayne, The Theory of Everything
No big stars (Gyllenhaal is closest, but he's not winning) means the HFPA can find some room for The Theory of Everything amongst its winning films. Redmayne is the closest thing Michael Keaton has to an Oscar competitor. I think this one is pretty safe.
*****
Best Actress, Drama
Jennifer Aniston, Cake
Felicity Jones, The Theory of Everything
Julianne Moore, Still Alice
Rosamund Pike, Gone Girl
Reese Witherspoon, Wild
Winner: Julianne Moore, Still Alice
I could see this one going any number of ways, but Moore is the Oscar frontrunner and safe bet here.
*****
Best Motion Picture, Drama
Boyhood
Foxcatcher
The Imitation Game
Selma
The Theory of Everything
Winner: Boyhood
It's such a uniquely American story that I wouldn't at all be surprised to see something like The Imitation Game or even The Theory of Everything take it. But Boyhood has enough recognition elsewhere to make it a fairly comfortable pick.