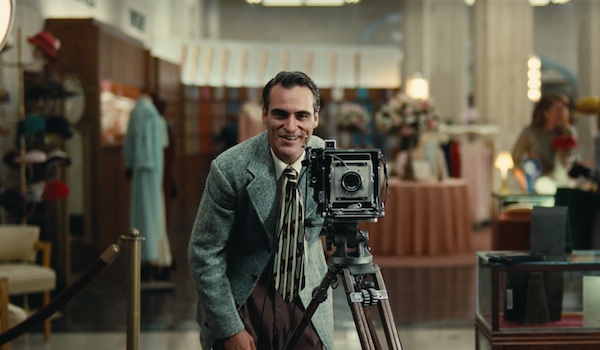 The bubble is not a fun place to live. Just ask Virginia Tech basketball fans. I'm sure every actor or actress would love to be in the position of a Daniel Day-Lewis or Jessica Chastain this year, but the Oscars just don't work like that. Someone has to be the last nominee in just as someone has to be the last nominee left out. Here are a handful of individuals (plus a few groups) that will be truly sweating it out until next Thursday, when the nominees are finally announced:
1.) Ang Lee
Life of Pi seemed like such a strong contender in the weeks leading up to its release. Its reception on opening night of the New York Film Festival was rapturous, and with Lee's meticulous, awe-inspiring direction out in front, the film felt like a strong Best Picture candidate. Then, it came out, and it wasn't poorly reviewed by a long shot, but no one seemed to care much. It came, it made a decent amount of money, and it went.
Now, the film still looks like a Best Picture nominee, but Lee—who should have been a lock, should have been competing for the win—is squarely on the Best Director bubble. He's certainly behind Affleck, Bigelow, and Spielberg. Though Tom Hooper missed out on a Golden Globe nod in favor of Lee, the two could easily flip-flop come Oscar nomination morning. And that's not even taking Michael Haneke, David O. Russell, and Quentin Tarantino into consideration.
Prognosis: 50/50
2.) Joaquin Phoenix
He's on the bubble, but he can't possibly care. I'm not one to believe honest slips of the tongue can derail a campaign; Phoenix was doomed to the bubble ever since The Master premiered. But when the enigmatic actor labeled the Academy Awards "total, utter bullshit" back in October, he certainly didn't help his chances. The race already has five strong contenders (Cooper, Day-Lewis, Hawkes, Jackman, Washington), so it's going to take a good bit of luck for Phoenix to break through.
Prognosis: Outside looking in
3.) Naomi Watts
It's a shame for Watts The Impossible wasn't a bigger starter this season. Her resiliency in the strong Best Actress race in spite of the film's shortcomings means she could have been competing for a win if it was a more buzzed-about and beloved movie. Alas, she's right on the bubble, alongside Marion Cotillard, Helen Mirren, and Quvenzhane Wallis. Two of the four will be nominated. And it's really anyone's guess at this point, but I'm leaning toward Watts' inclusion.
Prognosis: Looking good
4.) The 'Django' Boys
The whole Best Supporting Actor race is a real mystery. Stone-cold locks include Alan Arkin (who's in Argo for all of 15 minutes), Robert De Niro (who's performance in Silver Linings Playbook isn't truly wowing anyone), Phillip Seymour Hoffman (who's great in a film that's probably going to get creamed by the Academy), and Tommy Lee Jones (who seems to have a lot going for him, but who few are feeling truly bullish about).
Then, there's the fifth slot, which is the biggest mystery of all. Javier Bardem is SAG-nominated, but he's playing a Bond villain. Dwight Henry is brilliant, but he's a total unknown. Matthew McConaughey earned a great deal of praise—and a few critics' prizes—for his work in Magic Mike. And Quentin Tarantino's Django Unchained has three legitimate contenders in Leonardo DiCaprio, Christoph Waltz, and Samuel L. Jackson.
I think Waltz is the best in show, but he won just a few years ago for more memorable work in a Tarantino film (Inglourious Basterds). He'll also suffer because of category confusion. In fact, if he gets in the Best Supporting Actor race, it'll be fraud. He's a lead, plain and simple.
Jackson might have the film's wildest role. He pops of the screen, and his character's arc is arguably the most interesting. His biggest obstacle to overcome is DiCaprio, who plays against type in a big way and turns out his best performance since The Departed.
Prognosis for DiCaprio: Looking good
Prognosis for Jackson: Outside looking in
Prognosis for Waltz: Outside looking in
5.) Nicole Kidman
Boy, no one was expecting this possibility before the SAG nominations. She not only nabbed one of those (over the likes of Amy Adams, mind you), but she also picked up a citation from the Golden Globes. But how many Academy voters are actually watching The Paperboy? And as more pop in their screeners, do her chances go down?
Prognosis: 50/50
6.) Stephen Chbosky
That The Perks of Being a Wallflower is under consideration for any Oscar nominations brings a big smile to my face. I named it among my Top 10 Films of 2012, primarily because Chbosky's screenplay was so affecting. Now, the Adapted Screenplay category is packed with heavyweights this year—Lincoln, Argo, and Silver Linings Playbook chief among them—but signs (BFCA, San Diego critics, Washington DC critics) are pointing to Chbosky's inclusion. My fingers (and toes) are crossed.
Prognosis: 50/50
7.) Rian Johnson
Another favorite screenplay of mine from another one of my ten favorite films of the year. That Johnson saw the Looper conceit all the way through is a minor miracle. That he's firmly in the running for a nomination was something I predicted way back when, but it's only now that I'm feeling halfway decent about his chances. Original Screenplay's titans include the Moonrise Kingdom duo, Michael Haneke, and Mark Boal. Its possibles include Paul Thomas Anderson, Quentin Tarantino, stealth contender Ava DuVernay (Middle of Nowhere), and Johnson himself.
Prognosis: 50/50
8.) Danny Cohen
And we transition into the realm of nominations I really don't want to happen. Cohen's style was the source of my biggest frustration with Les Miserables—the constant close-ups, the overuse of Dutch angles. Alas, the film should be a nomination monster, and there's a better-than-decent chance Cohen gets swept into the final five for Best Cinematography. Then again, Claudio Miranda (Life of Pi), Robert Richardson (Django Unchained), Roger Deakins (Skyfall), Seamus McGarvey (Anna Karenina), Mihai Malaimare Jr. (The Master), Janusz Kaminski (Lincoln), and Greig Fraser (Zero Dark Thirty) will all have something to say about it.
Prognosis: Outside looking in
9.) GKIDS
The indie studio responsible for distributing so many of those Oscar-nominated animated films you've never heard of—The Secret of Kells, Chico and Rita, A Cat in Paris—has four films eligible for this year's Best Animated Feature race. The Painting, The Rabbi's Cat, Zarafa, and From Up on Poppy Hill all have their champions—particularly the first two. But this year's Animated race is loaded. Brave, Wreck-It Ralph, and Frankenweenie are veritable locks. Some combination of ParaNorman, Rise of the Guardians, and A Liar's Autobiography (the Monty Python flick) could shut GKIDS out this year.
Prognosis for The Painting: Looking good
Prognosis for The Rabbi's Cat: 50/50
Prognosis for Zarafa: Outside looking in
Prognosis for From Up on Poppy Hill: Outside looking in
10.) Harvey Weinstein
The Master, Django Unchained, Silver Linings Playbook. It seemed the genius behind Best Picture-winning campaigns for The King's Speech and The Artist could easily make it a trifecta with any one of these films. All three had the reviews. The Master had the critics. Silver Linings had the audience. Django was a seemingly perfect combination of both.
But Harvey flubbed it. The Master was released in September, expanded way too quickly, and died a painful Oscar death (not even Joaquin Phoenix is looking good for a nod). Tarantino held Django in the editing bay until December. And Silver Linings still hasn't seen a 1,000-theater weekend. David O. Russell's film is going to be a Best Picture nominee, but the others probably won't be, and that's not even getting into the bomb that was Killing Them Softly. This can't be the way he envisioned this year going.
Prognosis: Better luck in 2013