Potentially record snowfall is set to hit Boston, New York, and other areas along the East coast over the next 24 hours. It's bad news for multiplexes—American Sniper might only make $20 million a day instead of $30 million—but the folks over at Netflix must be giddy.
If you're snowed in this week and looking for something to watch, follow this guide to plan a killer movie marathon. Everything listed below was released over the last couple years and is either underseen or worth a second look. I've also grouped every film into a few categories, but feel free to mix and match or combine any number of films on this list with a title that you can rent on iTunes or another similar outlet (The Drop, Love Is Strange, Gone Girl, and more).



If you feel like laughing…
Frank + The Wolf of Wall Street + The Interview
Start your morning with an endearing indie like Frank before moving onto Martin Scorsese's flawed but spectacularly made Wolf of Wall Street. As the day winds down, move onto The Interview, new to Netflix, which you can tune in and out of while you catch up on the work you missed watching the other two films. Seth Rogen's film is entertaining but doesn't require 100% of your attention.
Total running time: 6 hours, 27 minutes
*****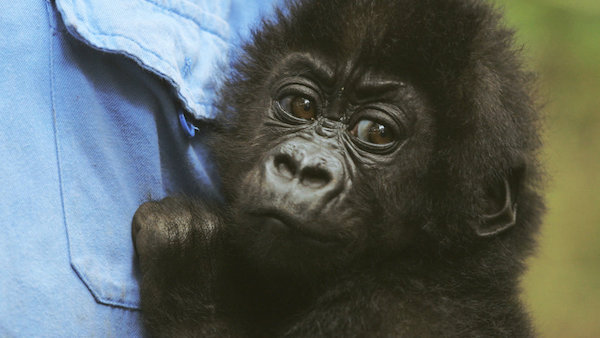 If you like documentaries…
Virunga + Kids for Cash + Elaine Stritch: Shoot Me + Red Hollywood
Over breakfast, stream one of the year's best docs in Virunga (another title to knock off your Oscar nomination checklist). Kids for Cash is a story that's near and dear to my heart, as a person who group up in the area depicted in the film, but it's earned plenty of good ink outside of my very positive review. Elaine Stritch: Shoot Me placed on my list of the best films of 2014, and finally, Red Hollywood ends this enlightening day on a slightly lighter note (it covers the many filmmakers and actors blacklisted during the 1950s).
Total running time: 6 hours, 35 minutes
*****



If you're a fan of subtitles…
Bird People + Ida + We Are the Best!
You might be tempted to bail on this marathon early, as Bird People's first hour is sloooooow-going. Stick with it, though, and you'll be rewarded handsomely, I promise. Ida is your front-runner for Best Foreign Language Film at this year's Oscars (it's also up for Best Cinematography), and We Are the Best! is a delightful note to end the day on.
Total running time: 5 hours, 11 minutes
*****



If you want to get your blood pumping…
Blue Ruin + Snowpiercer + Drug War
This marathon isn't for the faint of heart. Blue Ruin, however, has a lot of heart for a bloody revenge thriller. Snowpiercer is another title that landed on my top 20 films of 2014 list, and Drug War (a Johnnie To cops-and-criminals action flick) was one of my favorites from 2013.
Total running time: 5 hours, 23 minutes