It seems you're supposed to open your end-of-year favorite films list with an assessment of the movie year as a whole, but I've never really been interested in that. Good, bad, or somewhere in between—I have no idea what I'd say about 2014 other than I love the 20 films I'm writing about today and that I still have a ton I want to see. That should be some kind of barometer of quality, but I don't know how or, frankly, why I'd want to put it up against the challenging mainstream adult fare of 2013, the genre pleasures of 2012, the auteurist visions of 2011, and the smart blockbusters of 2010.
All that said, I'd like to make a few quick assessments before getting into the top 20:
It was a banner year for documentary filmmaking—arguably the best of my lifetime as a critic. Six non-fiction films cracked my top 20, including three in my top seven. Can't say that's ever happened before.
"Blockbusters" hit a new nadir—both creatively and in terms of box office receipts—with only one studio summer release even earning consideration for this list. (It ultimately cracked the top 20, but just barely.)
It was a deeper year than I've ever experienced. Part of that is easier access for me personally (as an OFCS member), which exposes me to films I might not otherwise know about. Another part is increased exposure to the work of other great film writers who are eager to champion little-known, little-seen gems. Whatever the source, I saw a lot of movies this year and have almost 100 more titles on a list to catch up with in the future. (That means an update to this post sometime over the summer at the earliest.)
Without further ado, I give you my top 20 films of 2014, which is just that: mine. I'm not so vain as to assume all these films are for you. Nor do I expect anyone to necessarily agree that these 20 are the best 20. But I adore this list and the films on it, and when I think back to the film year of 2014, they're what I'll think of first and foremost.
Honorable mentions: Bird People, Foxcatcher, Jodorowsky's Dune, The LEGO Movie, Nymphomaniac
*****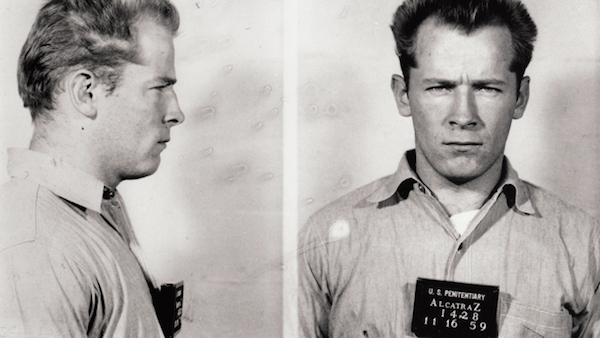 20.) Whitey: The United States of America v. James J. Bulger
Joe Berlinger of the Paradise: Lost trilogy of documentaries walked back into the true crime arena for Whitey. Those very familiar with the titular case might not find all that much to sing about here, and in that respect, it's a little like Searching for Sugar Man, the Oscar-winning doc from a few years ago. It tells an out-of-this-world story, and while it doesn't do so in a necessarily groundbreaking way, it's impossible to look away. I wasn't all that familiar with Whitey Bulger, but I came away from Berlinger's film wanting to know anything, everything I could about the man and his reign of terror in Boston. When I realized there wasn't much else to learn, I also realized just how good this film was.
*****



19.) Dawn of the Planet of the Apes
Breathtaking special effects, revelatory motion-capture acting, a surprising amount of intelligence and emotion packed into a summer action movie. Yes, you can basically copy and paste everything I wrote about Rise of the Planet of the Apes in 2011's version of this post because this film is as good, as technically awe-inspiring, and as thrillingly grounded as its predecessor was, and I can't wait to see what they do next with this franchise. (Click here for my full Dawn of the Planet of the Apes review.)
*****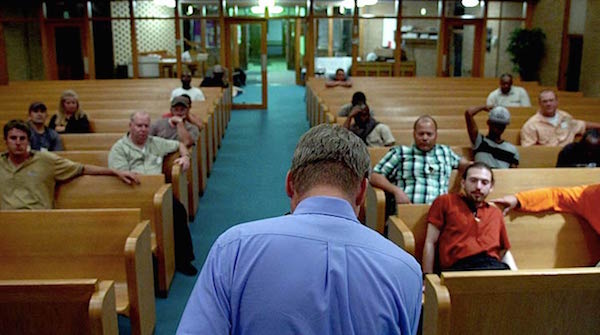 18.) The Overnighters
In Williston, North Dakota, the fossil fuel business is booming. Well-paying jobs are ripe for the picking, so unemployed men from across the country are flocking there for another chance at a good, honest life. Pastor Jay Reinke, this film's protagonist, wants to help these men. He puts them up at his church, but the town's other citizens are less accepting. They see these men as threats to their livelihood, and in some cases, to their children.
There are scenes in this documentary that simply shouldn't exist. I don't know how director Jesse Moss forged such a strong relationship with Reinke to allow him such intimate access, but it makes for a truly wild, emotionally confusing, thought-provoking film about forgiveness, acceptance, self-deception, and just how hard it is to sort out right from wrong sometimes.
*****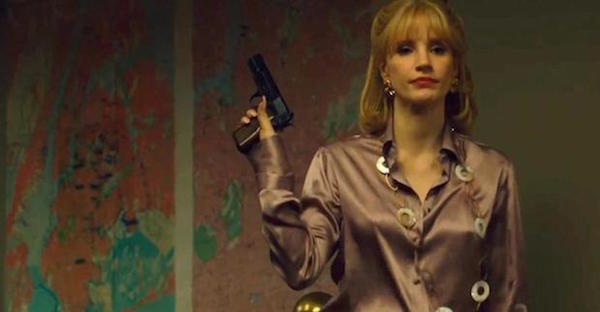 17.) A Most Violent Year
If this is the path of least resistance, I shudder to think what this story's other roads look like. Bleak but approachable filmmaking seems to be director J.C. Chandor's m.o., and after three extra-base hits to open his career, I'm subscribed.
This confident film, which falls somewhere in between the nearly perfect Margin Call and the slightly too metaphorical All Is Lost, features brilliant performances from Oscar Isaac and Jessica Chastain and spectacular cinematography (Bradford Young) that somehow makes wealthy 1980s New York both sunny and utterly rotten.
*****



16.) Snowpiercer
It seemed Bong Joon-ho's English-language debut—this post-apocalyptic film set on a perpetually chugging locomotive—would languish in Weinstein hell forever. It was released overseas last year and was on DVD in most countries before an American release date was even announced. Then it sputtered into limited release before hitting VOD a few weeks later more or less unannounced, and despite all these hiccups (or whatever you want to call them), the film became a modest success story.
None of that has anything to do with the film's quality, and in fact, it has distracted a bit from the real story: that this is a jolly good thriller with inventive action sequences and touches of inspired lunacy. All that said, it's cinematic comfort food. Variations of its story have been told before and other variations will be told again, but rarely do these variations include Alison Pill's gun-toting primary school teacher or Tilda Swinton's maniacal politician. (Click here for my full Snowpiercer review.)
*****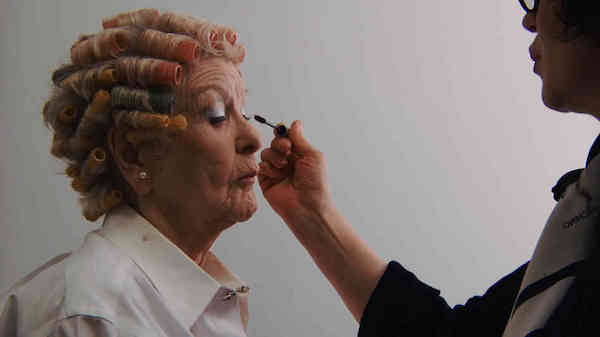 15.) Elaine Stritch: Shoot Me
I do wonder how I would have reacted to this film if my first viewing of it took place before Stritch's death earlier this year. It's an undeniably powerful and intimate piece of filmmaking, so I'm sure I would have admired it (the same way so many others did).
But in the wake of Stritch's death, Shoot Me feels almost too real sometimes. What seems like a familiar and sometimes contradictory piece of star-gazing ultimately reveals itself as something so much more meaningful and honest: a poignant reminder that everything has an expiration date. (Click here for my full Elaine Stritch: Shoot Me review.)
*****



14.) Wild
It seemed like classic (and classically dull) Oscar bait on paper—squeaky clean famous actress de-glams herself in a biopic based on a best-selling novel about a woman finding herself directed by a guy who's become synonymous with manipulative Oscar bait (Jean-Marc Vallee).
Color me super surprised, then, when I adored the hell out of Wild. It's a story that knows what it is and isn't ashamed of it. It hits the beats you'd expect it to, but it does so with a surprising amount of grace and confidence. Smartly edited and excellently written, it's much more than a great Reese Witherspoon performance. (Click here for my full Wild review.)
*****



13.) Gone Girl
Gillian Flynn (who wrote both the screenplay and the novel upon which Gone Girl is based) is very interested in perspective and the way stories change depending on who's telling them. That's the chief pleasure in both versions of Gone Girl. The book, however, uses changing perspective as a springboard to something fantastical and, as entertaining as it is, not of this planet. With the help of David Fincher, Ben Affleck, and Rosamund Pike, however, Gone Girl the film gets grounded. It's a unique piece of work—pliable, funny, and kind of psychotic—that's tough to shake. (Click here for my full Gone Girl review.)
*****



12.) The Drop
I'm perplexed how this expertly crafted thriller fell through the cracks. Its September release date certainly didn't help; nor did, I'm sure, the low profile of its director—Bullhead's Michaël R. Roskam. But The Drop features the final performance from the late James Gandolfini, and its a good one. Even better are Matthias Schoenaerts and Tom Hardy. (Incidentally, the latter has earned a lot of praise for his performance in Locke this year, but it's The Drop that features a pantheon performance of his.)
But the star of of the show is the dog Roskam, who shows a confidence and control over pacing that's beyond his only two credited features. The Drop never speeds up for the sake of satisfying a certain segment of the film's audience. Instead, he lets the environment he develops—one in which complacency reigns supreme—define his film, and the result is something quite special. (Click here for my full The Drop review.)
*****



11.) Obvious Child
Jenny Slate is marvelous in the year's best abortion comedy. That's reductive, of course, but there's no beating around the bush—Obvious Child is a smart, important, and hilarious movie about a woman's decision to end an unplanned pregnancy. What's particularly noteworthy about the film is that the decision to abort the pregnancy is never really up for debate, and as such, writer-director Gillian Robespierre plows through the moral/political quagmire you might expect her to get lost in. (Click here for my full Obvious Child review.)
*****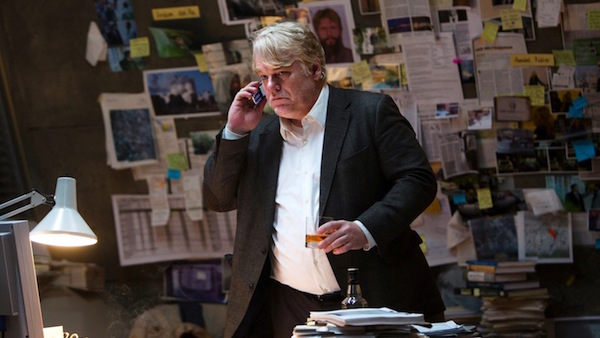 10.) A Most Wanted Man
This film is based on a recent novel from author John le Carré, and because it probably isn't quite as accomplished as another recent le Carré film adaptation—Tinker, Tailor, Soldier, Spy—some have dismissed it as nice but forgettable.
I think the film is out of this world. It features one of the best (and sadly, last) performances from Philip Seymour Hoffman, who plays a highly respected German intelligence agent. His superiors want him to bring in a young Chechen refugee with Islamic extremist ties, but he'd prefer to leave the asset in play. (The devil you know is better than the devil you don't, he'd argue.) The power struggle between the two parties—not to mention the "is he bad or isn't he" questions about the target—is fascinating, but where the film gets its "umph" is in its sobering climax. It's a gut punch of a scene that represents a plea for progress and reminds you that, sadly, fear trumps honor.
*****



9.) Listen Up Philip
I wouldn't blame you for being turned off by Jason Schwartzman's Philip and his extreme, caustic way with people. In fact, if this film isn't for you, you should know within five minutes of turning it on. But as Philip was chastising his ex for her lunch choice ("Maybe a grilled cheese for me." "I had it the other day. It's disgusting.") I was rolling on the floor.
Alex Ross Perry wrote and directed the film about a self-obsessed, successful-beyond-his-years writer who befriends a similarly self-obsessed, similarly successful author (Jonathan Pryce), and it's a major thematic, structural, and aesthetic step up from his previous feature, The Color Wheel. It's a mature, complex, rich piece of work told from multiple perspectives (see Elizabeth Moss' turn as Philip's spurned girlfriend…she's the supporting actress of the year) that also happens to be among the funniest movies of the year.
*****



8.) Noah
Only Darren Aronofsky could get away with an Old Testament movie this liberal. Environmentalism and paranoid faith are the film's major themes, and he relays them to the audience with giant rock monsters, promises of infanticide, and some really bad CGI. But there's something utterly compelling about this particular incarnation of his madness. I ended Noah with more questions than any film of his, even The Fountain, and I think it's probably better than anything he's done outside of Requiem for a Dream.
*****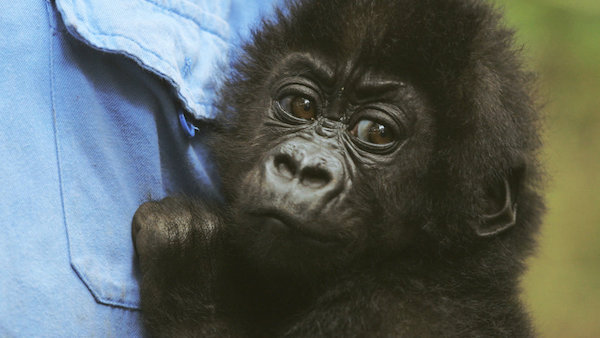 7.) Virunga
This year's Tribeca Film Festival was the best I've been to in six years—by far. The only film in that span that could rival this edge-of-your-seat doc in terms of quality is another film I saw this year—Keith Miller's Five Star, my choice for best undistributed 2014 movie. Netflix picked up Virunga following the festival, and it's shortlisted for the 2015 Best Documentary Oscar.
Named after the park where most of the film's drama takes place, it's one part conservation plea, one part war thriller, and unlike anything you've ever seen before. Various factions are interested in mining Virunga for natural resources, but it's a protected space and the only home left to the Congo's mountain gorillas. In the midst of a soft power battle, genuine war breaks out, and you'll watch, awe-struck, as bullets fly over the camera's ducking, frightened lens.
*****



6.) Life Itself
I've been reluctant to revisit Steve James' documentary about Roger Ebert's life, career, and death because of what it did to me the first time around. It's an absolutely grueling, devastating experience—especially for members of the film critic community—but James manages to use the medium to share something that's more life-affirming than anything else. It's a hopeful film about a flawed but deeply caring and fascinating man. Everyone should experience Life Itself. (Click here for my full Life Itself review.)
*****



5.) The Homesman
There's so much going on under the skin of Tommy Lee Jones' latest directorial effort that it'd be easy to take a surface-level view and dismiss it completely. There's a turn heading into the final act that flips the film on its head, and it was then that I realized exactly what Jones was up to. Yes, he's cavalier with his characters, but that's all in service of something greater—a total smackdown of the Western, its culture, and misogyny more generally.
*****



4.) Two Days, One Night
The Dardenne brothers' latest is a modern take on 12 Angry Men that emphasizes the importance of community in navigating life's biggest obstacles. The end result is something special—the brothers' best film to date featuring Marion Cotillard's best performance to date. Subtle, but spectacularly powerful work. (Click here for my full Two Days, One Night review.)
*****



3.) Point and Shoot
The best documentary of the year chronicles one man's "crash course in masculinity." Matthew Vandyke was a sheltered American living in his mom's basement when he decided to buy a motorcycle and camera and document his journey across all of North Africa and the Middle East.
The trip sees him transform from adventure travel expert wannabe to bonafide wartime video journalist to active participant in the Libyan Revolution to POW. It's a larger than life story that's uniquely captured by both Vandyke and this film's director, Marshall Curry. It works on a number of levels—the growth of Vandyke as a filmmaker is particularly interesting to watch unfold—and while the protagonist isn't exactly sympathetic or relatable, that ought not prevent you from finding yourself utterly in awe of his story and the unique, brilliant way its told.
*****



2.) Interstellar
On the shortlist of most controversial films this year are The Interview, maybe Noah and Nymphomaniac. I'd (perhaps controversially) also put Interstellar on the list because you simply can't discuss Christopher Nolan films without bringing in a ton of baggage about the director and his rabid fans. And that's a shame because on its own merits, Interstellar is a flawed but sensationally entertaining and engaging sci-fi thrill ride.
It's a film whose heart is intensely focused on the micro despite all the macro stuff on the surface. Wormholes, relativity, fifth dimensions—Interstellar's ideas are HUGE. And it physically manifests its largeness in the form of deep space's geography (those waves!) and something literally called Gargantua. But ultimately, Nolan never lets us stray too far from what's clearly driving him this time around—love, relationships, human connection, and the things we as people can do together. His insistance on hitting those notes aggressively has been/will be a sticking point for some. They certainly lead to some talky, sentimental passages, but I was excited seeing McConaughey, Hathaway, Caine, and the rest of this fantastic cast of actors get to show off some dramatic chops in a Nolan science-fiction movie. It isn't something you'd expect to work, but my does it. (Click here for my full Interstellar review.)
*****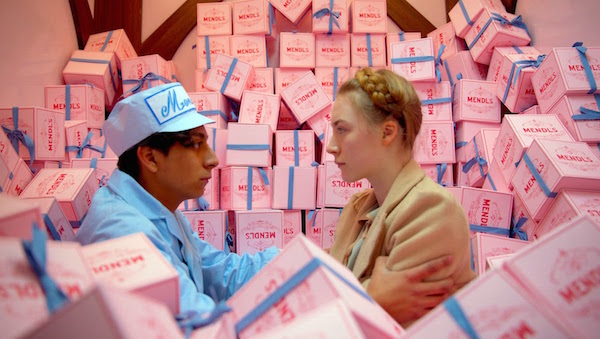 1.) The Grand Budapest Hotel
If there was any question how weird this year in movies was, let this sink in…
Wes Anderson's The Grand Budapest Hotel was the first film I saw in a theater this year. I walked away underwhelmed—the world he created was spectacular, but the story he was telling felt bizarrely hollow. I hadn't even given it much thought before I popped in a screener for a second look, and it was then that I knew I'd seen my favorite film of 2014. The framing device clicked. The themes Anderson was going after made themselves apparent. I read the film in a totally different context, and it went down more smoothly than any other film this year. My first film ended up being my best film, even if I didn't know it at the time.
*****
And that's all I've got for now. We'll see if Selma or American Sniper, Inherent Vice or Mr. Turner, Citizenfour or Maidan, Leviathan or Winter Sleep, or any of the other films I haven't had a chance to catch up with can crack this top 20. I'm sure a few will, and when that time comes, I'll write about it. Until then, these are my 20 favorite films of 2014.
I hope you had a great film year, and here's to an even better one in 2015!