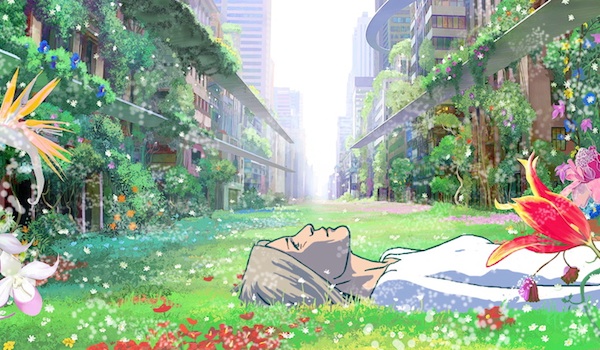 Now that the 66th annual Cannes International Film Festival (May 15-May 26, 2013) has its jury president (Lincoln director Steven Spielberg), speculation over what films will compete for the 2013 Palme d'Or has intensified.
I've identified 30 titles that seem like plausible Cannes selections. It's impossible to say whether any or all will be ready for a big world premiere in two months or so, but their respective pedigrees make them seem Cannes-worthy.
2013 Cannes Predictions:
Abus de faiblesse (dir. Catherine Breillat)
Surprisingly, Breillat only has one competition title to her name—2007's The Last Mistress. After a thematic departure with Bluebeard and the TV movie The Sleeping Beauty, she's back to telling deeply personal stories about romance and sexuality. Abus de faiblesse is based on her own autobiographical novel and a relationship she had with a conman.
All Is Lost (dir. J.C. Chandor)
Arguably one of the least likely filmmakers on this list to show up in Competition, Margin Call director J.C. Chandor is nonetheless an up-and-comer worth watching, and his sophomore feature sounds a lot bigger—and a lot riskier—than his debut. All Is Lost is a dialogue-free maritime survival story starring Robert Redford, and if we're looking for a director to fill the "Jeff Nichols slot"—one reserved for a younger guy who's pushing the boundaries of American independent filmmaking—look no further.
The Bastards (dir. Claire Denis)
As essential as Denis has been to the international art-house scene over the past decade (particularly recently with 35 Shots of Rum and White Material), she's only played one film at Cannes over the course of a career that's spanned my entire lifetime (1988's Chocolat). Instead, she's become a mainstay at the Venice Film Festival, opening a whopping five films there over the years. Little is know of The Bastards, and based on the stats above, it seems a lot less likely than some other films on this list, but one never knows, and regardless where it plays, it'll be great to have Denis' assured directorial voice back once again.
The Bling Ring (dir. Sofia Coppola)
Of the four films profiled here so far, three come from women directors (and we aren't done yet). Last year's Competition was a sausage fest, and while I'm much more bullish on Denis and Breillat personally, Coppola is a Cannes vet (2006's Marie Antoinette), and this project feels right in step with what she's been up to recently. A summer release date helps its chances. Could this one open the fest?
Blood Ties (dir. Guillaume Canet)
Cannes loves its films directed by actors, even if the results aren't exactly sterling (see Johnny Depp's The Brave, 1997, or Vincent Gallo's The Brown Bunny, 2003). Canet seems like a guy poised for a big breakthrough. Tell No One was one of the last decade's most intriguing thrillers, and while most agree Little White Lies was sort of bursting at the seams, Canet's direction was both competent and confident. His latest sounds a lot like a James Gray film (per IMDb: "Two brothers, on either side of the law, face off over organized crime in Brooklyn during the 1970s.") Perhaps that's because it's co-written by Canet and Gray himself. Will Cannes come calling? Maybe, but perhaps only if Gray's other project doesn't pan out…
Blue Is the Warmest Color (dir. Abdellatif Kechiche)
Twice a Cesar Best Film/Best Director winner (Games of Love and Chance and The Secret of the Grain), Tunisia's Kechiche has yet to take a film to Cannes, but he seems like a filmmaker poised for the Venice-to-Cannes leap. Someone as talented and admired as he is has to walk the Croisette at least once, right?
Blue Jasmine (dir. Woody Allen)
Excepting 2012's To Rome with Love, an out of Competition screening of the newest Woody Allen film has become a yearly tradition. I'm really excited about his 2013 film—set in San Francisco and starring Alec Baldwin, Cate Blanchett, and others (including Louis C.K.)—and a return trip to Cannes seems in the cards.
The Congress (dir. Ari Folman)
We're approaching five years since Waltz with Bashir graced the screen at Cannes, and since then, director Ari Folman has been hard at work adapting Stanislaw Lem's short story The Futurological Congress for the screen using his signature blend of live-action and animation techniques. It's a little surprising to see the Waltz director step into science-fiction, but give a look at some of the stills over at CinemaBlend.com and tell me this film doesn't look and sound fantastic. Robin Wright and Paul Giamatti star.
Dau (dir. Ilya Khrzhanovskiy)
Would if I could wax on about Khrzhanovskiy, but I'm entirely unfamiliar with his film 4, which came out way back in 2005. It has its fans and took home a Tiger Award from the Rotterdam International Film Festival. Dau, it seems, has become the stuff of legend. With a production history that sounds as lengthy and troubled, if not more so, than Carax's The Lovers on the Bridge, Dau is a biographical story about a famous Russian physicist. Khrzhanovskiy spent about six years and ten million during filming, and a great deal of the money went to building an actual town, Synechdoche-style. Check out this GQ profile, an absolute must-read. As far as the film playing Cannes, I'm not sure one year is enough post time for something this expansive (and crazy), but I'd love to see it there.
Diary of a Young Boy (dir. Tsai Ming-liang)
The first of a few Cannes kings possibly with films this year, Tsai Ming-liang has shown three of his movies at Cannes since 1998, including his most recent, Face (2009). Details are pretty scarce about this new project, but it chronicles a father looking for some kind of Noah's Ark to save his two sons from humanity's rampant over-consumption. Sounds really intriguing. If it's done, I'd bet money on a Cannes premiere.
Grace of Monaco (dir. Olivier Dahan)
Dahan hasn't done much of note since directing Marion Cotillard's Oscar-winning performance in La Vie en Rose, but if that film is any indication of what to expect here, Grace will be bloated beyond belief, yet Kidman will sparkle. I'm not so sure Cannes is in the cards for Dahan, but I suspect it's ready and been submitted. Maybe it'll play out of Competition?
La grande bellezza (dir. Paolo Sorrentino)
The case for this one is simple: If it's done, it'll play here. Sorrentino's last four films all played in Competition. This one is said to be "Fellini-esque," telling the story of an aging journalist reflecting bitterly on his lost youth.
The Great Gatsby (dir. Baz Luhrmann)
The Cannes opening night film is typically a big Hollywood production with an impending worldwide release. Enter Baz Luhrmann. His adaptation of F. Scott Fitzgerald's novel hits theaters mid-May. Seems like a good fit. Other opening night possibilities: Star Trek Into Darkness, Monsters University, and Man of Steel. Or, if it goes the way of Moonrise Kingdom last year when the opening night film was also in Competition, we could see I'm So Excited (see below) or the aforementioned The Bling Ring nab that slot.
Grisgris (dir. Mahamat Saleh-Haroun)
Chadian director Mahamat Saleh-Haroun won the 2010 Jury Prize for his third feature, A Screaming Man. His follow-up tells the story of a paralyzed twentysomething whose dreams of becoming a dancer are destroyed when starts working for smugglers to care for his sick uncle. This is probably the likeliest African title for the Competition this year—but again, only if it's ready.
Her (dir. Spike Jonze)
It just doesn't seem right that someone as essential as Jonze hasn't been to Cannes. If it's simply a matter of "wrong place, wrong time" (and I can't imagine it's anything else), the drought very well might end here. Joaquin Phoenix stars in this fascinatingly offbeat romance.
I'm So Excited (dir. Pedro Almodovar)
Almodovar has shown four films at Cannes (including his last three), and he's won two awards—a Best Screenplay prize for Volver in 2006 and a Best Director prize for All About My Mother in 1999. His newest film couldn't be more different than The Skin I Live In (his last film), but it's slated for a summer release, which means it's ready to go. I'd be shocked if it didn't play here.
Inside Llewyn Davis (dir. Joel and Ethan Coen)
The trailer for the Coen Brothers' latest hit just a month or so ago, and it looks unsurprisingly brilliant. Though they haven't played Cannes since No Country for Old Men in 2007, it seems the likeliest destination for a film already in the can.
The Invisible Woman (dir. Ralph Fiennes)
Fiennes directorial debut, Coriolanus premiered at Berlin, and it wasn't exactly a sensation, so this might be a jump, but what the hell. It's a Bright Star-esque story about the lifelong love of a famous author (this time, Charles Dickens). Felicity Jones and Kristin Scott Thomas star alongside their director.
Jeune et jolie (dir. François Ozon)
Ozon has only played Cannes once (2003's Swimming Pool) despite turning out a film almost every year of the past decade, so this one seems like a question mark. If he's working on that level again, it'll play. If not, maybe Venice or Toronto where he played his last two films, In the House and Potiche.
Jimmy Picard (dir. Arnaud Desplechin)
Another virtual lock for the Competition is the latest from A Christmas Tale director Arnaud Desplechin. Starring Benicio del Toro and Mathieu Amalric, Picard is based on the true story of the deep bond formed between a Native American WWII veteran and a French psychoanalyst living in Kansas.
Lowlife (dir. James Gray)
Still not entirely sure if this one is called Lowlife or The Nightingale, but here we have James Gray's other 2013 project (the other being Blood Ties, see above). He's actually behind the camera on this one, which makes me like its chances of being in Competition better. He's already had three films (The Yards, We Own the Night, Two Lovers) up for the Palme—amazing for someone so young. I'm more confident about this one playing the festival than perhaps any other film listed here. Jeremy Renner, Joaquin Phoenix, and Marion Cotillard star.
Night Moves (dir. Kelly Reichardt)
Not sure what to make of this one, but Kelly Reichardt (another female!) is always one to watch. She hasn't shown a film at Cannes before, but she's established enough to do so. Night Moves sounds like a bit of a departure, but not any more commercial than an Old Joy or a Wendy and Lucy. It should be done in time, but I could see her waiting until Venice, where she showed Meek's Cutoff in 2010.
A Nine-Minute Interval (dir. Corneliu Porumboiu)
You have to think Romania will be represented at the festival, and this seems like the most probable title. Porumboiu won a Golden Camera for his debut feature (2006's 12:08 East of Bucharest) and both a FIPRESCI Prize and Un Certain Regard Jury Prize for 2009's Police, Adjective. A Nine-Minute Interval, which is apparently about a young filmmaker working digitally for the first time, could head back to Un Certain Regard, but I think Porumboiu is ready to be called up to the big leagues, so here's hoping.
Only God Forgives (dir. Nicolas Winding Refn)
No one's calling Nicolas Winding Refn "up-and-coming" anymore. The dude arrived, with Drive, in a BIG way (including a Best Director prize at Cannes in 2011). Not feeling all that excited for Only God Forgives—a sort of Thai fighting film with Ryan Gosling? Do a quick Google image search for the film. Gorgeous doesn't even begin to describe it. As far as Cannes goes, it seems pretty likely. The film was rumored for a 2012 release, which means it's probably done. And Winding Refn is in the club.
Only Lovers Left Alive (dir. Jim Jarmusch)
Jarmusch has been oddly quiet since The Limits of Control landed with a thud in 2009. It seems his vampire love story (yes, that's right) has been in post-production for quite some time. That said, it sounds like a brilliantly off-beat project both generally speaking and for Jarmusch (check out a more detailed description at IonCinema.com). Tilda Swinton and Tom Hiddleston star.
The Past (dir. Asghar Farhadi)
Coming off an Oscar win and overwhelming praise from critics and audiences alike for 2011's A Separation, Farhadi had to be on the Cannes programmers' radar. The Past, starring A Prophet's Tahar Rahim and The Artist's Berenice Bejo, has a May release date in France. It'd be quite a surprise if it didn't play the festival this year.
Snowpiercer (dir. Bong Joon-ho)
The Weinstein Co. already owns this potential blockbuster, so it'll be quite interesting what Harvey chooses to do with it. I'm guessing he'll want to leverage a Cannes debut (where it'd certainly be one of the most unique films in Competition) into a big-time summer release. The film is set in a post-apocalyptic world ravaged by an Ice Age where the only surviving humans travel the world in perpetuity on a massive train. A class system develops, however, and when the huddled masses rise up, the survival of everyone is threatened. Sounds amazing. Not hard to see why Bong Joon-ho chose this graphic novel adaptation for his English-language debut.
Soshite chichi ni naru (dir. Hirokazu Koreeda)
Koreeda is nearly as prolific as Woody Allen, which makes me wonder if he'll be able to complete this film before Cannes, but he's shown two films there over the course of his career, and this one is as Koreeda as they come—about a family coping with the fact that their son and another baby were switched at birth.
Straw Shield (dir. Takashi Miike)
There's already a trailer available for Miike's latest thriller (check it out courtesy of TwitchFilm.com), and it's slated for an April release in Japan. That makes me awfully confident it's to play Cannes, where he showed Hara-Kiri: Death of a Samurai in 2011.
Twelve Years a Slave (dir. Steve McQueen)
A McQueen film hasn't yet played in Competition at Cannes yet, though that seems more a matter of timing than anything else. Hunger was his directorial debut (and earned him a Golden Camera), while Shame was a Venice film with a December release date. Twelve Years, it seems, has already had small, quiet preview screenings (where it was warmly received). A Competition premiere feels inevitable.