Posted on August 3, 2014 By John Gilpatrick Lists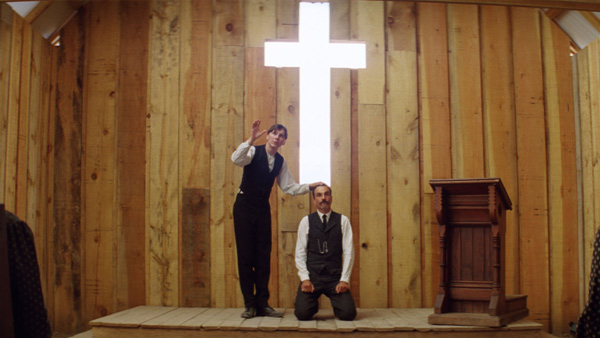 Webster's Dictionary defines Filmspotting as "a force of good in the universe."
Or maybe that was Rian Johnson. Whatever the case, my favorite film podcast turned 500 this past week, and to celebrate the occasion it held a live event where hosts Adam and Josh counted down their top five favorite films of the "Filmspotting era"—2005 to today.
Though I didn't listen to Filmspotting until 2009 or so, its history spans my history as a serious movie lover, and I credit the podcast for expanding my horizons and my love for cinema. So today, I'm doing them one better: Ten films over the better part of ten years.
Honorable mentions: Beasts of the Southern Wild, The Dark Knight, Hugo, The Hurt Locker, Inglourious Basterds, Rachel Getting Married, Toy Story 3, Up in the Air
10. The Tree of Life
I can't write a list like this without acknowledging the indescribable achievement that is Terrence Malick's The Tree of Life. I have more problems with this film than any other on this list as well as dozens of others not mentioned, but when this film is on, it's as good as anything that's come out of any era. I prefer to pretend like Sean Penn's 20-minute beach walk doesn't end the film, but rather that heartbreaking shot of the O'Brien homestead as the family drives away—it's a place neither we nor our characters will ever see again. Emmanuel Lubezki hasn't ever captured (and likely never will capture) more beautiful, evocative images. What else is there to say? Enough of this film speaks to me and does so on such a profound level that I'm more than willing to forgive its missteps.
9. There Will Be Blood (review)
I go back and forth sometimes on Paul Thomas Anderson's 2007 oil epic—sometimes I'm confident in calling it the director's best film, while other times it ranks maybe third or fourth among his filmography. In either case, it's unequivocally the best film of a great film year (2007), and it features Daniel Day-Lewis' most powerful performance (saying something). The filmmaking on display varies a great deal from what Anderson put out earlier in his career. There Will Be Blood is both less sleek and less showy. There's a chaos to the score, the scene-to-scene progression, the character development—but Anderson always feels in control of the chaos.
8. The Social Network (review)
For a lot of reasons, The Social Network defines this cinematic era better than any other film. The subject matter, obviously, is an essential part of the way our culture has changed during these ten years. Aaron Sorkin's wonderfully written banter is unforgettable. Jeff Chenowith's cool, crisp cinematography is one of the best examples of what digital can do. And Jesse Eisenberg's performance is a perfect encapsulation of our new fascination with anti-heroes.
7. 12 Years a Slave
There's no denying Steve McQueen is a gifted filmmaker, but his first two directorial efforts—Hunger and Shame—left me frigid. I imagine my reaction to his 12 Years a Slave isn't far off from what other fervent fans of his felt after either of those first two films, but it was a real eye-opening experience for me. Obviously, the subject matter and McQueen's handling of it left me shaken, but so did his remarkable ability to blend his ambitious eye and ear for cinema as art with the heart of a crowd-pleaser. He was worthy of the rewards such an accomplishment brought him—big box office returns and an Oscar.
6. Children of Men (review)
It doesn't get much bleaker than Alfonso Cuaron's sci-fi-ish story about mankind's barren future. Clive Owen is a great window into this world; he's appropriately damaged, but deep within him is a heart that still longs to help others and fight for a better world. An even better window, however, is Emmanuel Lubezki's camera, which takes us through a war zone in just a few long, unbroken takes. Unbelievable.
5. Certified Copy (review)
No film over these years confounded me the way Abbas Kiarostami's reflexive relationship drama did upon its release in 2011. Immaculately composed shots and pitch-perfect (yet utterly bewildering) performances highlight the film's thesis, which tells us the line between original and copy is blurred if it even exists at all.
4. United 93 (review)
Paul Greengrass' style of filmmaking is one I respond quite strongly to, but I'm quite certain he'll never outdo what he manages to pull off with United 93. A very intimate film about a tragedy we all wish we could forget, the film pulls off something improbable by never feeling exploitative despite the story it's telling and the immediacy necessary in telling it.
3. The Departed (review)
When I write or talk about Martin Scorsese's brilliant 2006 Oscar-winner, I also seem to undersell just how much I like it. Maybe it's because it's a great film by consensus (which is to say I rarely encounter anyone with a bad word to say about it), or maybe it's because I forget how skillfully and powerfully Scorsese weaves his complex narrative. Regardless, it's the film of the "Filmspotting era" I'd watch over any other, including the two above it. It's wildly entertaining, marvelously acted (I'm not sure DiCaprio will ever be as good as he is here), and flawlessly directed.
2. Inside Llewyn Davis (review)
Grand tragedies claimed my top two spots, though some will look at this film and see another classic Coen Brothers farce. Yes, levity helps lighten the emotional load of Llewyn Davis, but the humor here—like in so many of the Coens' other films—is typically at the expense of its characters. Unlike most of those other films, Oscar Isaac's exquisitely realized folk singer seems neither deserving of that laughter nor able to cope with it. He's as damaged a protagonist as you'll see in any Coen film (or really, any film of the "era" in question), and while his road to…whatever…is rich and rewarding, it's also tremendously heavy.
1. The Curious Case of Benjamin Button (review)
Nothing touches this Fincher epic for my money, though. This is a film for all time—a fantastical story about learning to love what you've got. Benjamin Button touches me so deeply that I almost forget everything that's going on from a filmmaking perspective. The makeup, visual effect, cinematography, editing, music—it's all indescribably good, but Fincher's brilliant handling of the film's central character and his doomed but very classic love story is what earns it this spot.
12 Years a Slave, Beasts of the Southern Wild, Certified Copy, Children of Men, Hugo, Inglourious Basterds, Inside Llewyn Davis, Rachel Getting Married, The Curious Case of Benjamin Button, The Dark Knight, The Departed, The Hurt Locker, The Social Network, The Tree of Life, There Will Be Blood, Toy Story 3, United 93, Up in the Air