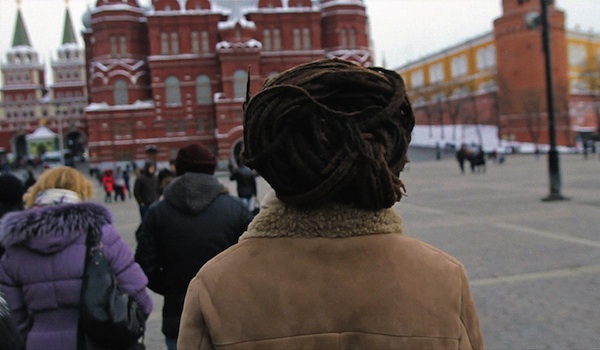 John Forte was once on top of the music world, helping write and produce songs on The Fugees tremendous, Grammy-winning album The Score. Just a few years later, however, Forte was arrested and sentenced to 14 years in prison for cocaine trafficking. In 2008, his sentence was commuted by President Bush, and though he's still on parole, he embarked in February 2011 on a nine-week musical tour of Russia. This tour is the subject of The Russian Winter, a terrific documentary about the creative process and a man trying to pick up the pieces after making a life-altering mistake.
Forte went to Russia with a clear goal of developing new, collaborative music with some of the country's most talented artists. That meant little preparation and a whole lot of feeling. The film is constructed in a similar way. There's no overarching narrative, besides the obvious "Let's survive nine weeks in a foreign country" stuff. Instead, small vignettes about Forte's assimilation, creative ups and downs, and emotional growth carry us along for 90 minutes, while fantastic performances break up the heavier, humanistic material.
Forte himself is an interesting fellow. He's obviously quite bright, which makes his history more than a little puzzling. It seems unfathomable that the guy depicted in this film would commit a serious crime, but as he says early on, his commutation was a gift, and he's going to live for all the men and women who aren't given a second chance. Watching him make music is a pleasure. His gifts of rhythm and rhyme are rare, and he makes brilliant use of them throughout the film. By the time the credits began rolling, I had at least a half dozen new songs on my must-download list.
Interestingly enough, Forte is also quite prickly on more than one occasion. No instance of this is without reason (he's getting the run-around from some Russian sound guys, a conductor claims credit on a collaboration that he doesn't deserve), but because we've grown to expect the focus of films like this to be portrayed as saints, moments of irritation and anger, as well as vulnerability which pops up several times as he gets used to the foreign (in more ways than one) culture, give Forte more of a "one-of-us" feeling than most documentary subjects. He's three-dimensional, and I appreciated him for wholly opening himself up to the cameras and to us.
My one knock against the film is that I didn't think it did enough visually to take advantage of its unique setting. It's a minor quibble, however, when there's so much Russian musical culture on display. The Russian Winter may not set the screen ablaze with style, nor is it a documentary that touches on an important social issue, but it's a very compelling watch, thanks to Forte, his incredible story, and his terrific music.