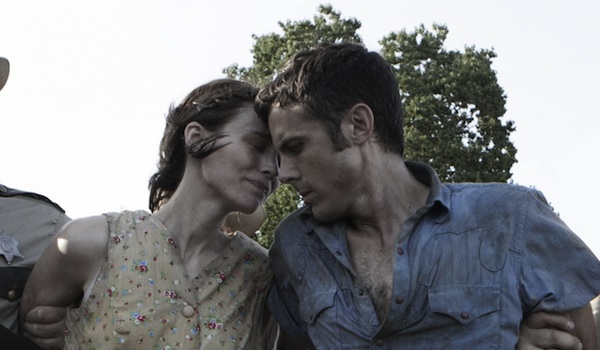 Click here to read part two of my Sundance 2013 wrap-up.
In 2012, the Sundance Film Festival experienced a renaissance of sorts. Beasts of the Southern Wild rode a wave of love from Sundance all the way to Oscar nominations in Best Picture, Best Director, and Best Actress. The Sessions earned Helen Hunt a nomination (and John Hawkes has gotten his fair share of love out of the film). Compliance, Robot and Frank, Bachelorette, Liberal Arts, and Arbitrage all have their admirers (and earned half-decent distribution deals out of the fest).
Documentaries, too, were strong with Oscar-favorite Searching for Sugar Man, The Queen of Versailles, The House I Live In, and West of Memphis all debuting in Park City last January. So there was a lot of pressure for this year's fest to keep the momentum strong. Would there be another Beasts screening in the mountains of Utah this year?
Short answer: Probably not. But lots of money was spent, and there are plenty of films for those of us who missed out on the fun to get excited about—so many, in fact, that I broke this wrap-up into two 1,000-word posts.
Part one:
Ain't Them Bodies Saints
Compare a film to Terrence Malick's Badlands, and you're guaranteed to have some eyes on it. Even some of the negative comparisons merely reflect the notion that David Lowery's neo-western starring Casey Affleck and Rooney Mara resembles Badlands a little too closely. But Ain't Them Bodies Saints garnered some of the most positive praise out of Park City. The Hollywood Reporter's Todd McCarthy called it "a beautiful, densely textured elegy for outlaw lovers separated by their own misdeeds." Sounds "Badlands-y" enough. IFC Films certainly agreed. The studio picked up Ain't Them Bodies Saints for seven figures.
Before Midnight
Arguably the film—and the story—of the festival was Richard Linklater's third "Before" film starring Ethan Hawke and Julie Delpy as star-crossed lovers Jesse and Celine. Filmed secretly in Greece last year, the film had fans of Before Sunrise and Before Sunset very skeptical going into Sundance. "Sunset" was such a perfect bookend to the incredibly moving "Sunrise," and really, what was left to say with these two? Quite a bit, it seems. No film came out of the festival with stronger reviews. No film seems like a more legitimate Oscar threat.
Don Jon's Addiction
Joseph Gordon-Levitt's directorial debut was always going to be a very hyped project. Thrown in subject matter that's as, uh, titilating as porn addiction, and it's no wonder this was one of the most talked-about titles during the first half of the fest, even if all that talk wasn't positive. Chase Whale of TwitchFilm.com called the film "gutsy, sexy, and hilarious," but In Contention's Guy Lodge was harsher—questioning the film's one-note characters and smarmy handling of a serious subject. The comedy, which stars Gordon-Levitt and Scarlett Johannson, was picked up by Relativity Media for $4 million.
Fruitvale
Another major story of Sundance 2013 was the arrival of Ryan Coogler—writer-director of Fruitvale and winner of the festival's Grand Jury Prize and Audience Award for narrative filmmaking. The film stars Michael B. Jordan (of Chronicle and Friday Night Lights fame) and tells the true story of the last day in the life of a San Francisco man who was killed on New Year's Day 2009 at a San Francisco train station. Writers reported few dry eyes coming out of screenings of Fruitvale, and as such, The Weinstein Co. swooped in and purchase the film for $2 million.
Kill Your Darlings
Sony Pictures Classics hopes to have better luck with a Beat generation film than IFC Films did with On the Road in 2012. The studio purchased John Krokidas' film for $2 million—a sum that should be recouped easily with Daniel Radcliffe in the lead role playing Allen Ginsberg. Dane DeHaan, Best Foster, and Elizabeth Olsen also star.
Lovelace
Amanda Seyfried gets the best words for what sounds like a mixed bag of a biopic, focusing on porn legend Linda Lovelace (THR is positive, Variety quite negative). Peter Sarsgaard—playing her husband—has earned his fair share of raves, as well. RADiUS – TWC (the VOD-focused subsidiary of The Weinstein Co.) picked the film up for $3 million.
Mud
It's hard to grasp that we're still talking about this film considering it was first seen almost nine months ago, but Jeff Nichols' Mud (as it did at Cannes 2012) floored a good number of reviewers. In Contention's Kris Tapley is a huge fan, writing this film has "more on its mind than perhaps anything the director has offered so far." High praise considering Nichols' output thus far (Shotgun Stories, Take Shelter). Unlike most films on this list, we won't have to wait too long to get a look at it. Lionsgate and Roadside will release the film this April.
Prince Avalanche
David Gordon Green goes back to his roots—the genre and tropes that made him such a beloved filmmaking figure before he threw any goodwill he had remaining out the window with Your Highness. Prince Avalanche (which was picked up by Magnolia Pictures for an undisclosed sum of money) introduces Paul Rudd and Emile Hirsch to the awesome world of Gordon Green in an indie-flavored comedy about two highway workers forced to spend some quality time with just each other. A bromance, you might call it, but with Gordon Green, things are never quite that straightforward.
The Spectacular Now
Two of the strongest young adult performances of the past half decade came courtesy of Miles Teller (Rabbit Hole) and Shailene Woodley (The Descendants). The two join forces in this film (from Smashed director James Ponsoldt) about two mismatched high school students coping with complicated feelings and alcoholism.
Stoker
One of the bigger films going into the festival was Chan-wook Park's latest, and for most, it was well worth the wait. Of all people, Wentworth Miller wrote the screenplay. Mia Wasikowska, Nicole Kidman, and Matthew Goode star in what's being described as a mystery with horror elements and a film Hitchcock would have been proud of.
Update: This article incorrectly stated Lindsay Lohan had been cast as Lovelace in the film of the same name. She was, in fact, cast as Lovelace in a similar project, only to be replaced by Malin Ackerman. This regrettable error has been corrected.