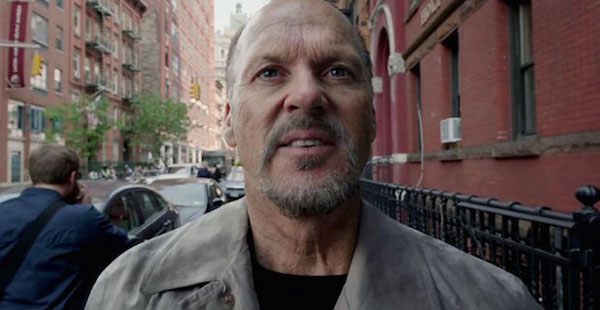 It was a great year for acting, and I still haven't seen some of the year's most acclaimed performances. If David Oyelowo (Selma), Julianne Moore (Still Alice), Benedict Cumberbatch (The Imitation Game), J.K. Simmons (Whiplash), Timothy Spall (Mr. Turner), Gugu Mbatha-Raw (Beyond the Lights), or anyone else bowls me over the way they have so many other bright critics, I'll be sure to write about it.
But for now, as the calendar is turning, these are my 20 favorite performances of 2014. I've formed this list as a sort of Oscar ballot with five leading actor, leading actress, supporting actor, and supporting actresses, respectively. And I'll reveal my favorite in each category—the men and women I'd give gold trophies to if all was right in the world.
Best Actor
Chadwick Boseman, Get on Up
Ralph Fiennes, The Grand Budapest Hotel
Tom Hardy, The Drop
Philip Seymour Hoffman, A Most Wanted Man
Michael Keaton, Birdman
It shouldn't surprise anyone, but Best Actor is an embarrassment of riches this year. It was not easy to leave off Steve Carell, Channing Tatum, Jake Gyllenhaal, Oscar Isaac, or Matthew McConaughey off this list, but the five above represent the year well. I think it's a shame how overlooked Chadwick Boseman went this year (both in the Oscar race and among critics more generally). His James Brown interpretation is career-defining and totally transformative. Ralph Fiennes is unforgettably funny in Wes Anderson's film, the best film of 2014. Tom Hardy earned a lot of praise for Locke, but it's in The Drop that he offers one of his pantheon performances. Philip Seymour Hoffman's work in A Most Wanted Man stings because it's so good, and it's the last non-Hunger Games performance we'll have from him. And Michael Keaton—well, he's gotten more ink than everyone else on my list combined, but it's for good reason. It's remarkably controlled, yet insane work, and he'll probably be rewarded with an Oscar for his troubles.
But Keaton wouldn't quite get my vote among these five. My choice for the best performance by an actor in a leading role is…
…
…
…
…
*****
Best Actress
Marion Cotillard, Two Days One Night
Rosamund Pike, Gone Girl
Jenny Slate, Obvious Child
Hilary Swank, The Homesman
Reese Witherspoon, Wild
If I had a sixth spot on this list, it'd go to a woman who already made the cut. Marion Cotillard gave two spectacular performances this year, but her Two Days One Night performance is a bit subtler and stuck with me more than her still great work in The Immigrant. Rosamund Pike basically makes Gone Girl the great film it is. It's the role of a lifetime, and she doesn't disappoint. Jenny Slate's performance in Obvious Child isn't transformative, but she, like Pike, basically owns her film (and she's impossibly hilarious to boot). Hilary Swank's work in The Homesman captures a solemnity not seen as strongly this year by anyone else. And Reese Witherspoon truly lives up to whatever Wild promised on paper.
She's a likely Oscar nominee. So is Rosamund Pike, but my winner, sadly, probably won't sniff a statue this year…
…
…
…
…
*****
Best Supporting Actor
Edward Norton, Birdman
Tyler Perry, Gone Girl
Jonathan Pryce, Listen Up Philip
Matthias Schoenaerts, The Drop
Andy Serkis, Dawn of the Planet of the Apes
As good a year as it was for leading actor turns, it was an oddly weak one for supporting work by men. That isn't to say the five performances listed here aren't great, it's just I don't have many honorable mentions I'm heartbroken to leave out of this conversation. (I know, I need to see Whiplash.)
But Edward Norton was the very best thing about Birdman—lending the film (via his character) a free-wheeling spirit it can't drum up (pun intended) with much authenticity. Tyler Perry just knocked my socks off in Gone Girl—funny, but never ridiculously so. Jonathan Pryce oozed intellectual malice in Listen Up Philip as a kind of devil on our lead character's shoulder. Matthias Schoenaerts played one of the most complex characters in the bunch—a frightening man, but does he just talk the talk? And Andy Serkis—well, what else needs to be said. Caesar is one of the great film creations of the last decade, and he's as responsible for that as anyone else. (It should be noted, Toby Kebbell also does fantastic work in the film. He nearly cracked this top five.)
The best among these five, like the categories before this, likely isn't heading for an Oscar nomination, but that only rules out one guy (sorry, Ed Norton). The winner is…
…
…
…
…
*****
Best Supporting Actress
Patricia Arquette, Boyhood
Jessica Chastain, A Most Violent Year
Elisabeth Moss, Listen Up Philip
Tilda Swinton, Snowpiercer
Uma Thurman, Nymphomaniac
I'd say it was an uncharacteristically terrific year for great performances from actresses in supporting roles. Emma Stone could have showed up here. Ditto Mackenzie Foy, Rene Russo, Carrie Coon, Kim Dickens, and a few others. That said, it was fairly easy to come up with this five.
Patricia Arquette is the best thing about Boyhood (by a mile). Jessica Chastain keeps her cards close the chest for much of A Most Violent Year, but then there are scenes like the one in which she mercy kills an injured animal, and you're like, "Oh that's right, this lady is terrifying." Elisabeth Moss owns a 20-minute sequence in Listen Up Philip, and it's simply delightful. (Godzooky, however, was non-plussed by her work.) Then there are Swinton and Thurman. Both aren't around for a ton of their respective movies, and their performances are the opposite of grounded. But they're easily the two most unforgettable supporting characters of the year—brilliantly realized by two exceptional actresses.
But neither gives the best performance of this category. Instead, that title goes to…
…
…
…
…