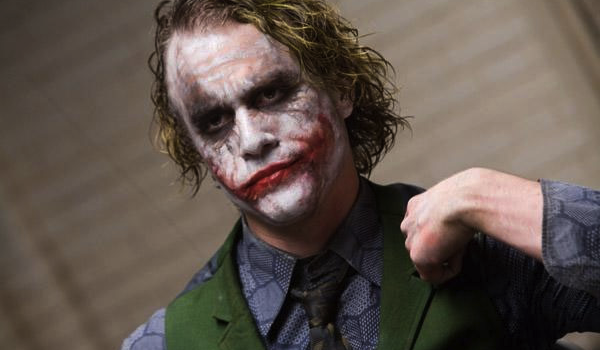 In descending order:
10.) Hilary Swank (Million Dollar Baby) – Most of Clint Eastwood's films this decade have featured a lead character who, for better or worse, dominates the screen. Sean Penn in Mystic River, Angelina Jolie and Changeling, and Eastwood himself in Gran Torino all demonstrate this. They might not be captivating figures, but they own their respective movies. Hilary Swank does this in Million Dollar Baby but in a much simpler, quieter way. In fact, the film is more about Eastwood's character than Swank's, but every time she is onscreen we are transfixed by her. Her performance as a sweet and loyal female boxer is tremendous and, in the film's final third, heartbreaking.
9.) Heath Ledger (The Dark Knight) – I remember my reaction when I found out Heath Ledger was to play the Joker. I thought it was a bold move that could be a disaster. But I also knew Ledger would go balls-out into this role. Did he ever! The Joker is a frightening creation, someone who fears nothing and kills for pleasure. It's made even more frightening with the realization that this was Ledger's final completed role. He steals every scene in The Dark Knight. And it will make you reflect on what a talent the young actor was when he tragically lost his life.
8.) Tom Wilkinson (In the Bedroom) – A film that I think is nearly perfect, In the Bedroom features two phenomenal lead performances (as well as terrific supporting work). Sissy Spacek almost made the list, but there was no way I could overlook Tom Wilkinson's extraordinary work as an ordinary family man trying to deal with tragedy. Unlike his wife, who becomes a shell of her former self, Wilkinson's Matt decides to go back to his life and try to be normal, until he is compelled to take action. It's a quieter performance than most on the list, but no less powerful.
7.) Marion Cotillard (La Vie En Rose) – You know a foreign language performance must be great when it garners an Academy Award nomination, but Marion Cotillard's performance as famous French singer Edith Piaf goes one step further and actually wins the award. I thought the film was flawed, but there is absolutely nothing flawed about Cotillard's performance. She owns the screen, even during the singing scenes (in which she lip-synchs). Cotillard followed this up with English-speaking Hollywood roles in Public Enemies and Nine. I'm glad she'll have a wider audience to show her considerable skills to.
6.) Leonardo DiCaprio (The Departed) – DiCaprio really grew over the course of the decade. He was solid in early films such as Gangs of New York and Catch Me if You Can, and he was very good as Howard Hughes in The Aviator. His crowning achievement, however, came in 2006's The Departed. DiCaprio shows an intensity I didn't think he had. His Billy Costigan is a desperate man, constantly having to watch his back. It's the sign of a phenomenal performance when you shine in every scene you are in with Jack Nicholson. Yet the Academy recognized his completely average work in Blood Diamond the same year. Unbelievable.
5.) Anne Hathaway (Rachel Getting Married) – I really didn't think Anne Hathaway had something like this in her. Her performance in Rachel Getting Married is astonishing. Kym is such a flawed human, but she is capable of such love that she immediately demands sympathy. Kym doesn't have a filter; she says and does whatever she wants. Most importantly, Hathaway brings Kym's pain front and center. It's a raw and powerful performance that gets better every time I see it.
4.) Phillip Seymour Hoffman (Before the Devil Knows You're Dead) – This is a volcanic performance if I've ever seen one from an actor who transformed from talented supporting player to one of the greats over the course of this decade. This is his finest of many fine hours this decade. He won the Oscar for Capote (a performance that was on my short list of best but missed inclusion). He was also terrific in Almost Famous, Charlie Wilson's War, The Savages, and Doubt. But in Before the Devil Knows You're Dead, he is frightening, almost as frightening as The Joker. He feels pain for the awful things he does, but instead of making them right, he digs himself deeper. It's a really complex character, and Hoffman nails it.
3.) Julianne Moore (Far From Heaven) – Julianne Moore is one of the most respected actresses of her time, yet she doesn't have an Oscar. With Kate Winslet winning recently for The Reader, the mantle for most overdue actress has been passed on to Moore. She's had some phenomenal performances, but none, in this decade or any other, has been as good as her portrayal of Cathy Whitaker in Far From Heaven. Moore nails the look and feel of women in the 1950s. She is forced to suppress any thought or act that might be deemed different, including befriending an African-American. The pain we watch her suffer through is heartbreaking. I wish the Academy had awarded her for this because, as good as Moore is, I don't think she will ever leave as strong a mark as she did in Far From Heaven.
2.) Ellen Burstyn (Requiem for a Dream) – Has there been a character more pathetic, yet more sympathetic, than Sara Goldfarb? Ever? She has no idea what she's getting into. Her son takes advantage of her. She can't wait to be on television and just wants to fit into that beautiful red dress of hers. So she takes some "diet pills." Then, we watch her spiral out of control. It's really difficult to watch (the whole film is), but Burstyn's performance is fearless and unforgettable. In a film with stellar acting all around, Burstyn stands head and shoulders above the rest.
1.) Daniel Day-Lewis (There Will Be Blood) – The best of the decade for many others, Daniel Day-Lewis is also number one on my list of best performances of the 2000s. For two and a half hours, he owns the screen. It's a towering performance from a real master. Daniel Plainview is a man of contradictions, but Day-Lewis is able to make all of his twisted characteristics work. I can't even pick out a scene that I think he's best in because there are about a dozen I can think of that demonstrate his phenomenal skill and the power of this performance. As much as I love There Will Be Blood, I don't think it would be nearly as good a film as it is without Day-Lewis. He's had a terrific, albeit selective, decade. He should've won the Oscar for Gangs of New York, and, while he doesn't deserve as Oscar for Nine, he did a great job. But his crowning achievement in this decade, really acting's crowning achievement, was There Will Be Blood.