Posted on August 17, 2018 By John Gilpatrick Lists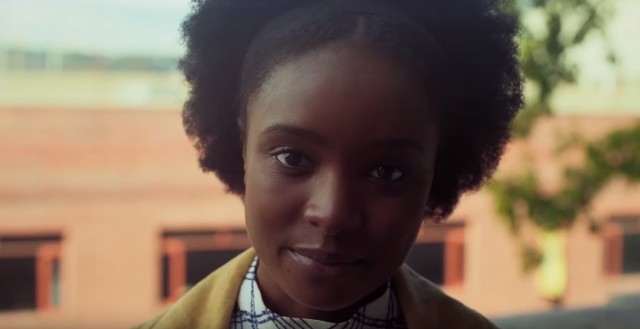 On first glance, the fall 2018 movie season looks a little ragged. Blockbuster-wise, we've got another Fantastic Beasts film, Aquaman, Bumblebee, and Venom. Woof. But the indie circuit appears as strong as ever with lots of long-awaited directorial returns and emerging studios (Netflix, Annapurna) making what appear to be their strongest pitches for awards relevance to date.
To that end, these ten films are my most anticipated for the remainder of 2018 at this moment in time. If history is any indicator, some of these will flat out suck. But others will be high points for the year in film, and we'll find out what's what soon.
10.) First Man
If it wasn't for the presence of Damien Chazelle in the director's chair, I might not think too much about this Neil Armstrong biopic. But with La La Land and Whiplash, Chazelle has proven he's a talent worth always watching, and while the footage we've seen of this one doesn't make it seem like a revelation in the genre, it nonetheless looks breathtakingly composed. See on the biggest screen possible.
Release date: October 12
9.) Can You Ever Forgive Me?
I actually never saw director Marielle Heller's breakthrough previous film, The Diary of a Teenage Girl, but it received very fine notices back in 2015. Her latest is a take on the larger than life true story of a writer (Melissa McCarthy) who falls on some hard times and resorts to forging letters from celebrities to make some (lots of) quick money. It looks like a perfect role for McCarthy—not as broad as something like Spy or Bridesmaids, but just the right amount of amusing and emotionally intense.
Release date: October 19
8.) The Ballad of Buster Scruggs
This was a late addition to this list because I only found out about it recently. And its as low as it is because we still don't know that much about it. But the Coen Brothers are as talented as anyone making movies today. Their latest had been listed as a Netflix anthology series before it was added to several fall festival lineups as a two-plus-hour film.
Release date: None yet
7.) The Old Man and the Gun
Robert Redford is saying goodbye to acting with the titular role in director David Lowery's (A Ghost Story, Pete's Dragon) latest. It looks like a charming role and one that hearkens back to classics of his like The Sting and Butch Cassidy and the Sundance Kid. The rest of the film's cast is similarly strong: Sissy Spacek, John David Washington, Casey Affleck, Elisabeth Moss, and more.
Release date: September 28
6.) Peterloo
Not much by way of a starry cast in this one, but it's the director who's caught my eye again. Mike Leigh is the man behind films like Naked, Secrets & Lies, Vera Drake, Another Year, and most recently, Mr. Turner. His latest tells the story of an infamous and bloody British massacre that ultimately led to greater freedoms, including of the press, for the nation's people.
Release date: November 9
5.) Ad Astra
I might be cheating a bit by including this one on my list. It's currently slated for release on January 11, 2019, but if you're telling me the latest James Gray film—and starring Brad Pitt, Tommy Lee Jones, and Ruth Negga no less—isn't going to get an Oscar qualifying run, I think you're crazy. Gray, whose incredibly beautiful interpersonal dramas (We Own the Night, Two Lovers, The Immigrant) have been stunning me for a decade, appears to be working with a fairly big budget this time, which is also quite exciting. Ad Astra tells the story of a man (Pitt) who searches for his father who went missing 20 years ago looking for extraterrestrial life in the universe.
Release date: January 11 (maybe sooner?)
4.) Roma
It's been five years since Alfonso Cuaron won best director for Gravity, and the film he has chosen for his follow-up apparently couldn't be any more different. Set in 1970s Mexico City, Roma tells the story of a family trying to navigate interpersonal conflict and political strife. It was shot in (gorgeous) black and white and will be entirely in Spanish. Perhaps for those reasons, and maybe others, Netflix owns the rights of this one.
Release date: December 14
3.) If Beale Street Could Talk
We had five years between Cuaron films, but we thankfully only waited two for another Barry Jenkins film. If Beale Street Could Talk is his follow-up to Moonlight, and though its based on a James Baldwin novel about a woman trying to prove her fiance's innocence of a crime while pregnant with his child, the film's trailer makes it seem like it will carry the same deeply emotional and personal stakes as Moonlight did.
Release date: November 30
2.) The Favourite
Yorgos Lanthimos has quickly become one of my favorite working directors, and The Favourite has the chance to both expand his canvas and his reach. It tells the story of a British monarch and the women closest to her who connive and backstab for her attention and affection. Emma Stone, Rachel Weisz, and Olivia Colman star.
Release date: November 23
1.) Widows
Another Oscar-winning auteur who's making a long-awaited return. This one is directed by Steve McQueen of 12 Years a Slave fame, and it stars Viola Davis, Carrie Coon, Elizabeth Debicki, Liam Neeson, Daniel Kaluuya, Colin Farrell, Robert Duvall, Michelle Rodriguez, Jacki Weaver, and others. It's co-written by Gillian Flynn (Gone Girl), and it's basically a heist film, which means it could be a commercial play or an Oscar one (or maybe both with the new category coming this year). But either way, it sounds incredible.
Release date: November 16
Ad Astra, Can You Ever Forgive Me?, First Man, If Beale Street Could Talk, Peterloo, Roma, The Ballad of Buster Scruggs, The Favourite, The Old Man and the Gun, Widows