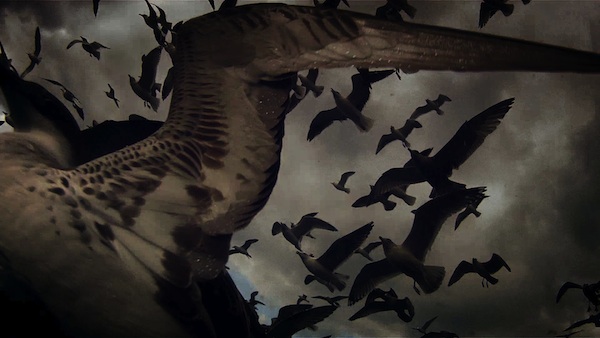 Because you can't review them all.
Sadly, life gets in the way of writing about everything I see, so this space is as much for keeping track of what I'm watching as it is for you to share your thoughts on what are, with any luck, a group of high-quality films.
Today, I'm bringing you an early Christmas present—my regular end-of-month column in mid-December. I've caught up on A LOT of titles so far this month, and I want to share my thoughts with you now. I'll be updating the post through the end of December as I watch more movies, so stay tuned!
At Berkeley
RATING:


(2013, 1 viewing)
College is a funny thing. When you go, you're hardly prepared, and you change in such a way that you wish you could go back knowing then what you know now. But that's not really the point, is it?
Anyway, Frederick Wiseman offers viewers who have four spare hours the chance to revisit college in as thoughtful and all-encompassing a way as possible. What did I learn? There's a reason students specialize. As you might expect in a documentary like this, viewers are afforded the chance to sit through what amounts to about an hour of lectures. A few were interesting. A few bored me to tears. The same can be said for the various board meetings Wiseman's static but very present camera guides us through.
It's a film I wanted to like so much more than I do. It's dripping in fascinating subtext. Is this a very broad college documentary? Or a documentary about America and capitalism that's told on a much smaller, more intimate scale? Probably both, and seeing those two dynamics play out in scene after scene is pretty interesting. The length is just brutal, though
Enough Said
RATING:

(2013, 2 viewings)
James Gandolfini was a real treasure, wasn't he? That's all I can think about revisiting Nicole Holofcener's delightful romantic comedy. Yes, my qualms I had about the film's structure the first time I watched it (full review here) persisted. Yes, various characters aren't afforded a lick of closure. But damn it all to hell, Gandolfini is freaking magnificent—in this movie, in pretty much everything.
The Broken Circle Breakdown
RATING:


(2013, 1 viewing)
The rare love it AND hate it movie. The Broken Circle Breakdown, Belgium's submission for the Best Foreign Language Film Oscar, features some brilliant, diegetic music, as well as some truly outstanding performances. Unfortunately, they're in service of a story that's horrifyingly manipulative—parents deal with a cancer-stricken child—and goes to some very strange places. The tragedy, though director Felix Van Groeningen hits his beats too hard, is mostly effective. When he veers into making political points, the film is a disappointing mess.
Drinking Buddies
RATING:


(2013, 2 viewings)
This movie is an absolute joy. The first time I watched it (click here for my full Drinking Buddies review), I admired its low-key sensibilities, its improvisatorial performances. The second time I watched it (over Thanksgiving with family and friends), I adored it. It's the best romantic comedy in years.
God Loves Uganda
RATING:


(2013, 1 viewing)
The Prestige and The Illusionist. White House Down and Olympus Has Fallen. God Loves Uganda and Call Me Kuchu. Every few years, you get a pair of movies about very specific and similar subjects. Two 2013 documentaries chronicled the fight for LGBT rights in the impoverished African nation of Uganda, and one is clearly better than the other.
I'll defer you to my full Call Me Kuchu review for more thoughts on that film, but God Loves Uganda, while accomplished in its own right, doesn't hit the same emotional chord. Both films will make you angry, but Call Me Kuchu does so in an inspiring way. God Loves Uganda, which looks at the struggle from the end of American mega churches and their prosthelytizing young members, exposes truths worth knowing but in a way that's occasionally condescending and disappointingly cold-hearted.
Let the Fire Burn
RATING:


(2013, 1 viewing)
From the Senna school of documentary filmmaking (which calls on directors to use archival footage exclusively to craft their films) comes this frightening movie about forgotten tragedies in my home(ish) city. The approach, which allows director Jason Osder to implicate some higher-profile political figures who'd probably love to pretend this never happened, lends an air of "the truth is stranger than fiction" to the entire film, which chronicles the war—not an exaggeration—between the city of Philadelphia and the MOVE organization during the late 1970s and early 1980s. The war ended when the city literally bombed the fortified row house many MOVE members called home, and while it's tough to get into the nuances of the two parties' differences here, Osder lays it all out very clearly and doesn't let his footage place blame at the feet of one side or the other. Great stuff.
Frances Ha
RATING:

(2013, 2 viewings)
I gave Noah Baumbach's latest another look on Criterion Blu-Ray this month. I'll defer you to my Frances Ha review for now, but—hint, hint—I'll have more to say about the film when I write a certain list in a few weeks.
Leviathan
RATING:


(2013, 1 viewing)
Leviathan is a one-of-a-kind movie but not necessarily a good one. It's an impressionistic look at an unidentified commercial fishing boat, and while it's perhaps the most uniquely photographed film I've seen in years, as an overall experience, it's lacking. It leaves a hole in your gut as various images and sounds chew the industry up and spit it out, but there's simply too much repetition, and it's too consistently grim to feel all that enthusiastic about as a piece of art. I don't want to dismiss it completely, but it's something that should be avoided by all but the most adventurous moviegoers.