Continuing my TIFF preview today with lots of big-name acting talent: Streep, Roberts, McGregor, Witherspoon, Firth, Johansson, Eisenberg, Wasikowska, Hiddleston, Swinton, Hemsworth, and more.



30.) August: Osage County
Program: Gala Presentation
Distributor: The Weinstein Company
Directed by: John Wells
Written by: Tracy Letts
Starring: Meryl Streep, Julia Roberts, Ewan McGregor, Abigail Breslin, Sam Shepard, Dermot Mulroney, Juliette Lewis, Chris Cooper, Benedict Cumberbatch
Synopsis: An astounding ensemble cast — Meryl Streep, Sam Shepard, Julia Roberts and Juliette Lewis — star in this adaptation of Tracy Letts' Pulitzer Prize-winning play.
Why it's noteworthy: Seems like as big an Oscar player as this festival has to offer. The only question is if John Wells will deliver in the director's chair.






29.) At Berkeley
Program: TIFF Docs
Distributor: N/A
Directed by: Frederick Wiseman
Written by: N/A
Starring: N/A
Synopsis: Direct cinema pioneer Frederick Wiseman takes an in-depth look at the preeminent American university during a fall semester that saw a vigorous debate taking place over tuition hikes, budget cuts, and the future of higher education in the United States.
Why it's noteworthy: It's a Wiseman doc, and it's about something super important.






28.) Devil's Knot
Program: Special Presentation
Distributor: N/A
Directed by: Atom Egoyan
Written by: Scott Derrickson, Paul Harris Boardman
Starring: Reese Witherspoon, Colin Firth, Kevin Durand, Bruce Greenwood, Mireille Enos, Dane DeHaan, Stephen Moyer
Synopsis: Atom Egoyan dramatizes the fallout from the notorious 1993 West Memphis murders, focusing on the grieving mother (Reese Witherspoon) of one of the murdered boys as she grows increasingly troubled by the lynch-mob fever that grips the town.
Why it's noteworthy: It seems like we've been hearing about Egoyan's West Memphis movie for years. While not every film of his is successful (I'm looking at you Chloe), he has one unqualified masterpiece on his resume (the sublime The Sweet Hereafter), and you can't ever rule out a return to form.






27.) Under the Skin
Program: Special Presentation
Distributor: N/A
Directed by: Jonathan Glazer
Written by: Walter Campbell, Michel Faber, Jonathan Glazer
Starring: Scarlett Johansson, Antonia Campbell-Hughes
Synopsis: Scarlett Johannson stars as a voracious alien seductress who scours remote highways and backroads for human prey, in this sci-fi thriller from director Jonathan Glazer (Sexy Beast, Birth).
Why it's noteworthy: It's been a long time since a beautiful Jonathan Glazer film graced our screens. This one (assuming it's as good as it could be) is one cinephiles will likely cherish.






26.) All Is By My Side
Program: Special Presentation
Distributor: N/A
Directed by: John Ridley
Written by: John Ridley
Starring: Imogen Poots, Hayley Atwell, Andre Benjamin, Ruth Negga, Adrian Lester
Synopsis: OutKast's André Benjamin stars as Jimi Hendrix in this biopic of the rock legend.
Why it's noteworthy: You had me at "Andre 3000 plays Hendrix."






25.) The Great Beauty
Program: Special Presentation
Distributor: Criterion Collection – Janus Films
Directed by: Paolo Sorrentino
Written by: Paolo Sorrentino, Umberto Contarello
Starring: Toni Servillo, Carlo Verdone, Sabrina Ferilli, Carlo Buccirosso, Iaia Forte, Pamela Villoresi, Galatea Ranzi
Synopsis: Provocative Italian auteur Paolo Sorrentino reunites with his Il Divo star Toni Servillo for this portrait of a world-weary journalist searching for his long-lost idealism while drifting through the dolce vita of Rome's high spots and fleshpots.
Why it's noteworthy: I was a little surprised when Sorrentino's latest went home from Cannes without an award. The buzz was there. Still, I'm no less excited for it. Picked up by Janus it seems like a sure thing for a Criterion release one day.






24.) The Double
Program: Special Presentation
Distributor: N/A
Directed by: Richard Ayoade
Written by: Richard Ayoade, Avi Korine
Starring: Jesse Eisenberg, Mia Wasikowska, Wallace Shawn, Noah Taylor
Synopsis: Jesse Eisenberg and Mia Wasikowska star in writer-director Richard Ayoade's updating of the famous Dostoevsky novella about a man who finds his life being usurped by his doppelganger.
Why it's noteworthy: I never got around to seeing Richard Ayoade's directorial debut, Submarine, but his latest sounds a like a great vehicle for Jesse Eisenberg.






23.) Pioneer
Program: Special Presentation
Distributor: Magnolia Pictures
Directed by: Erik Skjoldbjærg
Written by: Hans Gunnarsson, Cathinka Nicolaysen, Kathrine Valen Zeiner, Erik Skjoldbjærg, Nikolaj Frobenius
Starring: Aksel Hennie, Wes Bentley, Stephen Lang, Stephanie Sigman, André Eriksen, Jonathan LaPaglia, Ane Dahl Torp, Jørgen Langhelle, Eirik Stubø, David Jørgensen, Endre Hellestveit
Synopsis: Erik Skjoldbjærg (Insomnia) directs this gritty drama about the risky experiments and shady dealings that led to the birth of the Norwegian oil-drilling industry in the early 1980s.
Why it's noteworthy: Cool premise directed by a guy who knows genre. It won't be a financial hit, but I'd be surprised if it misses creatively.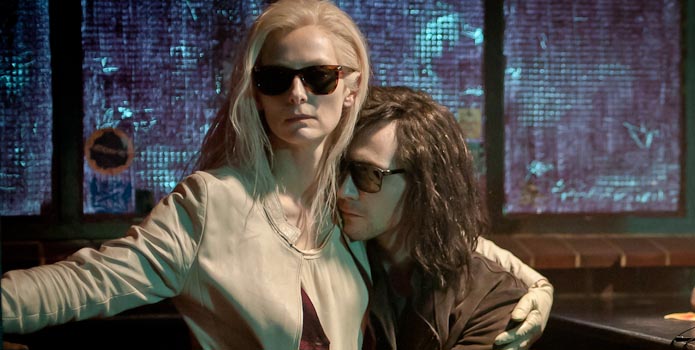 22.) Only Lovers Left Alive
Program: Special Presentation
Distributor: Sony Pictures Classics
Directed by: Jim Jarmusch
Written by: Jim Jarmusch
Starring: Tom Hiddleston, Tilda Swinton, Mia Wasikowska, John Hurt, Anton Yelchin
Synopsis: A reclusive, Bowie-like rock star (Tom Hiddleston) — who also happens to be a centuries-old vampire — has his moody, nocturnal reverie disturbed by clamouring fans, a visit from his bloodsucking belle (Tilda Swinton) and the jibes of her irascible sister (Mia Wasikowska), in the eagerly anticipated new film from American indie icon Jim Jarmusch.
Why it's noteworthy: This one kind of has it all, doesn't it? Director, cast, premise, good reviews. No way I'm not there.






21.) Rush
Program: Gala Presentation
Distributor: Universal Pictures US
Directed by: Ron Howard
Written by: Peter Morgan
Starring: Chris Hemsworth, Daniel Brühl, Olivia Wilde, Alexandra Maria Lara
Synopsis: Ron Howard directs this pulse-pounding true story about hard-driving Formula 1 rivals James Hunt (Chris Hemsworth) and Niki Lauda (Daniel Brühl), whose clashes both on and off the racetrack made the 1976 season one of the most thrilling and memorable in the sport's history.
Why it's noteworthy: Solid trailer, some pretty positive buzz. This one might be a big player this fall on a number of fronts.