We're approaching the end of the year, and I'll be using these FYC posts to share as many thoughts as I can about 2014's crop of movies. And while I, like most others, might be considering these films for categories like Best Picture, Best Actor, and Best Screenplay, I'm going a little more creative.
First up by studio is Magnolia/Magnet. Why? Well, they were first (and, as per usual, most generous) with awards screeners. I haven't even come close to checking out everything they've offered for my consideration, but I'll be updating this page with more fun goodies as I make my way through the brick of discs in front of me.
*****



Happy Christmas
RATING:

Directed by: Joe Swanberg
Written by: Joe Swanberg
Starring: Anna Kendrick, Melanie Lynskey, Mark Webber, Lena Dunham, Joe Swanberg
FYC: Best Use of an Actress' Persona, Best Bechel-Test-Passing Conversation, Best Performance by a Baby
Joe Swanberg follows up Drinking Buddies (which cracked by top 20 of 2013) with another lovely little movie. This one is perhaps tougher to pin down thematically, but as a result, it's consistently more surprising if a little tougher to pin down emotionally, if that makes sense. I nominate it for three awards.
The first relates to Anna Kendrick's lead performance, which I'd put alongside something like Denzel Washington in Flight or Robert Redford in All Is Lost, insofar as one's experiences with Kendrick can inform how one relates to her in this film and to the film as a whole. In the past, she's been the good girl—mostly straight-laced, a little nerdy, very sweet. She's a very bubbly personality off the screen. In Happy Christmas, she's not playing a terrible person, but her character is extraordinarily irresponsible. We cling to the hope that she'll figure it all out because we like Kendrick, and in the hands of someone else, we might give up on that character sooner.
I also have to recognize how much mileage Swanberg gets out of his own son, Jude, who's adorable and a riot. Finally, there's a conversation near the film's midpoint that won me over in a big way. Kendrick's Jenny and Dunham's Carson convince Melanie Lynskey's somewhat uptight Kelly to have a drink with them. What follows is intelligent and really funny—a tipsy treatise about womanhood and "having it all." Watch this film for that scene alone. It's fantastic.
*****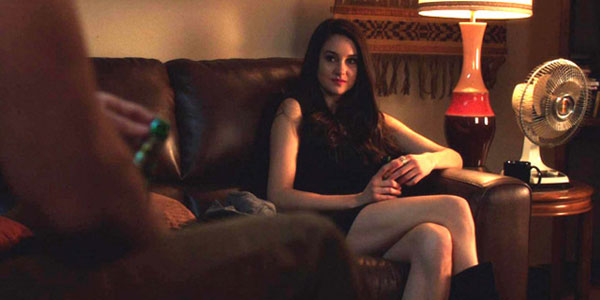 White Bird in a Blizzard
RATING:

Directed by: Gregg Araki
Written by: Gregg Araki (screenplay), Laura Kasischke (based on the novel by)
Starring: Shailene Woodley, Eva Green, Christopher Meloni
FYC: Best "I'm an Adult" Performance
Gregg Araki's latest features a number of one-note performances (Green, Meloni, etc.), and what's worse is that each of those notes is in a different key. If everyone around her was operating in the same key as Shailene Woodley, however, it might be a great movie. The young actress broke out in The Descendants, stole the show in The Spectacular Now, and even did solid work in Divergent. One could argue she's never been better than she is here in White Bird in a Blizzard. It's daring acting that really works.
*****



The Two Faces of January
RATING:


Directed by: Hossein Amini
Written by: Hossein Amini (screenplay), Patricia Highsmith (novel)
Starring: Viggo Mortensen, Kirsten Dunst, Oscar Isaac
FYC: Best Cinematography, Best Performance that Isn't Really One of the Year's Best Performances (x2)
Hossein Amini's directorial debut is a boozy, smokey throwback to old Hitchcock with a protagonist who finds himself in the wrong place at the wrong time, a love triange with deadly implications, and exotic, spectacularly shot European locales where funny business is the only business. It does belong in the Best Cinematography conversation, even if it takes a little too long to not totally get off the ground. Also noteworthy, though: Viggo Mortensen and Oscar Isaac. I say "not really one of the year's best performances" because, well, neither is. But each belongs in a secondary category that doesn't really exist—very good not great, memorable not unforgettable, perfect for the film but doesn't carry the film.
*****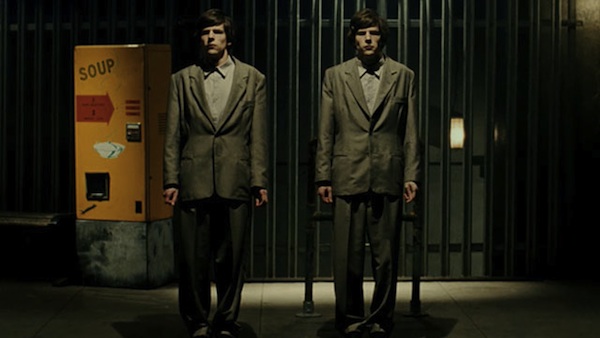 The Double
RATING:

Directed by: Richard Ayoade
Written by: Richard Ayoade, Avi Korine (screenplay); Fyodor Dostoevsky (novella)
Starring: Jesse Eisenberg, Mia Wasikowska, Wallace Shawn
FYC: Best Terry Gilliam Film
I must say, almost nothing about Richard Ayoade's sophomore feature worked for me, but the film's tone and sense of humor were VERY Gilliam. I say it's the best Terry Gilliam film of the year because I also saw The Zero Theorem, which makes The Double look like Brazil.
*****



Nymphomaniac Vol. 1
RATING:


Directed by: Lars von Trier
Written by: Lars von Trier
Starring: Charlotte Gainsbourg, Stellan Skarsgård, Stacy Martin
FYC: Best Scene
Most of my colleagues flipped over the first half of Lars von Trier's bifurcated Nymphomaniac saga. I found it in dire need of a climax (pun intended), where the second half stood alone OK, and the entire project as one whole was phenomenal. Sadly, we're being asked to judge both films on their own, and I can't get behind Vol. 1 as a singular film.
But…Mrs. H! Mrs. H, Mrs. H, Mrs. H. Uma Thurman absolutely stole this film in 10 minutes on screen. It was the most "von Trier-ian" scene I think I've ever witnessed, and it remains my favorite scene of the year.


Nymphomaniac Vol. 2
RATING:


Directed by: Lars von Trier
Written by: Lars von Trier
Starring: Charlotte Gainsbourg, Stellan Skarsgård, Willem Dafoe
FYC: Best Half a Film, Best Ending
We'll see…maybe Katniss Everdeen will steal the first award here in a few days. As far as the second award goes, Nymphomaniac Vol. 2's conclusion doesn't quite reach Mrs. H levels of greatness, but it's an obvious second choice for best scene of the movie. It left me shaken, and it changed almost everything I felt about it even five minutes prior.
*****



Life Itself
RATING:

Directed by: Steve James
Starring: Roger Ebert, Chaz Ebert, Gene Siskel
FYC: Best Picture, Best Documentary Feature
Steve James' documentary about film critic Roger Ebert's life and work remains among my three favorite films of 2014. It's going to take some monumental achievements over the next six weeks to knock it out of my top five.
*****



STILL NEED TO SEE:
Alan Partridge
Big Bad Wolves
Filth
Force Majeure
Frank
Frontera
Honeymoon
Journey to the West
Life's a Breeze
Life Partners
The Sacrament
We Are the Best!
Whitey: United States of America v. James J. Bulger