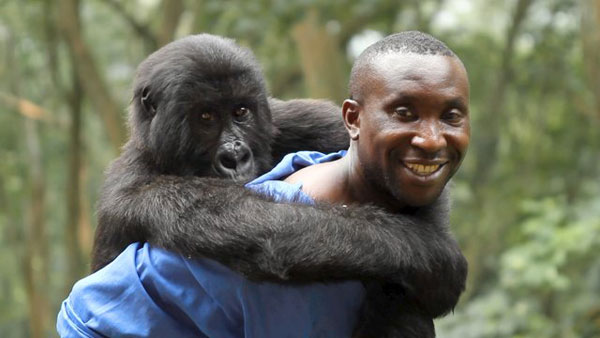 "This has been a banner year for documentary filmmaking."
Fans of the genre—myself included—have been saying that on a yearly basis for a while, it seems, but I'd say it's never been truer than it is in 2014. For the first time in my life as a critic, there's a decent chance my top ten features more non-fiction than it does fiction. Incredible.
This week, the documentary branch of the Academy announced the 15 films on its shortlist for a 2015 Best Documentary Oscar nomination. The 15 films are:
Art and Craft
The Case Against 8
Citizen Koch
CITIZENFOUR
Finding Vivian Maier
The Internet's Own Boy
Jodorowsky's Dune
Keep On Keepin' On
The Kill Team
Last Days in Vietnam
Life Itself
The Overnighters
The Salt of the Earth
Tales of the Grim Sleeper
Virunga
Unlike last year, there weren't many surprises to be found. Maybe you could say Art and Craft or Citizen Koch were longshots (compared to films that missed out like Red Army), but by and large, this went as expected.
That's not necessarily a bad thing. I've seen about half of these films. Two are locks for my top five of the year. Jodorowsky's Dune will find its way somewhere onto my top 20. The Case Against 8 is down-the-middle, but very satisfying. Ditto The Internet's Own Boy. Of the films I've seen, only Citizen Koch let me down.
And as our gaze focuses in on these 15, let's not forget some of the other great documentary films that made 2014 such a special year for the genre. A selection:
Actress
Director Robert Greene crafts something best described as "affected verite." He profiles Brandy Burre, an actress who had a recurring role on HBO's The Wire before quitting the business to start a family, at a critical point in her life. She's ready to get back into the business, but very suddenly needs to get back into the business because she and her husband are separating. The film is mostly a fly-on-the-wall piece, but Burre spends plenty of time talking candidly to the camera, and Greene fills dead space with unusual stylistic flourishes—slow-motion, dreamlike passages. It's a fascinating film.
The Battered Bastards of Baseball
Remember that time Kurt Russell and his father Bing ran an independent minor league baseball team that was stranger and more fun than anything a writer could have scripted? Probably not, but that's OK because this Netflix original documentary chronicles the brief but wild run of the Portland Mavericks.
Elaine Stritch: Shoot Me
It's a really phenomenal film—one of my favorites this year. If it was just a film about the late performer, it would be entertaining but might not leave much of an impact. But Elaine Stritch: Shoot Me is about so much more—it's a poignant reminder that everything has an expiration date.
Ivory Tower
Its lack of alternatives is a bit puzzling and lends an air of hopelessness to the entire picture. But overall, Andrew Rossi's look at ballooning cost of higher education in America is comprehensive and convincing. Powerful, too—see the Cooper Union takeover. (More thoughts here.)
Kids for Cash
The story is near and dear to my heart because I grew up in the Scranton area while the "kids for cash" scandal was taking place. But I think anyone watching Kids for Cash will feel passionate about the story and the innocent lives affected by some bad dudes.
Particle Fever
If you told me one of my favorite documentaries of the year would be about the Higgs-Boson particle, I would have asked you how that was possible because there's no way I'd ever watch it. It's true, I'll watch just about any movie, especially documentaries, but hard science like this puts me right to sleep.
I never considered sleeping during Particle Fever because I found it too enthralling. And it's not even a film that relies on manufactured suspense, like you might think. Particle Fever is very analytical and straightforward. It explains the unexplainable in a way that's neither insulting nor boring. Check this one out.
Remote Area Medical
Cinedigm is releasing this inspiring, but tough film about healthcare in America. But fear not: Remote Area Medical is not a talking-head piece about Obamacare. It's far less didactic and more akin to something like The Waiting Room from a few years ago in its approach. But there's an immediacy that lifts it above that film and others like it. It's essential viewing if you can catch it.
Whitey: United States of America v. James J. Bulger
Joe Berlinger of the Paradise Lost trilogy of documentaries returns to the true-crime arena for an all-encompassing documentary about Boston mob kingpin/FBI informant James "Whitey" Bulger. Those extremely familiar with the case need not necessarily apply, but I found both the story and the way Berlinger presents it absolutely riveting.