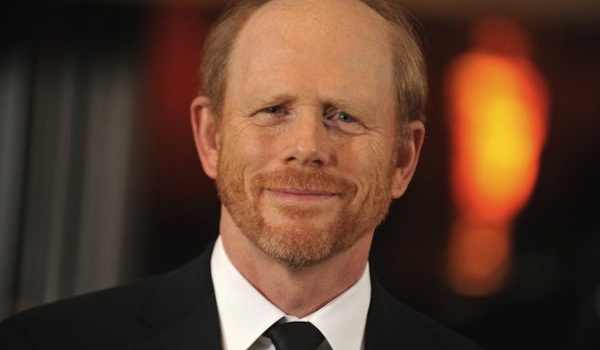 Ron Howard movies are often the source of jokes and derision aimed at their soft, gooey centers, but like cookies, I'll take my Ron Howard movies as soft and gooey as possible without all the softness and gooeyness causing them to fall apart and make a mess.
Ron Howard, of course, was a famous child actor—known best for The Andy Griffith Show and Happy Days. In the midst of his years playing Richie Cunningham, however, he directed his first two feature films—Grand Theft Auto and Night Shift. Having not lived through that time, I can't speak toward those film's receptions, but I don't think they're particularly well-regarded. You'll see that as a trend for most Ron Howard movies, including those of the next decade—Splash, Cocoon, Parenthood—which received mostly positive critical notices and cleaned up at the box office.
The biggest and (to date, even) best Ron Howard movie was 1995's Apollo 13. I suppose there are folks who don't care for this very Ron Howard-esque take on the frightening and complicated 1970 space flight. I pity them. Apollo 13 is magical, and if Ron Howard never makes a movie that even approaches it, he still has props for life for crafting this into the special movie it is.
From there, Ron Howard movies mostly vacillated between solid and unspectacular. One thing was almost always consistent: they'd perform at the box office. Not even adjusting for inflation, the lowest-grossing film over Howard's nearly 40-year career is 2008's Frost/Nixon, which made just over $18 million. That's kind of crazy if you really think about it. His highest-grossing, incidentally, is How the Grinch Stole Christmas, followed by The Da Vinci Code, so clearly not a major correlation between quality and money earned…
Like it or not, Ron Howard is going to keep making these Ron Howard movies because they work for a sizable audience, and I'm not ashamed to admit I'm among them. As you'll see, I have a long way to go before I complete the Ron Howard filmography (the 80s stuff that came out before I was born is a big, long blind spot), and there are some admittedly terrible movies among the great, good, and OK. But to dismiss someone for making crowd-pleasing films is to admit you're a Scrooge. I'm not a Scrooge. I'm a Tiny Tim. "God bless us, every one, and rock on, Ron Howard."
That's how that quote went, right?
Ron Howard Movies
Grand Theft Auto
A young woman steals her dad's car so she can get married in Vegas.
(1977, 0 viewings)
Because it clearly shares nothing in common with the popular video game series, Grand Theft Auto is a non-entity as far as I'm concerned, but if any of you want to recommend it, I'm willing to check it out.
Night Shift
Two coworkers at a morgue decide to use their place of work as a brothel.
(1982, 0 viewings)
Night Shift sounds like it could be amusing, but it also sounds like the kind of high-concept comedy I'd ordinarily loathe. It's worth noting that Ron Howard's Happy Days costar, Henry Winkler, stars in this one.
Splash
A man and a mermaid fall in love in New York.
(1984, 0 viewings)
A hugely famous movie for Howard, Tom Hanks, and Daryl Hannah. It's far from a major priority of mine, though I know a lot of people do enjoy this one.
Cocoon
A group of elderly men and women find that swimming in their community pool gives them a strange youthful boost. Maybe it's the alien cocoons they're swimming among…
(1985, 0 viewings)
This one sounds a little too Ron Howard-y for even me, so no thanks.
Gung Ho
A Japanese company purchases an American plant, and the clash of cultures that exists between white-collar and blue-collar workers must be navigated and mediated by one man.
(1986, 0 viewings)
The second of three collaborations between Ron Howard and Michael Keaton. Again, it's a film I don't know much about and honestly, one I don't intend on catching up with soon.
Willow
From IMDb: "A reluctant dwarf must play a critical role in protecting a special baby from an evil queen."
(1988, 0 viewings)
Wow, Ron Howard meets George Lucas. Talk about two minds I never expected to work together. Did it work? Don't know, don't care much to find out.
Parenthood
The Buckmans try to raise well-adjusted kids, but they hit a number of speed bumps along the way.
(1989, 0 viewings)
Steve Martin's comedies of this era are rather interchangeable as far as I'm concerned. This one doesn't exactly sound remarkable or unique.
Backdraft
There's an arsonist on the loose, which means two rival firefighters need to work together.
(1991, 0 viewings)
Howard loves the "two rivals work together" thing, even if his films that go down that road don't always work out. I've never seen this film, but I'm a sucker for anything about firefighters, which makes Backdraft a priority of mine among a lot of unseen Ron Howard movies I don't care too much about.
Far and Away
A young couple (Tom Cruise and Nicole Kidman) flees Ireland around the turn of the century with big dreams of owning land in the American West.
(1992, 0 viewings)
I've popped in and out of this one on cable plenty of times, but I've oddly never seen it from beginning to end. There's probably a reason for that. It's not especially good, I think, even if it is harmlessly watchable.
The Paper
Twenty-four hours in the life of a newspaper editor who's way too dedicated to his job. (Click here for my full The Paper review.)
RATING:

(1994, 1 viewing)
A fine, if familiar, take on journalism's old guard is destroyed, maimed, mutilated by its final 20 minutes, which feature some of the worst storytelling I've ever seen.
Apollo 13
Three moon-bound men discover massive damage to their ship and must get creative if they want to make it home.
RATING:

(1995, 3+ viewings)
Even 20 years later, this gem of a movie still shines brightly.
Ransom
After a rich man's son is kidnapped, he stops cooperating with the police and looks for alternate routes to rescue him.
(1996, 0 viewings)
Like Far and Away, I've probably seen every minute of this movie at one time or another on cable, but never consecutively, so I don't feel comfortable rating it or commenting much on its quality. But I always like what I see.
Edtv
A video store clerk agrees to let television producers tape his every move for 24 hours.
(1999, 0 viewings)
After two big smash hits, Howard comes back down to Earth with a real bomb starring Matthew McConaughey (well before the "McConaissance", of course).
How the Grinch Stole Christmas
A monster wants to ruin the holiday for the joyful little residents of Whoville.
(2000, 0 viewings)
No, thank you.
A Beautiful Mind
John Nash is a brilliant mathematician, but personal demons and a new career in intelligence threaten to destroy him.
RATING:

(2001, 2 viewings)
People sure do have strong opinions on this one. It won Best Picture in 2002, but it's definitely on the shortlist of least-liked Best Pictures (and because it won and isn't a perfect film, that of course means the Oscars are terrible and I'm a terrible writer for even bringing them up…so oops).
Look, I don't love A Beautiful Mind, but I don't think it's a terrible movie either. Russell Crowe is tremendous. Howard's direction is actually quite good here. And the film is involving. It's just overdone, but it's not worth bringing down because a few voting bodies really liked it. That's dumb.
The Missing
After a young girl is kidnapped in 1800s New Mexico, her mother and estranged grandfather work together to find and rescue her.
RATING:

(2003, 1 viewing)
An atypical Ron Howard film…at least I think it is. I'm a sucker for a good Western, and while I don't remember much about this one, I definitely liked it…I think…pretty sure…
Cinderella Man
During the Great Depression, a washed-up boxer attempts a comeback in order to help feed and protect his family.
RATING:

(2005, 1 viewing)
I thought quite highly of Russell Crowe's performance when I saw this one in theaters back in 2005, but I haven't come back to it since, and like The Missing, I don't remember very much else about it.
The Da Vinci Code
A symbologist is called in to help solve a murder in the Louvre, but he discovers a much greater mystery about the origins of Christianity.
RATING:


(2006, 2 viewings)
Whipped up a ton of controversy back in the summer of 2006, but even fans of Dan Brown's best-seller seemed rather ambivalent. I don't think it's as bad as its reputation (nor its sequel), but being "acceptable" is about all I'm willing to give it credit for.
Frost/Nixon
A talk-show host/journalist nabs the first post-resignation interview with President Richard Nixon. (Click here for my full Frost/Nixon review.)
RATING:


(2008, 3 viewings)
Howard lays the boxing metaphors on a little thick, but that's about the only complaint I have toward this tremendously acted historical drama.
Angels & Demons
Robert Langdon solves clues hidden in the Vatican in order to stop a potential terrorist attack. (Click here for my full Angels and Demons review.)
RATING:

(2009, 1 viewing)
An absolute train wreck of a movie that has no clue what it wants to be. The definition of an adaptation that simply goes through the motions.
The Dilemma
Do you tell your best friend when you catch his wife cheating?
(2011, 0 viewings)
Vince Vaughn and Kevin James? Not in a million fucking years do I spend two hours on this.
Rush
Formula One drivers James Hunt and Niki Lauda have just two things in common: They're great racers, and they dislike the other.
(2013, 0 viewings)
Damn excited for Howard's latest, which earned quite a bit of praise out of Venice and Toronto. I'm less optimistic toward its Best Picture chances than I was a few weeks ago, but no matter. As long as its a fun, involving, well-crafted drama, I'll be satisfied.
More Director Spotlight posts:
Guillermo del Toro Movies
Nicolas Winding Refn Movies
Woody Allen Movies
Christopher Nolan Movies
Jeff Nichols Movies
Lee Daniels Movies
Michael Bay Movies
Lynn Shelton Movies
JJ Abrams Movies
Steven Soderbergh Movies