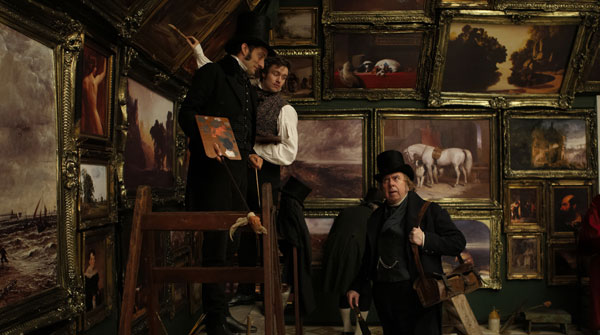 What in the name of Dick Poop just happened?!?!?!?
It was a wild morning that saw the announcement of the 2015 Oscar nominees, and I just can't get past Academy President Cheryl Boone Isaacs' all-time great mispronunciation of a name. Congratulations to Mr. Turner cinematographer Dick Pope on your Oscar nomination. I'm sorry you'll live in annals of juvenile internet humor forever (something I most certainly am contributing to…Dick Poop Dick Poop DICK POOP).
OK, with that out of my system…
It was a wild morning that saw the announcement of the 2015 Oscar nominees. I'm tempted to say there were a lot of surprises, yet I did better with my predictions than any year I can remember. Lots of love for The Grand Budapest Hotel, Birdman, Boyhood, The Imitation Game, and American Sniper (maybe the top five if it was 2008 or earlier). The internet is stewing over Selma's perceived snub (a word that simply makes no sense, nevermind for a film that walked away with a Best Picture nod despite an obvious lack of support among smaller Academy groups). I, as you probably know, think anger over stuff like this is mostly ridiculous. The LEGO Movie made its money. Life Itself found an audience. Selma—that's an admittedly trickier issue, but let's face facts. The film still exists, and it's the one Ava DuVernay wanted to make. It's nominated for Best Picture. It will find its audience. And the problems with gender and racial diversity in film today are systemic and so much bigger than the Oscars. (And frankly, no one will be saying boo about this when 12 Years a White Boy Boyhood wins Best Picture because it's the film they liked and wanted most.)
So if you want to read more gripes with today's nominations, go elsewhere. I'm focusing on what made me happy this morning because there's a lot. Let's begin.
I'm happy for Wes Anderson and The Grand Budapest Hotel. Along with Birdman, it scored the most nominations with 9, and I think it stands to take home at least a couple awards in the craft categories. It's still my favorite film of 2014, and its success proves that not all Oscar movies need to come out in November and December.
I'm thrilled for Richard Linklater (who I still feel like is peaking as a filmmaker despite my relative ambivalence toward Boyhood) and Bennett Miller (same). They're simply two of the best filmmakers working today.
I'm over-the-moon for Marion Cotillard's nomination. She gave the single best performance, male or female, of 2014 in Two Days One Night, and people who might not have ever heard of the film or the Dardennes will now seek it out. That's a good thing.
I'm excited for actors like Steve Carell, Michael Keaton, Rosamund Pike, Emma Stone, and J.K. Simmons for each earning his or her first Oscar nomination, respectively. The latter, despite being a no-brainer all year long, is particularly satisfying. My mom texted me during the Golden Globes, "What's Whiplash?" Now she'll probably see it, and admire the man's stellar work. A good thing, I say.
Inherent Vice earned two nominations today. Not enough if I called the shots, but more than I expected, and it's one of the very best movies of the year, so good for PTA and company.
The Best Cinematography lineup is off-the-chain good. Like, 2007 levels of greatness. Birdman, Unbroken, Ida, and The Grand Budapest Hotel—say whatever you want about each as a whole—are exquisitely shot, and while I haven't yet seen Mr. Poop's work on Mr. Turner, the images I've seen called out in posts like Kris Tapley's 10 Best Shots of 2014 are breathtaking.
I'm so happy for GKIDS, which unexpectedly (by everyone, I think) picked up nominations for both its fantastic 2014 films, The Tale of Princess Kaguya and Song of the Sea. I'm partial toward the latter, but both are absolutely worthy, and while The LEGO Movie is great in its own right, it had its moment already. Now people know about these two films (Song of the Sea has been trending on Twitter most of the day) and will see them, and GKIDS can continue doing what it does so well.
I've only seen three of the nominated documentaries (Virunga, Last Days in Vietnam, and Finding Vivian Maier), and all are great movies. Virunga placed in my top 10 of 2014, and while the others aren't quite on the level of a Life Itself (or Point and Shoot, the best documentary of the year and one that wasn't shortlisted), I'm not going to hate on good films that received recognition within the industry.
And the Best Foreign Language Film nominees are delightfully eclectic. I'm particularly happy for Abderrahmane Sissako, nominated for Timbuktu. If you haven't seen a film of his, stop reading this and do so now. (Come back when you're done, of course.)
So be angry if you must, but stop for a second and ask yourself if your outrage over one or two things truly outweighs your happiness over 10-15 great things. If it does, I suggest you watch some more movies and sit this year out. After all, a film is a film is a film. An Oscar nomination or lack thereof doesn't change what's on the screen just like a marketing campaign or box office total doesn't. Enjoy what you enjoy, and let your neighbor enjoy what he or she enjoys.
I enjoy laughing about Dick Poop, so once more, with feeling: Dick Poop, Dick Poop, Dick Poop.
(This commentary is brought to you by a ten-year-old inside a 26-year-old's body.)
2015 Oscar Nominations
Best Picture
American Sniper
Birdman
Boyhood
The Grand Budapest Hotel
The Imitation Game
Selma
The Theory of Everything
Whiplash
Best Director
Alejandro G. Inarritu, Birdman
Richard Linklater, Boyhood
Bennett Miller, Foxcatcher
Wes Anderson, The Grand Budapest Hotel
Morten Tyldum, The Imitation Game
Best Actor
Bradley Cooper, American Sniper
Benedict Cumberbatch, The Imitation Game
Steve Carell, Foxcatcher
Michael Keaton, Birdman
Eddie Redmayne, The Theory of Everything
Best Actress
Marion Cotillard, Two Days One Night
Felicity Jones, The Theory of Everything
Julianne Moore, Still Alice
Rosamund Pike, Gone Girl
Reese Witherspoon, Wild
Best Supporting Actor
Robert Duvall, The Judge
Ethan Hawke, Boyhood
Edward Norton, Birdman
Mark Ruffalo, Foxcatcher
J.K. Simmons, Whiplash
Best Supporting Actress
Patricia Arquette, Boyhood
Laura Dern, Wild
Keira Knightley, The Imitation Game
Emma Stone, Birdman
Meryl Streep, Into the Woods
Best Adapted Screenplay
American Sniper
The Imitation Game
Inherent Vice
The Theory of Everything
Whiplash
Best Original Screenplay
Birdman
Boyhood
Foxcatcher
The Grand Budapest Hotel
Nightcrawler
Best Cinematography
Birdman
The Grand Budapest Hotel
Ida
Mr. Turner
Unbroken
Best Costume Design
The Grand Budapest Hotel
Inherent Vice
Into the Woods
Mr. Turner
Maleficent
Best Film Editing
American Sniper
Boyhood
The Grand Budapest Hotel
The Imitation Game
Whiplash
Best Makeup and Hairstyling
Foxcatcher
The Grand Budapest Hotel
Guardians of the Galaxy
Best Original Score
The Grand Budapest Hotel
The Imitation Game
Interstellar
Mr. Turner
The Theory of Everything
Best Original Song
Begin Again
Beyond the Lights
Glen Campbell: I'll Be Me
The LEGO Movie
Selma
Best Production Design
The Grand Budapest Hotel
The Imitation Game
Interstellar
Into the Woods
Mr. Turner
Best Sound Editing
American Sniper
Birdman
The Hobbit: The Battle of the Five Armies
Interstellar
Unbroken
Best Sound Mixing
American Sniper
Birdman
Interstellar
Unbroken
Whiplash
Best Visual Effects
Captain America: The Winter Soldier
Dawn of the Planet of the Apes
Guardians of the Galaxy
Interstellar
X-Men: Days of Future Past
Best Animated Feature Film
Big Hero 6
The Boxtrolls
How to Train Your Dragon 2
Song of the Sea
The Tale of Princess Kaguya
Best Documentary Feature
CITIZENFOUR
Virunga
The Salt of the Earth
Finding Vivian Maier
Last Days in Vietnam
Best Foreign Language Film
Ida
Leviathan
Tangerines
Timbuktu
Wild Tales