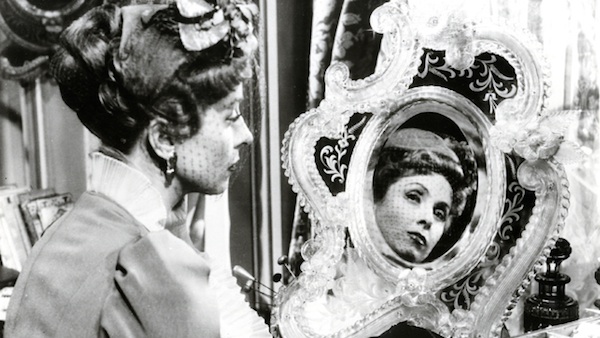 I: Intro
II: The Earrings of Madame de…
III: What's New?
Welcome to Sunday Afternoon with Criterion, a series of posts on JohnLikesMovies.com covering everything Criterion—the company's newest releases, just-announced projects, reviews, lists, links, and more.
In the midst of the bi-annunal Barnes and Noble Criterion sale comes a killer lineup announcement. February 2014—like January 2014, December 2013, and November 2013 before it—is loaded with fantastic Criterion releases. I run through each title below, but first, I've got lots to say about one of my purchases from the aforementioned sale—Max Ophuls' The Earrings of Madame de…
I'd heard so much about the swirling camerawork of Max Ophuls over the years, yet it was only recently that I finally caught up with a film of his—the one that's by most accounts his masterpiece—The Earrings of Madame de…
And a masterpiece it is. It's a superbly constructed gem of a period piece that's brilliantly defined by the anonymity of its characters and setting, as well as the universality of its themes and tragedy.
We're told oh so little about the film's title character, but all we need to know is that she's a woman in a passionless marriage to a well-to-do French military man. She also owns a pair of earrings that her husband gave to her on their wedding day, but she has some debts (that's all), so she sells them. That transaction, without her ever knowing it, sets off a chain reaction that changes lives.
The film is a slice of fantastical fiction that should feel gimmicky and forced but doesn't in the slightest. Ophuls goes to great lengths to make sure the earrings hit every pit stop they need to in order to reach their final destination in a way that allows the film's characters to change dramatically but believably. And the famed camerawork—it's stunning. Not a single take, it seems, is shorter than 30 seconds. The standout scene sees Madame de dancing with a new friend at event after event. It feels like one single waltz, but it's meant to (and does) depict the passage of months.
Everything else, from the exquisite sets and costumes to the heartbreaking score, is simply perfect. It's not often I watch a movie and place it instantly in my all-time top 20 or so, but The Earrings of Madame de… belongs there.
Let's just get into February, shall we?
Blue Is the Warmest Color — Abdellatif Kechiche's Palme-d'Or-winning lesbian drama unsurprisingly joins the collection. Interestingly, it's a bare-bones release and not dual-format like every title has been since November. Criterion's website warns that "a full special edition treatment of this film will follow at a later date." Do with that what you'd like.
Fantastic Mr. Fox — Spine #700 is Criterion's first animated title. And one of my favorite Wes Anderson movies. Awesome.
Foreign Correspondent — Ah, now here's one I've been waiting for since I knew what Criterion was. Foreign Correspondent is among my three favorite Hitchcock films. It's totally bonkers and features some of the Master of Suspense's best set pieces and wittiest dialogue.
King of the Hill — It's been a while since we've had one of Steven Soderbergh movies join the collection. I'd have guessed the next of his to get the Criterion treatment would have been Kafka, but it's King of the Hill instead. I'm unfamiliar with it, but it's Soderbergh, which makes it automatically something worth checking out.
Tess — This Roman Polanski period piece wasn't one I'd heard much about when it came to a possible Criterion release, but here it is. I'm not a fan, but I'm sure there are some folks out there jazzed about this one. It is Polanski, after all.
Jules and Jim — The first of two upgrades. I haven't seen the film, believe it or not, so I don't have a ton to say.
Breathless — I already own Godard's masterpiece on Blu-Ray, so I won't be double-dipping for its dual-format upgrade. What's interesting, though, is that its even getting a dual-format upgrade at this date. This is the first Criterion movie already available on Blu to get such treatment, which means we can probably expect many more in the coming months.