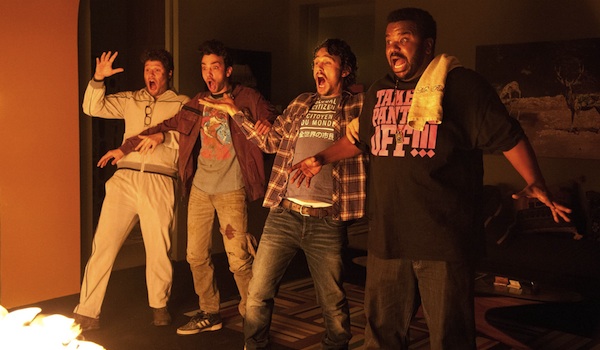 A former monthly column at John Likes Movies comes back. Why? Because you can't review them all.
Sadly, life gets in the way of writing about everything I see, so this space is as much for keeping track of what I'm watching as it is for you to share your thoughts on what are, with any luck, a group of high-quality films.
A much lighter batch than I had back in June (vacation, work stuff, etc.), but, yeah, I watched some good movies this month (see also Lord of the Flies, Spring Breakers, and Europa Report).
Berberian Sound Studio
RATING:

(2013, 1 viewing)
An easy comparison to Peter Strickland's Berberian Sound Studio is Brian De Palma's Blow Out. Both films rely heavily on a unique sound design both technically and to drive the plot forward. Such a comparison is doing a disservice to De Palma's classic thriller, however, because Berberian is a mess of a movie. Poor Toby Jones. He's such a talented actor, yet every leading man role he's given goes south in one way or another. Where Infamous was buried by bad timing, this one fails because it's simply not a good film. It's nonsensical and totally inert.
Small Time Crooks
RATING:


(2000, 1 viewing)
In my seemingly never-ending quest to consume every Woody Allen movie out there, I gave his first post-millennial effort, Small Time Crooks, a watch recently. Talk about a mixed effort. The film starts out brilliantly—a group of moronic thieves try to rob a bank and accidentally strike it rich when their front business takes off. Woody Allen and Tracy Ullman are an…um…interesting couple. Much funnier is the pairing of Allen and Elaine May. But the film becomes infinitely less interesting once our characters actually are rich.
This Is the End
RATING:

(2013, 1 viewing)
I wish this film took it one step further—Franco plays Hill, Hill plays Robinson, Robinson plays Rogen, etc. That would have been something CRAZY. As it is, This Is the End is rather crazy. Set during the apocalypse, six of our favorite hilarious dudes struggle to survive. You won't see a movie quite like it (or quite as funny as it) this year.
Shotgun Stories
RATING:

(2007, 1 viewing)
Nobody makes movies like Jeff Nichols, and few people make movies as well as Jeff Nichols. It all started for him with Shotgun Stories—a quiet but profound cautionary tale about the consequences of revenge. Michael Shannon is frightening (surprise, right?) but it's the rivalry Nichols creates between two sets of half-brothers that's truly scary.
Hannah and Her Sisters
RATING:

(1986, 2 viewings)
Lots of Woody Allen think pieces and lists and reviews over the past few weeks what with Blue Jasmine taking independent theaters by storm. It's great. I'm so happy people are discovering and rediscovering the Wood man's work. I put together a rather extensive Director Spotlight post on Woody Allen movies, and in it, I listed this spectacular film as my favorite of his. I had actually only seen it once up to that point. But it hit me like a ton of bricks—its complex structure, the myriad of great performances, etc. A second viewing confirmed what I already knew after a first. And I can't wait to see what else I learn about this special movie from a third, fourth, fifth watch.
His Girl Friday
RATING:


(1940, 1 viewing)
The first blind spot checked off my list of Netflix Instant blind spots, His Girl Friday was great fun. The rat-a-tat dialogue is the stuff of legend, but you don't have something like The Social Network without His Girl Friday. That said, it nearly made my head spin keeping up with Cary Grant and Rosalind Russell. But the exhaustion I felt afterward was more than worth it for such a gleefully enjoyable movie.
For more thoughts on what I'm watching, when I'm watching it, follow me on Twitter and Letterboxd.