My TIFF preview concludes today with some of festival's heaviest hitters. I hope you enjoyed this series. I'll be covering the fall fests extensively, so stay tuned!
---
More TIFF Movies to Watch:
2013 TIFF Preview: Part 1
2013 TIFF Preview: Part 2
2013 TIFF Preview: Part 3
2013 TIFF Preview: Part 4
---



10.) The Past
Program: Special Presentation
Distributor: Sony Pictures Classics
Directed by: Asghar Farhadi
Written by: Asghar Farhadi
Starring: Berenice Bejo, Rahim Tahar, Ali Mosaffa, Pauline Burlet, Elyes Aguis, Jeanne Jestin, Sabrina Ouazani, Babak Karimi, Valeria Cavalli
Synopsis: Travelling to Paris from Tehran to finalize his divorce, an Iranian man (Ali Mosaffa) finds himself suddenly and tragically drawn back into the lives of his ex (Bérénice Bejo, The Artist) and her daughter, in the exquisitely written and magnificently acted new film from Academy Award-winning director Asghar Farhadi (A Separation).
Why it's noteworthy: A Separation was one of the very best films of 2011. This is director Asghar Farhadi's follow-up, and it was one of Cannes 2013's most widely admired titles.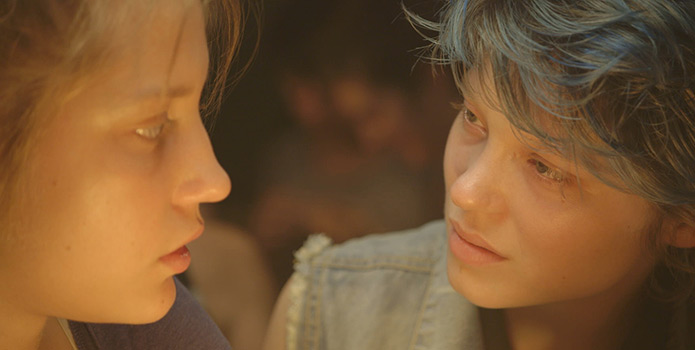 9.) Blue Is the Warmest Color
Program: Special Presentation
Distributor: Sundance Selects
Directed by: Abdellatif Kechiche
Written by: Abdellatif Kechiche, Ghalia Lacroix
Starring: Léa Seydoux, Adèle Exarchopoulos
Synopsis: Abdellatif Kechiche's bold, passionate and controversial love story about the tempestuous relationship between a sensitive high-schooler (Adèle Exarchopoulos) and an assertive art student (Léa Seydoux) won the Palme d'Or at this year's Cannes Film Festival.
Why it's noteworthy: Your most recent Palme d'Or winner, folks. It won't continue the string of Palme d'Or winners getting Best Picture nominations (Amour, The Tree of Life), but it's sure to land atop plenty of critics top 10 lists come the end of the year.






8.) The Disappearance of Eleanor Rigby: Him and Her
Program: Special Presentation
Distributor: N/A
Directed by: Ned Benson
Written by: Ned Benson
Starring: Jessica Chastain, James McAvoy, Nina Arianda, Viola Davis, Bill Hader, Ciaran Hinds, Isabelle Huppert, William Hurt, Jess Weixler
Synopsis: James McAvoy, Jessica Chastain and Viola Davis star in this innovative two-part film that relates a love story from two different perspectives.
Why it's noteworthy: Oh, hey, super long, ambitious art-house film. How you doin'? Unlike some of the similarly ambitious projects on this list, this one comes from a first-time feature filmmaker. But it attracted some big acting talent—Chastain, McAvoy, Davis, Hurt, etc. That kind of speaks volumes, right?






7.) Night Moves
Program: Special Presentation
Distributor: N/A
Directed by: Kelly Reichardt
Written by: Kelly Reichardt, Jon Raymond
Starring: Jesse Eisenberg, Dakota Fanning, Peter Sarsgaard
Synopsis: Jesse Eisenberg, Dakota Fanning and Peter Saarsgard star as radical environmental activists whose act of eco-terror plunges them into a moral maelstrom, in the highly anticipated new film from acclaimed American auteur Kelly Reichardt (Wendy and Lucy, Meek's Cutoff).
Why it's noteworthy: I'll forgive Reichardt the dreadfully dull Meek's Cutoff because Old Joy and Wendy and Lucy are so damn good. No reason to think this more commercial-sounding project doesn't represent a return to form (at least in my eyes).






6.) The Unknown Known
Program: TIFF Docs
Distributor: Radius-The Weinstein Company
Directed by: Errol Morris
Written by: N/A
Starring: Donald Rumsfeld
Synopsis: Academy Award-winning filmmaker Errol Morris (The Fog of War, Standard Operating Procedure) continues his exploration of post-9/11 American imperialism with this riveting, feature-length interview with notorious former U.S. Secretary of Defense Donald Rumsfeld.
Why it's noteworthy: Errol Morris, Errol Morris, Errol Morris.






5.) 12 Years a Slave
Program: Special Presentation
Distributor: Fox Searchlight Pictures
Directed by: Steve McQueen
Written by: John Ridley
Starring: Chiwetel Ejiofor, Michael Fassbender, Benedict Cumberbatch, Paul Dano, Garret Dillahunt, Paul Giamatti, Scoot McNairy, Lupita Nyong'o, Adepero Oduye, Sarah Paulson, Brad Pitt, Michael Kenneth Williams, Alfre Woodard
Synopsis: Director Steve McQueen follows the acclaimed Hunger and Shame with this shocking, based-on-fact story of a 19th-century freeman kidnapped and sold into slavery in the Deep South. The enormously talented Chiwetel Ejiofor leads an extraordinary cast that includes Michael Fassbender, Brad Pitt, Paul Giamatti, Alfre Woodard and Benedict Cumberbatch.
Why it's noteworthy: I should know better. I didn't like Shame. I didn't like (hell, I didn't finish) Hunger. I have no reason to expect Steve McQueen's third film will be any stylistically different than his first two. But yes, I'm still super excited for it.






4.) Southcliffe
Program: Special Presentation
Distributor: N/A
Directed by: Sean Durkin
Written by: Tony Grisoni
Starring: Rory Kinnear, Sean Harris, Shirley Henderson, Anatol Yusef, Eddie Marsan
Synopsis: In this timely and ambitious four-part dramatic series, director Sean Durkin (Martha Marcy May Marlene) and celebrated British television writer Tony Grisoni tell the tragic tale of a "sleepy little English market town" turned upside down when one of its little-liked residents turns his guns on his fellow citizens.
Why it's noteworthy: Here's another lengthy, ambitious project—the kind I have an affinity for. More noteworthy, however, is the presence of Sean Durkin in the director's chair. His Martha Marcy May Marlene is as remarkable a directorial debut as I've ever seen, and I'm really intrigued to see what he comes up with next.






3.) The Fifth Estate
Program: Gala Presentation
Distributor: Dreamworks
Directed by: Bill Condon
Written by: Daniel Domscheit-Berg, David Leigh, Luke Harding, Josh Singer
Starring: Benedict Cumberbatch, Daniel Brühl, Anthony Mackie, David Thewlis, Alicia Vikander, Peter Capaldi, Carice Van Houten, Dan Stevens, Stanley Tucci, Laura Linney
Synopsis: Dreamgirls director Bill Condon helms this absorbing dramatization of the rise and fall of Wikileaks and its fascinating founder Julian Assange. The Fifth Estate is a truly 21st century saga of technology, politics and civic responsibility.
Why it's noteworthy: I think the film might be a big Oscar player. Even if it isn't, I hope it's a compelling, real-world thriller. At the very least, it should feature some bang-up performances.






2.) Labor Day
Program: Special Presentation
Distributor: Paramount Pictures
Directed by: Jason Reitman
Written by: Jason Reitman
Starring: Kate Winslet, Josh Brolin, Gattlin Griffith, Tobey Maguire, Clark Gregg, JK Simmons, Brooke Smith, James Van Der Beek
Synopsis: The latest film from Jason Reitman (Up in the Air, Juno) centres on 13-year-old Henry (newcomer Gattlin Griffith) as he confronts the pangs of adolescence while struggling to care for his reclusive mother, Adele (Kate Winslet). On a back-to-school shopping trip, Henry and Adele encounter Frank (Josh Brolin), a man both intimidating and clearly in need of help, who convinces them to take him into their home. The events of this long weekend will shape each of them for the rest of their lives.
Why it's noteworthy: Jason Reitman simply doesn't miss. This film is flying under the radar, but it probably won't be for long after folks catch a glimpse at it.






1.) Gravity
Program: Special Presentation
Distributor: Warner Bros. Pictures
Directed by: Alfonso Cuarón
Written by: Alfonso Cuarón, Jonas Cuarón
Starring: Sandra Bullock, George Clooney
Synopsis: George Clooney and Sandra Bullock star in this highly anticipated 3D space thriller from acclaimed director Alfonso Cuaron (Children of Men, Y Tu Mamá También).
Why it's noteworthy: A super easy choice. Cuarón, Clooney, outer space, groundbreaking effects. I have no idea how this one is going to play out, but I can't wait.