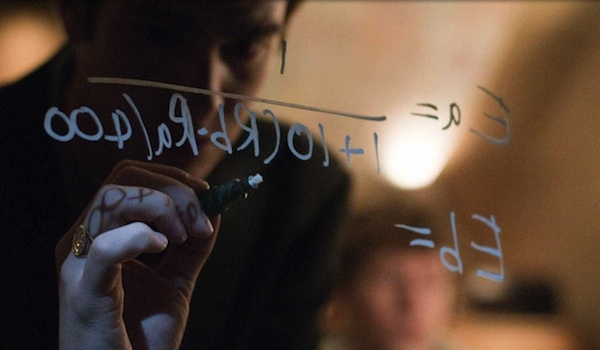 My 2010 movie odyssey is complete. I've seen exactly 100 of last year's films, and somehow managed to post something on almost all of them. A monumental accomplishment if I may say so myself, something I'm proud of but frankly a little embarrassed for having had the time to do.
Overall, I'd say it was a good year. Not a great one. My tastes expanded away from commercial films and toward the art house. When faced with the choice of seeing some potential blockbuster with mediocre or even bad reviews, or a more ambitious but smaller film, I almost always opted for the latter—something I can't say I would have done in college.
It's always interesting to see how time (and repeat viewings) changes my opinion on certain films. My #1 when I did this list at the end of last year is now my #3. And the film I thought nothing could possibly top is now my #2. Having watched my new #1 five or six times, there's no way I can deny it (though I'm a little sad at how unoriginal the choice is…oh well).
Below is a list of all 100 films in descending order of preference. Enjoy!
0 Stars
100.) I'm Still Here
1 Star
99.) Somewhere
1.5 Stars
98.) I Am Love
97.) Buried
96.) Please Give
95.) You Will Meet a Tall Dark Stranger
94.) The A-Team
93.) Get Him to the Greek
2 Stars
92.) Alice in Wonderland
91.) Shrek Forever After
90.) Prince of Persia: Sands of Time
89.) Hereafter
88.) The Book of Eli
87.) Youth in Revolt
86.) The Twilight Saga: Eclipse
85.) Love and Other Drugs
84.) Chloe
83.) Wall Street: Money Never Sleeps
82.) Knight and Day
81.) Let Me In
80.) Nowhere Boy
79.) Made in Dagenham
78.) Agora
2.5 Stars
77.) Edge of Darkness
76.) From Paris with Love
75.) The Girl with Dragon Tattoo
74.) Countdown to Zero
73.) Brooklyn's Finest
72.) Monsters
71.) Waste Land
70.) Date Night
69.) Mother and Child
68.) The Company Men
67.) Iron Man 2
66.) Easy A
65.) Cyrus
64.) TRON: Legacy
63.) Enter the Void
62.) Winter's Bone
3 Stars
61.) It's Kind of a Funny Story
60.) Mars
59.) Client 9: The Rise and Fall of Eliot Spitzer
58.) Despicable Me
57.) Legend of the Guardians: The Owls of Ga'Hoole
56.) The Secret in Their Eyes
55.) Barney's Version
54.) Solitary Man
53.) The Illusionist
52.) Red
51.) The Way Back
50.) A Prophet
49.) Tangled
48.) Restrepo
47.) The Fighter
46.) The Ghost Writer
45.) Carlos
44.) Animal Kingdom
43.) The Art of the Steal
42.) Never Let Me Go
41.) The Other Guys
40.) Black Swan
39.) I Love You Phillip Morris
38.) The Town
37.) Farewell
36.) Greenberg
35.) Unstoppable
34.) Conviction
33.) Secretariat
32.) Morning Glory
31.) Casino Jack
30.) Cairo Time
29.) The Square
3.5 Stars
28.) Salt
27.) Scott Pilgrim vs. The World
26.) Catfish
25.) Micmacs
24.) Waiting for "Superman"
23.) Green Zone
22.) GasLand
21.) Another Year
20.) Kick-Ass
19.) Joan Rivers: A Piece of Work
18.) True Grit
17.) Inside Job
16.) Harry Potter and the Deathly Hallows: Part 1
15.) Get Low
14.) Fair Game
13.) How to Train Your Dragon
12.) Blue Valentine
11.) The American
10.) The Kids Are All Right
9.) Biutiful
8.) The King's Speech
4 Stars
7.) Shutter Island
6.) Exit Through the Gift Shop
5.) Inception
4.) Rabbit Hole
3.) Toy Story 3
2.) 127 Hours
1.) The Social Network